Corporate Event Planners supervise event planning. Their duties include drafting memos, creating and maintaining a budget, negotiating vendor contracts, alerting their clients of possible issues, submitting reports on the event's progress, and addressing the guest's concerns. To become a Corporate Event Planner, you must obtain a Bachelor's degree in hospitality. Corporate Event Planners must demonstrate organizational skills, interpersonal skills, multitasking skills, negotiation skills, professionalism, computer savvy, and problem-solving skills.
A good resume is well-written and concise. It should be neat and easy to read, listing previous experience in a logical order.
Our resume samples will provide you with multiple examples of what you can include when writing your resume.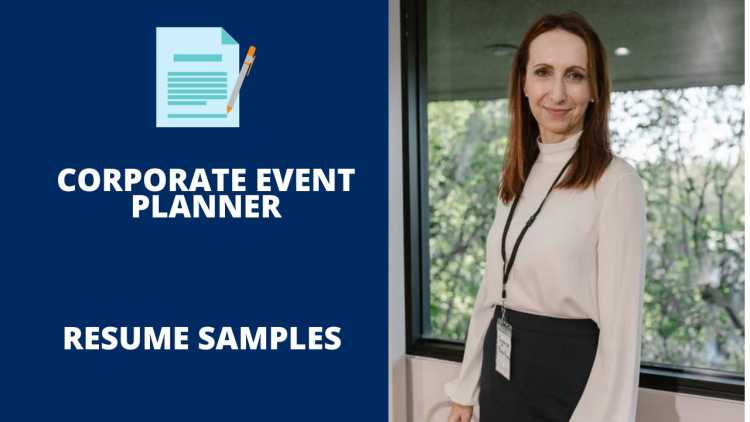 The Best Corporate Event Planner Resume Samples
These are some examples of accomplishments we have handpicked from real Corporate Event Planner resumes for your reference.
Corporate Event Planner
Project management professional managing internal and external events globally representing multi-million in corporate spend.
Strategic and creative events marketer that creates events to accomplish client goals, such as redesigning an internal innovation and productivity expo that resulted in 2,000+ engaged attendees, received President level accolades, and will be turned into a roadshow touching all corporate locations worldwide.
Actively pursues cost savings, including significant cost reduction of over 60% for single, high profile event without compromising event quality and over $200K in cost savings in the past year.
Promotes overall efficiency by creating team resources that streamline frequently performed tasks.
Envisioned and coordinated nine large-scale events in two states.
Corporate Event Planner
Provided direction in coordinating services for all executive meetings, trade shows, political action committee fundraisers, and all board members events.
Including accommodations, transportation for participants, catering, printing of signage, displays, conference binders, agendas and all specialty needs requirements.
Conferenced and traveled with marketing staff at chosen event sites to coordinate details; inspected event facilities to ensure they conform to customer requirements.
Monitored event activities to ensure compliance with applicable regulations and laws, satisfaction of participants, and resolution of any problems that may arise.
Coordinated the planning and execution of major corporate trade shows.
Corporate Event Planner
Proven track record of excellence in organizational support on executive level and highly skilled in corporate event planning, budgeting and production.
Proven excellence at enabling executive counter parts to excel.
Outstanding history of success in executing high-level corporate events.
Strong interpersonal skills and building relationships with national speakers and Christian music artists.
Created and edited, state media awareness material that has exceeded 6 million viewers.
Corporate Event Planner
Serve as liaison between property management team and tenants to a corporate office building.
Created event proposals for approval, design marketing graphics, write promotional email messaging, and fully execute monthly building events such as charity drives and tenant appreciation lobby gatherings for 1,000-2,000 attendees.
Build relationships with local craft food vendors, caterers, and retail tenants for event use or to host as seasonal on site pop-up shops.
Achieved award for meeting customer satisfaction guidelines after numerous calls were returned within one business day.
Demonstrated continued quality work by receiving the outstanding quality award for production of a major event; received a handwritten letter from an executive vice president congratulating staff on hard work, customer satisfaction, and organization.
Event Planner
Select and serve as primary point of contact for all vendors (such as food vendors, attraction vendors, photographers, equipment rental, etc.).
Maintain strong relationships with numerous international vendors to assist corporation's in planning overseas event.
Oversee a team of vendors and event contributors including performers, photographers, caterers, and transportation services.
Researched and organized corporate social events for corporations including conferences, retreats, team building, conferences, retreats, and award dinners.
Collaborated with corporate executives and high-profile guests to coordinate successful events by arranging for entertainment, security, food service, and itineraries.
Event Planner
Created training materials, kitted with marketing collaterals & shipped to venue locations for all workshops.
Tracked attendance, analyzed feedback & provided detailed reporting to sales, marketing & executive management on program successes while identifying areas in need of improvement.
Created & posted promotional information on corporate website to drive attendance for webinars & events.
Coordinated & facilitated training webinars for 100's of clients monthly utilizing WebEx & Web Publishing.
Handled angry participants or guests by providing professional solutions to resolving problems and/or conflicts in a timely and efficient manner.
Event Planner
Planning and execution of events at the gallery, such as openings for new exhibitions, artist talks and pop-up shops.
Event rental for weddings, private events and corporate events.
Discovering and creating opportunities to work with other businesses and to be involved in events in the community.
Monitored attendance of employees at conferences and events to ensure that all participants have been served meals and refreshments throughout the event.
Created themed events for organizations such as the ASPCA, National Women's Business Council, and International Headquarters of the Girl Scouts.
Event Planner
Plan conferences, events, holiday parties and corporate off sites: budget planning, email invitations, social media marketing, site inspections, catering, design, décor and registration process.
Managed staff, contractors & vendors. Develop creative negotiation always ensuring client's budget and goals are met.
Personal concierge/executive assistant: estate management and operations, coordinate travel, home office support, calendar management, online research, vendor & destination management.
Planned theme-based event activities, event advertising campaigns, and brand awareness programs at universities and corporations.
Translated unique branding concepts into tangible visual mediums.
Event Planner
Worked with event sponsors and internal/external teams on all aspects of planning the event.
Planned the event floor plan and its budget and produced the event materials and accessories.
Negotiated and managed contracts with sub-contractors and vendors.
Coordinated marketing initiatives for A&J's retail stores; coordinated carefully crafted products with store decorations and promotions to create a realistic image for both product and store.
Worked closely with managers to ensure that goals were met by vendors, employees and clients; resolved conflict in a manner that both parties were satisfied with the outcome.
Event Planner
Employ creative talents and organizational skills to produce high quality client events and experiences.
Spearhead tactical marketing and promotional strategies to increase event participation.
Created agendas and analyze plans for seamless event flow. Differentiators include: Ability to anticipate client needs and successfully exceed their expectations.
Increased customer satisfaction percentages by creating innovative team building activities; inspired teamwork by designing and conducting corporate workshops on a variety of topics.
Developed original method for demonstrating a product to clients; designed and produced three-dimensional proposals for client programs.
Event Planner
Provided quotations, established budgets with suppliers, vendors and entertainers, and handled billing ensuring payments are fulfilled upon event completion.
Updated calendars, prepared schedules and compiled post-event "Lessons Learned" evaluation reports.
Creatively generated marketing materials – writing copy and typesetting postcards, brochures and invitations.
Acquired contracts by efficiently responding to client inquiries and providing initial consultation over the telephone or in person.
Recognized for implementing an innovative marketing campaign through the newspaper, Internet, and direct mail advertisements; earned $7 million profit during the initial year of industry expansion.
Event Planner
Negotiate with vendors, hotels and convention locations in planning highly successful functions.
Worked with clients to design beautiful events from the day of conception to the end of the event.
Extensive knowledge in scouting out venues and locations to hold particular special events.
Develop and oversee strict timelines for clients, vendors and venues.
Competent in arranging car rentals, travel arrangements, event rentals, audio-visual bookings, decoration décor and professional entertainment.
Wrap Up
You need to make sure your resume stands out amongst the other candidates. It is the first impression that employers have of your work experience and skills. Use the samples above to put together a resume that best suits your needs and helps you get the job you want.