Construction Superintendents provide assistance to Construction Managers. Their duties include conducting meetings, submitting reports, inspecting work equipment, supervising the labor force, collecting on-site information, and enforcing quality standards. To become a construction superintendent, you must have a high school diploma and three years of experience. Construction Superintendents must demonstrate compassion, listening skills, time management, organizational skills, communication skills, professionalism, and a solid work ethic.
A good resume is well-written and concise. It should be neat and easy to read, listing previous experience in a logical order.
Our resume samples will provide you with multiple examples of what you can include when writing your resume.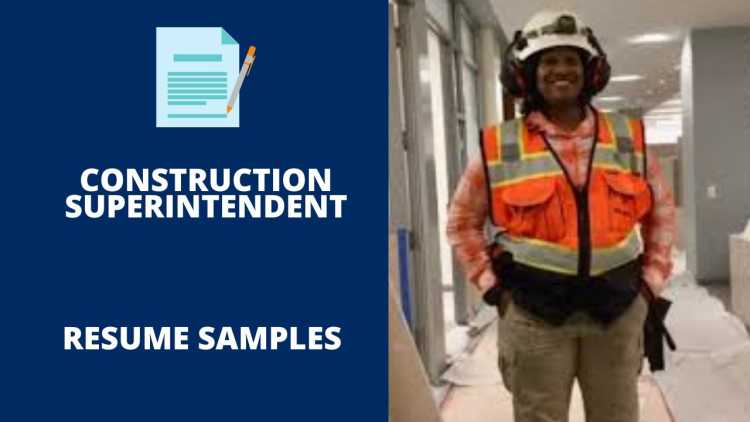 The Best Construction Superintendent Resume Samples
These are some examples of accomplishments we have handpicked from real Construction Superintendent resumes for your reference.
Construction Superintendent
Hire to construct a $45 million luxurious condominium from preconstruction to closeout.
Assisted project management team in development of construction project schedule, scope of work for buyouts, and logistics plan for construction.
Attend preconstruction meetings with ownership, investors, architects and engineers.
Supervised and managed the construction of 11 buildings in one year and seven months at The University of North Carolina at Charlotte.
Trained and tested 50 new construction tradesmen to facilitate flawless installation of building materials through the construction process.
Construction Superintendent
Building of ground up 4 story facility for sandy hook pilots pile caps grade beam structure with site work parking lot, undergrounds and complete interior and exterior of building.
Running all subcontractors from site work, map to finish on exterior and interior of structure.
2 week look ahead developing a fast tract schedule.
Served as lead consultant to design, plan, and manage work for two Fortune 500 companies, which resulted in increased revenue for buildings by $1,000,000.
Trained hundreds of others in leadership skills including seminars at The University of Washington.
Construction Superintendent
Supervised excavation and installation concrete foundation and the erection of structural steel and installation metal decks.
Organize, plan and schedule all phases of construction in order to complete the projects on time and within budget.
Coordinate with subcontractors and vendors to ensure that project is on time and within budget.
Recognized by the city council as one of the best-performing buildings on campus; awarded award for exceptional productivity and quality control during the execution phase.
Provided support and oversight to multiple construction projects.
Construction Superintendent
Demolition with existing high pressure and low pressure steam to all existing airhandler units along with low voltage and high voltage electric.
Also demolition of existing ductwork, electrical, high pressure and low pressure steam in the follow areas ccu, maternity, delivery and emergency department.
Installation of new airhandler units in association with new ductwork throughout, with new high pressure and medium pressure steam piping and all electrical work associated with HVAC upgrade throughout O.R. storage area, fourth floor MER, all CCU rooms, all maternity and delivery rooms.
Managed project timelines & data, met with clients and contractors while following ethical standards in every aspect of the business.
Organized and supervised employees in a fast-paced environment with over 50 employees.
Construction Superintendent
Planed, scheduled, supervised subcontractors and coordinated construction project activities to meet deadlines.
Prepared and submitted budget estimates, progress and cost tracking reports, RFI's and reviewed change orders as well as monthly payment requisitions.
Reviewed projects to monitor compliance with building and safety code regulations and to complete inspections.
Conducted research, handled communications, quantified data and results; independently created sound reports from field notes on specific research topics.
Converted the old and defunct Consolidated Technical High schools into a state-of-the-art campus.
Construction Superintendent
Supervise all trades of full interior renovations on both commercial and residential sites for Multiple Glenwood Management Luxury Rental Buildings.
Maintained and order material for job sites & coordinate waste disposal.
Responsible for overseeing day-to-day construction operations on a 16 stories / 230 thousand square foot job site in Battery Park City.
 Constructed and developed enhancements incorporating new building materials and our own university's guidelines.
Integrated various departments under one roof by coordinating with all sides in order to come up with efficiencies.
Construction Superintendent
Responsibilities include but are not limited to planning and coordination of subcontractors activities with the objective of completion the projects within budget and schedule and within the parameters of the building managements and users requirements.
Strong emphasis is made on quality, safety, and creativity in performing the work and meeting the owners' goals without negatively impacting the comfort of the tenants.
I took this job in order to learn first hand the challenges of this title in Manhattan small construction projects.
Achieved unanimous consent from the board of directors to approve construction costs for the first phase of construction.
Assisted in civil engineering for historic renovation projects with local contractors as a part of the project team.
Construction Superintendent
Generate, schedule and completion of punch lists and coordinate deliveries.
Managed day-to-day field operations, quality control, and verification of compliance with submittals.
Coordinate site testing and inspection efforts, managing team members, scheduling and timeliness, ensuring project completion according to specifications, and other key activities related to construction projects.
Worked alongside other design professionals to assess legal and architectural necessities for the preservation of historic structures, historic districts, and communities.
Identified, validated, and derived engineering data for multi-million dollar projects.
Construction Superintendent
Recruited by this major commercial construction company to inject structure and seasoned leadership to the project management process.
Traveled to several states to perform end-to-end construction management for fast-paced, high-pressure projects.
Developed project plans, coordinated schedules, managed subcontractors, and supervised crew members.
Initiated complex urban road designs and construction.
Refined design specifications to incorporate new directives from the Architectural Review Committee.
Construction Superintendent
Managed work orders and inspection of work to ensure quality assurance and completion on schedule.
Daily workforce count, tracking of work production and troubleshooting issue and providing solutions.
Present to Project Managers status of trade work and also provide recommendations to keep project on target.
Provided experience and leadership with fire safety team and different inspection requirements.
Readily available to all resources during emergencies and on weekends to keep the project on schedule.
Construction Superintendent
Facilitated processing of RFI's, submittals and samples among the subcontractors, the owner and the owner's consultants.
Stayed consistent with project schedules and plans for all FFE installations.
Acted as the liaison between Building management, architects/engineers, clients and the subcontractors.
Assigned projects and tasks to employees based on their competencies and specialties.
Followed through with competent execution of project plans by insuring that proper tools and equipment is provided to all construction personnel.
Construction Superintendent
Conduct weekly site meetings to review project progression and generate detailed meeting minutes for tracking subs.
Implement design layouts and adjusted applications to compensate for job issues to insure timely completion of scopes.
Supervised and controlled installations of structural component alterations of large scale retail space projects.
Daily control and coordination of multiple sub contractors for work progression reports and schedule updates.
Trained staff and managed contractors executing multi-million dollar road designs and construction.
Wrap Up
You need to make sure your resume stands out amongst the other candidates. It is the first impression that employers have of your work experience and skills. Use the samples above to put together a resume that best suits your needs and helps you get the job you want.