Researchers provide companies with specialized knowledge. Their duties include interviewing, writing, conducting investigations, collecting data, analyzing results, and reporting findings. To become a researcher, you must obtain a Bachelor's degree in the field you're researching. Researchers must demonstrate computer skills, organizational skills, patience, time management, problem-solving skills, analytical skills, and a solid work ethic.
A good resume is well-written and concise. It should be neat and easy to read, listing previous experience in a logical order.
Our resume samples will provide you with multiple examples of what you can include when writing your resume.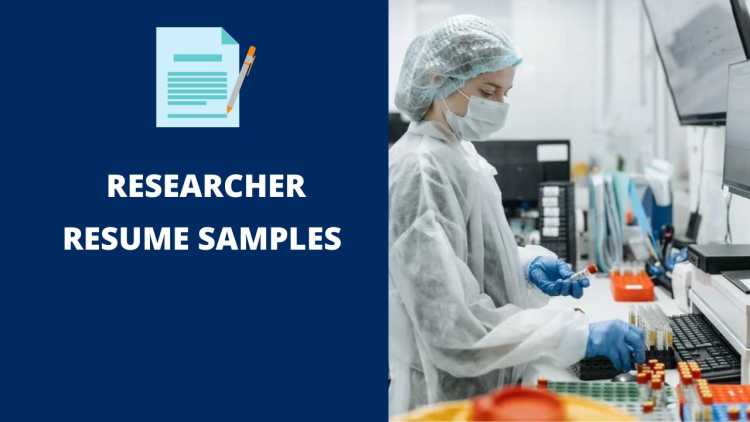 The Best Researcher Resume Samples
These are some examples of accomplishments we have handpicked from real Researcher resumes for your reference.
Researcher
Led Arabic language research for the State Department's Global Engagement Center (GEC) for countering violent extremism (CVE) initiative.
Research, collect, and analyze data from numerous sources with regional focus on the Middle East and counter-ISIS CVE communications.
Participates with government program managers in setting strategies, evaluating results, and making recommendations on the types of communications programs undertaken by the U.S. government and assists the Plans and Programs and IA staff in overseeing the implementation of a proactive strategy for engaging multiple communications media as well as conducting direct engagement projects.
Improved method of extracting DNA from cells, saving the company $150K in equipment costs.
Converted 7-year-old prototype into a commercially viable product that earned $9.3M in its first year.
Researcher
Advise and support marketing, advertising, public relations, news and planning activities through the application of demographic, market, and media research information. Structure and research projects, develop information and write clear, concise and persuasive analyses to present information.
Handle a multitude of consumer and media research inquiries.
Analyze strategic marketing issues and develop consumer and business analyses.
Conducted research on 9 new technology patents, including one that earned $8M in the first three months.
Invented breakthrough technology that gained FDA approval after 7 years of experimentation.
Researcher
Vital in transcribing and rolling out press releases under pressure; served as spokesperson on behalf of the company.
Key role in completing thought-provoking interviews; edited and produced content to prepare for publishing.
Broke the intern record on most broadcasted written segments on the highly-viewed network television program.
Vital in transcribing and rolling out press releases under pressure; served as spokesperson on behalf of the company.
Confirmed genetic link to breast cancer risk among women with family history; published results through the scientific journal.
Researcher
Evaluated reliability, endurance, and functionality of memristors from numerous government and academic labs.
Programmed a Python-based API to control our custom-built PCB and execute automated tests on memristive devices.
Designed, selected components for, assembled, and troubleshot PCBs for rapid, large-scale, specialized memristor testing and programming.
Manually characterized and profiled memristors to identify testing requirements and device parameters.
Researched and compiled data on how neurons transmit impulses in the form of synaptic transmission.
Researcher
Conducted extensive research on gale forced storms over the ocean as part of a senior project and presentation.
Followed the scientific process when conducting research and writing a scientific paper.
Manipulated large data sets from a variety of different sources to standardized for analyses and comparisons.
Collected articles on human brain function published by scientific journals, magazines, and newspapers.
Continued research on how cells integrate signals from other cells, which affects their function.
Researcher
Performed risk assessment of microbial derived impurities (Endotoxins, DNA) and aggregates on the immunogenicity of therapeutic proteins and monoclonal antibodies (IVIG, Avastin) to support regulatory decision and policy making.
Reviewed and evaluate scientific submissions to determine the data submitted relating to product quality are adequate and well-controlled, and sufficiently support the quality of the drug or biologic under investigation.
Developed in vitro models and biomarkers capable of identifying synergistic interaction of potential of impurities and aggregates in biologics.
Strong knowledge of GLP and GMP compliance, FDA guidelines and regulations for drug development.
Created data log describing neuron growth and cell modification in the medulla oblongata of a mouse fetus after birth.
Researcher
Serves as project lead, developing biannual print surveys to study tens of thousands of new military recruits' backgrounds, opinions, enlistment experiences, and motivations for joining the Military.
Responsible for consistently managing and scheduling deliverables for three separate large surveys simultaneously for a team of four other analysts.
Cleans and leads quantitative analysis of datasets using SPSS and Stata.
Studied fetal motor development through various stages of development. Abstracted the results into a written paper that explained how nervous system development occurred during the first three months of life.
Conducted primary analysis, interpretation of results, and writing of dissertation with findings and conclusions.
Researcher
Developed novel methods to ascertain genetic profiles in various tumor lines.
Diagnosed problems with well-established protocols in overcoming hurdles towards fighting cancer.
Recommended, implemented, and designed hybrid vectors to express preferential gene expression to optimize and facilitate time and cost effective experimentation on tumor lines.
Analysis of genomes and vectors using bioinformatics resources such as BLAST, FASTA, UCSC Genome Browser analyses.
Authored over 125 publications in peer-reviewed academic journals.
Researcher
Designed, collected data, and produced analysis for qualitative, interview-driven project about the most pressing ethical issues the Marine Corps should be addressing and why.
Developed a course at the Marine Corps University in 2014 entitled War, Sex, and Gender.
Collaboratively developed, tested, and launched an online survey to the Marine Corps to assess the value and use of cultural understanding during various types of deployments.
Successfully directed research projects involving collaborations between two cities and three universities.
Invented new technology used to analyze the structural make-up of polymers; patented new technology.
Researcher
Monitored the security, political, and economic policies of and developments in East, Southeast, and South Asian countries, particularly Japan.
Examined maritime and nuclear security policies, and relations between Japan, India, and the United States; publishing a piece on Japan's response to the South China Sea ruling.
Gathered and analyzed security and economic data for the ASEAN Matters for America/ America Matters for ASEAN report.
Used statistical analyses to determine a correlation between cancer rates and water quality.
Conducted extensive research on the topic of market research methodology to help clients reach their goals.
Researcher
Researcher and Team Lead for the Medical Readiness & Response Group.
Managed and executed project assignments, tracked performance, produced high quality reports within budget and on time.
Researched and analyzed training deficiencies that contributed in the underutilization of DOEHRS throughout the US Air Force (AF).
Collected, organized, and analyzed data in order to successfully complete research assignments for a variety of clients.
Extracted and summarized complex case studies from client materials in order to produce quality reports as requested by my clients.
Researcher
Retrieve documents either from the database, the Museum's archives or by contacting the International Tracing Service directly.
Created a chronology of the requested individual's path of persecution, which is then described in a detailed email to the requestor, which refers to each document individually.
Liaise for any future communication between the requestor and the Museum.
Produced excellent reports that were well-written and highlighted the most significant details of each case study.
Satisfied my clients with high-quality research products produced according to the specific needs of each client; received positive reviews from frequent assigners.
Wrap Up
You need to make sure your resume stands out amongst the other candidates. It is the first impression that employers have of your work experience and skills. Use the samples above to put together a resume that best suits your needs and helps you get the job you want.