Library assistants aid in clerical duties and assist in literary research. Their duties include weed collection, maintaining records, renewing materials, charging materials, and answering phones. In order to be a library assistant, you must obtain a high school diploma and experience in customer service. A library assistant must demonstrate research skills, computer skills, writing skills, critical thinking skills, and strong communication skills.
A good resume is well-written and concise. It should be neat and easy to read, listing previous experience in a logical order.
Our resume samples will provide you with multiple examples of what you can include when writing your resume.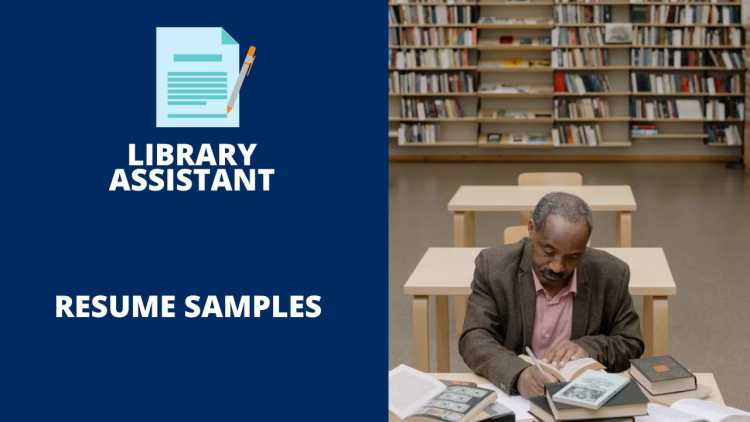 The Best Library Assistant Resume Samples
These are some examples of accomplishments we have handpicked from real Library Assistant resumes for your reference.
Library Assistant
Created visually appealing print, illustrations and photos for library events.
Created branding and promotional materials for the summer reading program.
Successfully created digital ads that promote library events, city events, and library closure dates.
Brainstorm with library staff to created a more exciting summer reading program.
Coordinate with different departmental staff and produce exceptional work all while meeting deadlines in a fast and effective manner.
Library Assistant
Facilitating library patrons with computer skills ranging from basic to intermediate.
Searching for books (both digital system inquires and physical shelf searches), inter-library requests, re-shelving, shelf reading.
Streamlining of library sorting procedure and rearrangement of thousands of titles to make best use of available spatial resources – resulting in a noticeable increase in department circulation.
Acquired training in the use of computer systems, including databases and search engines.
Maintained library resources and collections by organizing, filing, cataloging, and shelving materials.
Library Assistant
Oversee the circulation desk, including using ALEPH software to check-in and check-out library materials.
Assisted the library patrons with locating resources for research projects.
Organize library materials and shelve them in their proper order.
Created and maintained the library's website for referrals to other sources of information about research subjects.
Prepared bibliographies for graduate students at our institution.
Library Assistant
Welcomed and greeted many people from different aspects of life. Maintained a professional attitude towards all discrepancies, regardless of the scenario or patrons behavior.
Answered phones, faxes, and e-mails regarding transits or specific questions and/or instructions.
Ordered and accepted new merchandise via computer and delivery systems. Generated daily reports and mailings pertaining to Library Systems.
Attended all classes and workshops offered to extend skills in certain areas provided.
Contributed to departments' collections by donating books to them through the efforts of librarians who know staff members are interested in particular titles.
Library Assistant
Operated main library services i.e. checking books out to client, updating periodicals, and re-shelving to provide a smooth flowing operation.
Provided general maintenance of copy machines such as toner and paper refills, in addition to providing solutions to minor technological issues with the use of the copy machines.
Assisted in the acquisition of materials for research purposes, both scholarly articles and primary documents from the on-campus archive.
Demonstrated exceptional dexterity, accuracy, and attention to detail during the completion of the duties of the position.
Handled a variety of library-related tasks including books shelving, cataloging, data entry, reference staff supervision, and management.
Library Assistant
Carried out opening/closing procedures, entered in daily cash record, made bank deposits.
Performed daily Storytime w/emphasis in early-development for kindergarteners/preschoolers.
Managed marketing for events & crafts: created flyers, craft visuals, event board etc.
Created book displays, took care of library needs i.e. check in/out materials, answer phones etc.
Initiated research projects for all level 2 classes which addressed the topics of: self-esteem and personal growth as a factor in success; using technology to enhance teaching; motivational techniques for student successes and achievement; learning styles, communication skills etc.
Library Assistant
Utilized Millennium library integrated system to serve public needs and library functions.
Assisted the public, students, and faculty at the circulation desk using interpersonal and communication skills.
Gained knowledge of the University of California library principles and procedures.
Contributed to society by participating in ten different school clubs such as debate team, yearbook committee, and school papers.
Accurately compiled, sorted and filed statistics of library materials circulated.
Library Assistant
Demonstrated ability to meet the needs of patrons, dependable, hard-working, reliable, and punctual.
Competent using software including: Windows, Word, PowerPoint, E-mail, and the Internet.
Use clear, concise communication skills in conjunction with organizational skills to perform daily duties.
Duties included shelving books, sorting returned books, helping visitors with their needs and directing them towards areas and books desired.
Performed at a professional level during the cataloging of new materials, assisting in the delivery of quality customer service.
Library Assistant
Performed opening and closing of library for public service in accordance to city and library regulations.
Maintain welcoming and supportive environment for patrons including assistance in finding materials, using computer programs, placing holds for library materials, and resolving any problems or issues efficiently.
Promoted and encourage patron participation in library events to help ensure support for library programs.
Distributed incoming and outgoing mail with speed, accuracy, and efficiency.
Answered telephone calls by greeting callers with courtesy receiving and filing information for each call; assisted in locating information requested by customers using computerized database searches.
Library Assistant
Providing Daily Customer Service, responsible for incoming book drop, patron book/DVD check in & out transactions, dewey decimal filing, help with customer questions/concerns, etc.
Responsible for daily cash register count and transactions with manager and employee sign off.
Assisted with library monthly reports and bank deposit verifications.
Coordinated daily employee schedules to achieve maximum efficiency amongst staff members.
Provided accurate and reliable information to patrons for research for four years.
Library Assistant
Sort books, publications, and other items according to established procedure and return them to shelves, files, or other designated storage areas.
Answer routine inquires, and refer patrons in need of professional assistance to librarians.
Register new patrons and issue borrower identification cards that permit patrons to borrow books and other materials.
Performed well in MyERIC, a computer internet program, placing library among the highest in-state usage.
Researched genealogy records while uncovering family lineage never researched before; received an award as a top scholar of the year.
Library Assistant
Handling daily cash drawer count and daily deposit, including counting entire cash drawer, prepping drawer for next day, and prepping deposit for pick up next day.
Creating and implementing programs for children's programming (themed story time events, S.T.E.A.M), teen programming, as well as co- planning and co- running of the 2016 Summer Reading Program.
Programming duties include advertising, budgeting, purchasing program materials, calling participants signed up, setting up and taking down of event, counting attendance, hosting event, and general promoting of event.
Assisted patrons with various criteria of research, from finding a book to locating specific information.
Presented program on the Library's resources regarding studying abroad and earning university credit through study programs; drew a crowd of over 200 students.
Wrap Up
You need to make sure your resume stands out amongst the other candidates. It is the first impression that employers have of your work experience and skills. Use the samples above to put together a resume that best suits your needs and helps you get the job you want.