Data Scientists interpret sets of data to develop solutions to various problems. They do this by collecting and analyzing data, assessing data sources, developing data models, applying algorithms to data sets, coordinating with various teams and working with stakeholders. A bachelor's degree in statistics, mathematics or computer science is required. Data scientists must work well independently and in teams, be detail-oriented, analytic, data-driven, have technical writing and problem-solving skills and a working knowledge of statistical methods.
A good resume is well-written and concise. It should be neat and easy to read, listing previous experience in a logical order.
Our resume samples will provide you with multiple examples of what you can include when writing your resume.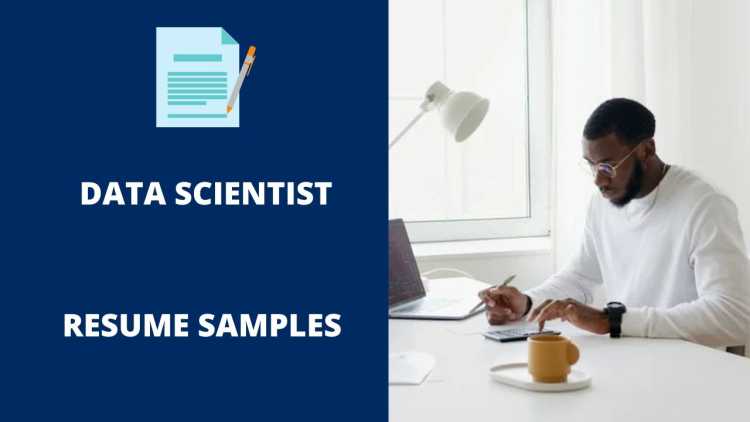 The Best Data Scientist Sample Resume Samples
These are some examples of accomplishments we have handpicked from real Data Scientist Sample resumes for your reference.
Data Scientist
Created new capabilities; drive time visualization, percent capture, and seasonal forecasting that attracted 31 new potential clients.
Responsible for ETL process in Alteryx; 300% increase in data processing speeds in dashboards.
Developed Tableau dashboards that allowed visualization of data faster and more efficiently than text.
Communicated at the executive level to develop client dashboards, data requirements, and desired outcomes.
Maintained a master's degree in statistics through the California State University Channel Islands and a graduate degree in mathematics through the University of Southern California; mentored other graduate students to facilitate their research as well.
Data Scientist
Predicted the candidate support rate in Republican Primary 2016 for each voter in different states by common machine learning techniques (KNN, RF, LR, SVM), with R and Python( Sklearn).
Predicted the turnout rate for each voter in Republican Primary 2016 by machine learning techniques from the demographic information and prior voting records.
Made feature selection: selecting a subset of relevant features in all available features for Binary and Multiclass classification.
Received an award from the National Science Foundation for Excellence in Teaching and Mentoring; served as an advisor to two recipients of undergraduate research assistantships and three graduate students.
Participated as part-time faculty at a local community college where I taught math, statistics, and computer science courses.
Data Scientist
Built dashboards using Python, Tableau to communicate data-driven insights and recommendations to key stakeholders.
Knowledge in R programming and SAS Enterprise data miner for the analysis.
Implemented SAS integration with Hadoop Distributed File System (HDFS), to setup smooth production data pipeline.
Supervised research projects on mathematically modeling population dynamics, forensic profiling, and artificial intelligence concerning speech recognition systems.
Authored three books, ten articles, and nineteen mathematical formulas on subjects relating to statistics, population dynamics, forensic profiling, artificial intelligence, and physiology.
Data Scientist
Performed order experience analysis, develop compelling data-driven stories, and present findings to VP- and C-level executives.
Collaborate with enterprise architects to design and build a comprehensive data science platform.
Evangelize data science, analytics and automation to business and IT stakeholders.
Develop an automated solution for global operations to monitor end-to-end cycle times, including the identification of top issues.
Pronounced machine learning techniques in Math with Python effective for data analysis and programing.
Data Scientist
Improved/Modified the traditional way analysis and manual updates by building algorithms, set the new rules to capture the fast way of bad domain, survey activity and panel analytics by using density distribution/outlier detection method algorithms.
Usually every analysis will be handled more than Terabyte level volume using bigdata Snowflake cloud computing platform.
The above process automated by using R/Python/Oozie to run every day without manual inervence.
Established a policy to evaluate research hypotheses with objective measures of statistical significance.
Developed a predictive model by combining machine learning models and distributional methods.
Data Scientist
Responsible for end to end development of risk assessment tool for estimation of risk associated with reliability, availability and maintainability of turbine, used by commercial operations (sales) team.
Developing algorithms to estimate turbine degradation and remaining useful life.
Working with time series data to capture signatures and generate alarms for online remote monitoring and diagnostics.
Day to day activities include data preparation, data cleanup, curve fitting, linear regression, statistical modelling.
Defined unique modeling approaches that leveraged similar data sources efficiently.
Data Scientist
Implemented machine learning methods on mining network and operation datasets.
Cooperated with pre-sale team to identify sales opportunities and matching service solutions based on explanatory and predictive models performed on existing data.
Provided customer with insights and analysis of their customers using statistical tools and techniques.
Supported the statistical modeling of longitudinal data sets by implementing exploratory, inferential, and confidence interval estimation techniques using R and SPSS software packages.
Broke ground on the development of a simple, yet powerful, tool that allows rapid extraction of data from images.
Data Scientist
Interacted with the other departments to understand and identify data needs and requirements and work with other members of the IT
organization to deliver data visualization and reporting solutions to address those needs.
Analyzed data and provided reporting and insightful recommendations to business leaders on key performance metrics pertaining to sales & marketing.
Knowledge of other relational database platforms such as Oracle, MySQL, NoSQL, etc.
Authored research articles that were accepted and published by various academic journals and magazines.
Data Scientist
Provided the roadmap with actionable steps on developing analytics to address the challenges of engine real-time performance prediction.
Led on an intelligent engine status tracker project to detect engine performance trend/shift, provide insight information to diagnose on component level of gas turbine by utilizing advanced algorithms.
Led on a pilot project to visualize the real-time engine performance and provide aggregated information to help customer better monitor engine.
Developed sets of analytics to predict parts conditions into the repair shop and engine/generator components life expectation.
Quantified the subtle nuances of species population dynamics through analysis of precise changes in animal habitat over a span of six years.
Data Scientist
Design, model, validate and test statistical algorithms against various real-world data sets including behavioral data and deploy models in the backend (batch) and cloud (streaming).
Performed Data Transformation method for Rescaling and Normalizing variables.
Apply different Machine Learning algorithms/methods on data sets to predict credit risk, fraud detection, customer churn, and target marketing.
Worked on data to increase cross-& up-sell revenues, enhance customer value or reduce non-credit losses.
Designated an expert on all facets of data extraction, including migration patterns, genetic make-up, and predator/prey relationships.
Data Scientist
Building dashboard-style website with dynamic visualizations, summary data, and record lookup, with a SQL backend database.
Wrote Python code to flatten unstructured xmls into structured csv/SQL data. Wrote R analytics code.
Wrote optimized Linux/Bash code to improve the accuracy of messy csv data processing and reduce runtimes from weeks to hours.
Demonstrated expertise in statistical analysis using linear regression, non-parametric tests, factor analysis, and principal component analysis methods for exploratory data analysis with real-world applications.
Performed the arithmetic, logical, and string functions that allowed my high school to successfully maintain one of the nation's top ten science and Math rankings.
Data Scientist
Performed data wrangling techniques on large unstructured datasets to provide strategic direction to the company.
Designed and implemented statistical models to predict demand, risk, and price elasticity.
Applied segmentation analysis with Google Analytics to improve new customer rates by 1800%.
Identified and recommended improvement strategies for KPIs to increase business productivity and profitability.
Used predictive analytics methods to identify students at risk for failing standardized math and science tests; was instrumental in increasing passing rates by 20%.
Wrap Up
You need to make sure your resume stands out amongst the other candidates. It is the first impression that employers have of your work experience and skills. Use the samples above to put together a resume that best suits your needs and helps you get the job you want.