A Director of Operations manages all the operations of a company. Their duties include managing production schedules, evaluating employee effectiveness, working within budget, meeting deadlines, developing strategies to improve profit, implementing plans, standardizing operations, and making long term plans. Educational requirements to be a director of operations are a minimum of a bachelor's degree in business or finance; a master's of business administration is preferred. Skills needed to be a successful director of operations are confidence, critical thinking, management skills, ability to delegate, responsibility, accountability, leadership, financial skills, and communication skills.
A good resume is well-written and concise. It should be neat and easy to read, listing previous experience in a logical order.
Our resume samples will provide you with multiple examples of what you can include when writing your resume.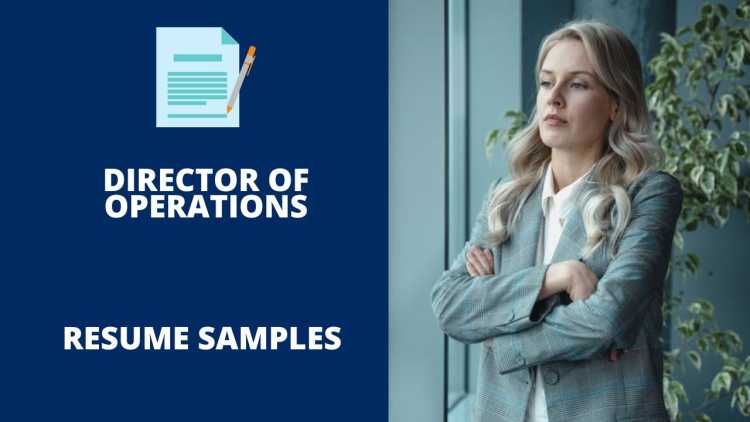 The Best Director Of Operations Resume Samples
These are some examples of accomplishments we have handpicked from real Director Of Operations resumes for your reference.
Director Of Operations
I manage the daily operations of 32 fast food restaurants.
I am responsible for over 300 employees and 30 Management personal.
I am responsible for all cost associated with restaurants and have over 13 years experience as a Director in the food service industry.
Managed a group of six employees in an established automotive dealership.
Oversaw day-to-day operations of two salesmen; hired and supervised all levels of staff; drafted and amended employee manuals and policies; developed new advertising budgets and strategies.
Director Of Operations
Working as Director of Operations I was responsible for the overall performance of the branches including operations, sales, and customer satisfaction.
The overall group in which I directly managed were the Operations Managers, Sales Account Managers, Drivers and Yard Laborers.
These individuals were recruited, hired and mentored to during my employment with the company.
This was also a new company so I was in charge of purchasing new rental equipment for the company that put us a step above the competition along with coming up with policies and procedures for the employees to follow during their employment to meet company goals and customer expectations.
Coordinated budgeting, daily office operations, insurance, monthly employee benefits reports, clients letters, dealer marketing, trends analysis, presentations to the board of directors in a growing yet financially stable pharmaceutical company; was designated as one of the most valuable employees by his employer.
Director Of Operations
Director of Operations for 20 franchised restaurants, over $7M in annual sales, with full P&L accountability.
Lowered food cost by over 4% by training, improving operations and inventory procedures.
Implemented technology advances to better manage people, product, equipment and processes, saving time and money.
Completely reorganized management team and structure to reduce redundancy, increase customer satisfaction, and improve daily operations.
Built strong relationships with vendors by conceiving creative business solutions which fostered personal trust and communication between parties.
Director Of Operations
Partnered with Senior Management to plan operational activities and outline strategic goals.
Plan and monitor the day-to-day internal and external operations to ensure unfettered progress and service to clients.
Regularly evaluate the use and efficiency of established business procedures according to organizational goals and objectives and implement improvements as needed.
Managed procurement processes and coordinate vendor material and resource allocation.
Served as the operations leader for a small business enterprise.
Director Of Operations
Directed daily operations of a Federally Qualifying Healthcare Center ensuring six sites met the guidelines for to comply with new and revised regulations, including patient registration, billing, and medical records.
Managed administrative functions with recruitment, hiring, terminations, and completion of new-hire onboarding processes, designed in-house onboarding training manuals for Administrative and Clinical Positions.
Audited follow up process and trained staff on appropriate follow up strategies to maximize account collections.
Developed and implemented systems for product forecasting and ordering.
Negotiated contracts with vendors and suppliers.
Director Of Operations
Implemented comprehensive training program incorporating hospitality industry practices for all levels of management.
Developed seasonal food and beverage menus to meet international airline clients standards.
Operated lounge that earned best in the world by international travel membership organization.
Managed inventory, material, and labor costs to ensure profitability.
Took over daily operations when necessary in order to ensure the smooth operation of the company.
Director Of Operations
Working with Veterans Affairs and other government contracts to provide medical services to active duty and veterans.
Analysis of operations utilizing LEAN/Six Sigma tools and principles to identify waste and created improved operations.
Assisted in the implementation of process and contractual change management throughout the organization.
Maintaining client relationships with various government agencies.
Supervised over 80 employees and a team of contractors.
Director Of Operations
Director of Operations responsible for ensuring the successful performance of the leaders of the Call Center Operations, Provider Network Management, Quality, IT, and all other staff positions of the operation.
Key initiatives included increasing revenue by $14 million, transition of 800,00 calls to one contact center, and successfully transporting 1.6 million clients annually.
Managed three (3) Statewide Contracts and and four (4) Managed Care Contracts producing a net profit of 13%.
Installed, maintained, and managed all equipment, vehicles, and related supplies necessary to the operation of an unprecedented business.
Maintained effective relationships with customers by establishing goals, deadlines, and trustworthy rules of operation.
Director Of Operations
I was responsible for hiring/training initial staff, setting up vendor contracts, preparing facility to abide by State regulations, working with consultants on policies and equipment set up.
Upon the start-up of additional facilities, I moved into a Regional Operations Manager role.
I assisted with same roles as the nurse manager with additional duties to include researching local vendors for area and amending contracts as needed, transfer agreements, recruitment/hiring/training/scheduling of initial staff.
Established efficient working methods whereby operations were performed with minimal interruption to the normal flow of business.
Fostered a positive relationship with neighboring communities by maintaining manners and ethics in employment practices.
Director Of Operations
Travel coordination, scheduling, convening bodies for official business, and meeting facilitation.
Facilitated communications to/with/ on behalf of Executive Board Members, Executive Directors, stakeholders i.e. researchers, medical professionals, the public, and outside agencies.
Researched across special areas to support operations including policy, travel, contracts and vendor solicitation, fund development opportunities, software, and technical services.
Financial management including vendor solicitation, negotiating services, procurements, and contracts.
Funded, contracted, and scheduled operations at two separate intercontinental corporate headquarters.
Director Of Operations
Responsible for managing the day-to-day operations necessary to ensure that the organization achieves its objectives.
Works with the Executive Vice President and other members of the leadership team to set the organization's strategic goals.
Responsible for deciding on measures, or key performance indicators, to assess how the objectives are being achieved.
Ensure that all activities are monitored, and key performance indicators reported on a regular basis that the objectives will be achieved.
Performed duties for a multi-million dollar division including budgeting and cost analysis for the construction of worldwide facilities.
Director Of Operations
Worked directly with Director of Software in the development and implementation of proprietary point of sale system.
Conducted daily and weekly review meeting with Vendor on Breakdown Calls, ensuring prompt closure of pending issues.
Maintained SLA documentation for all activities performed by the team, collected, analyzed and published performance statistics.
Offered training sessions on up-to-date technology to all employees; initiated key decision factors in strategic planning.
Hired and trained five managers to oversee the day-to-day operations of the division; involved them in strategic planning sessions.
Wrap Up
You need to make sure your resume stands out amongst the other candidates. It is the first impression that employers have of your work experience and skills. Use the samples above to put together a resume that best suits your needs and helps you get the job you want.