DJs created and play music that may or may not be theirs on the radio, at clubs or festivals. Their duties include creating music, mixing, researching new and popular songs and techniques, marketing for their brand, booking gigs and playing live shows. To work as a DJ you do not need any education but some attend universities for music production and engineering. DJs must demonstrate focus, trendiness, music understanding, social and cultural understanding, creativity, small business knowledge and marketing.
A good resume is well-written and concise. It should be neat and easy to read, listing previous experience in a logical order.
Our resume samples will provide you with multiple examples of what you can include when writing your resume.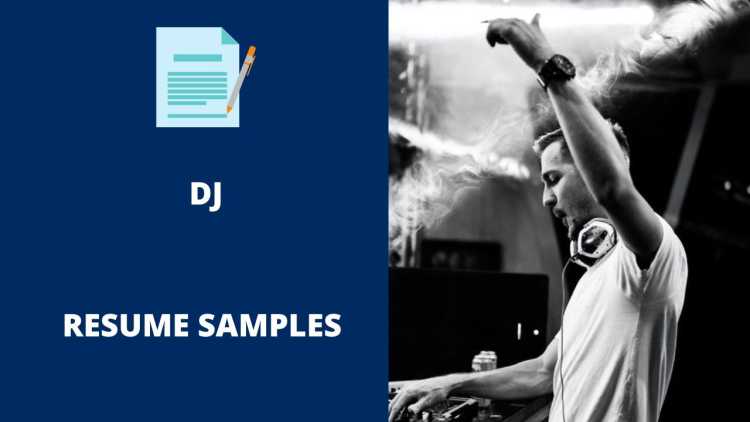 The Best DJ Resume Samples
These are some examples of accomplishments we have handpicked from real DJ resumes for your reference.
DJ
Use various formats including vinyl, CD or MP3, and a range of equipment such as turntables, mixers, microphones and amplifiers.
Play and mix records in clubs or bars, to created atmosphere and/or keep people dancing.
Provided wide range of playlists and music mixes depending on the setting and choose music to suit your audience's taste and the venue's music policy.
Presented a mix of electronic and rock music at a variety of indoor and outdoor venues; maintained crowd morale while respecting musical tastes.
Performed at birthday parties, weddings, local seminars, and corporate events; personalized each performance with careful song selection.
DJ
Part of a DJ team with DJ Riz Entertainment providing DJ services to four hundred weddings a year.
Dealt with couples requests in a formal fashion.
Provided couples with the most memorable wedding of their lives and also their guests.
Dealing with problems the couples may have, and dealing with it in a formal way.
Gathered new mixes from local studios; demonstrated broad musical knowledge by knowing appropriate music for all occasions.
DJ
Examine shipment contents and compare with records such as manifest, involves, or orders to verify accuracy.
Record shipment data, such as weight, charges, space availability, damages, or discrepancies for reporting, accounting, or recordkeeping purposes.
Prepared documents, such as work orders, bills of loading, or shipping orders, to route material.
Confer or correspond with establishment representatives to rectify problems, such as damages, shortages, or nonconformance to specifications.
Consistently beat competitors in sales volume for club dances; organized summer beach rave events that attracted 400 patrons.
DJ
Partnered with the Bearded Monk we bring in local craft brewers from the greater DFW area.
Free beer samples are offered in the Discover Denton Welcome Center as interviews are conducted with various founders/representatives of craft brewing companies.
Producing high quality shows for DentonRadio.com to be displayed on all its social media platforms in real time (live).
Studied world culture and dance styles to improve my performance abilities and entertain patrons with a unique flair for each style.
Created and produced a unique soundtrack, theme, and atmosphere for each of my" department store" performances.
DJ
Advertise & promote sales specials & products into the evening's entertainment in creative & seamless ways.
Maintain a comfortable, clear, & entertaining audio mix appropriate to the given moment and crowd response.
Offered feedback to management on the quality of service as reported to me directly from the customer base.
Produced and programmed music for corporate, private, and public events.
Created original soundtracks, live sets, and mixes for clients who ranged from private individuals to large corporations.
DJ
Announce musical selections, station breaks, commercials, or public service information, and accept requests from listening audience.
Select program content, in conjunction with producers and assistants, based on factors such as program specialties, audience tastes, or requests from the public.
Make promotional appearances at public or private events in order to represent their employers.
Accompanied piano soloists including, jazz artists such as Duane Eubanks, David Benoit, Mark Ingleside, David Gamble, and Ron Buford.
Demonstrated editing techniques at both live and post-live gigs that included remixes with classical pianist/composer Dan Laughton (artist/composer).
DJ
As a disc jockey, I play music for a wide variety of audiences, events, and venues.
I have a solid understanding and appreciation of music, which helps to craft sets to the specific occasion and audience.
I have played in a variety of venues including clubs, fairs, homes, auditoriums, trade shows, and outdoor events.
Performed at OC Fair at an Automotive Tradeshow playing through my DJ board into car sound systems.
Awarded top B-16 ranking in line dancing competition at age 15.
DJ
Communicated effectively with clients to gain a thorough understanding of their event, and their expectations for me.
Utilized a thorough understanding of signal flow and power distribution to setup amplifiers and PA speakers.
Analyzed other DJ's and DJing companies in the area to maintain a competitive price.
Utilized Facebook, Craigslist, and business cards to advertise to prospective clients to maximize employment.
Organized, managed, and ran a 3-day music festival for thousands of people in the desert of Afghanistan.
DJ
DJ for different parties for example: quincianera, baptisms, weddings, etc.
Provided passengers with assistance entering and exiting vehicle.
Provided light shows to some of our clients that only need light but not music.
Provided a projector for our clients that have special event such as wedding or quincianera for their slide shows.
Enlisted a DJ crew of 9-year old's to provide entertainment for the event; scheduled, announced, and performed on a stage approximately 3 feet off the ground.
DJ
After my experience working with DJ International I started working as a independent Dj.
While working independently I gained experience booking events for several private parties such as Birthdays, Christenings, Club Events, etc.
Most importantly when a client would hire me as their Dj, I worked with my client to build a timeline for their events, which I would use to ensure that the event went smoothly and organized.
Organized creative and fun forms of entertainment following a disaster at an amusement park in Florida; coordinated traffic flow.
Organized movement/dance routines with different age/sex groups at several events throughout the United States.
DJ
Most of my professional experiences come from running my own DJ business.
I have hosted events at venues all across Southern California from The Aquarium of the Pacific, Ten Nightclub, Sharkeez Bar and Grill, UCLA Event Center, Fairplex Grounds of San Bernandino, and much more.
Most of my events come from weddings; however I have worked closely with Insomniac Events and Cali Connect Group.
Created music videos and art around heady philosophical concepts involving youth clubs and events in England, Ireland, and Germany.
Performed private, corporate, and public parties.
DJ
Accompanied experienced DJ's for multiple DJ events and set up lighting, audio equipment.
Djed for multiple dance events using Midi-controllers/CD turntables/Vinyl turntables using timecode Vinyl with DJ software.
Opened for THEM at Los Globos in Hollywood for 2nd annual Intense Interactions.
Began performing at age 16.
Realized musical talent at an early age while attending classical and jazz band concerts; performed in various civic and concert settings.
Wrap Up
You need to make sure your resume stands out amongst the other candidates. It is the first impression that employers have of your work experience and skills. Use the samples above to put together a resume that best suits your needs and helps you get the job you want.