Drivers provide many different types of transportation for goods or people. Their duties include semi truck driving, limo service, deliveries, taxi service, package delivery, food delivery and many more. To work as a driver you typically do not need any formal education unless it is semi truck driving you will need a Commercial Driver's License (CDL). Drivers must demonstrate attention to detail, driving skills, positivity, communication, caution, ability to work long hours and motivation.
A good resume is well-written and concise. It should be neat and easy to read, listing previous experience in a logical order.
Our resume samples will provide you with multiple examples of what you can include when writing your resume.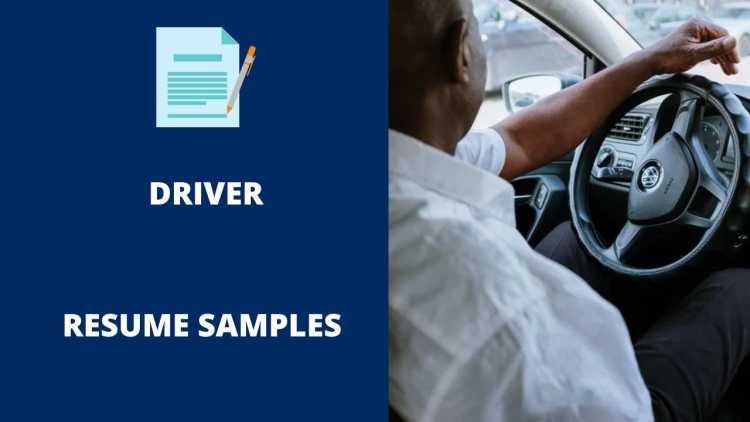 The Best Driver Resume Samples
These are some examples of accomplishments we have handpicked from real Driver resumes for your reference.
Driver
Picked up and delivered passengers to their destinations in a safe and efficient manner.
Created Excel Spreadsheet and maintained files to track mileage, maintenance, and expenses.
Demonstrated ability to deal peacefully with unforeseen circumstances or delays and used advanced driving techniques to better improve time management and safety.
Neat and smart appearance, customer friendly and intellectual individual with desire to exceed expectations.
Achieved Excellent/Satisfactory rating by Motor carrier inspectors and drivers for dependability, punctuality, and overall satisfaction.
Driver
Deliver orders to customers and assist customers with orders, returns and inquiries, Collect payments for cash and check invoices.
Pull and transport orders from distribution center, Transfer orders from in house to other regional stores at DC.
Assess store inventory, stock inventory, pull unused inventory, Record all changes using inventory log and bar code scanner.
Fully satisfied drivers with personal assistance in completing their routes, allowing them to focus on the task at hand; received mixed responses from drivers with personal assistance.
Examined and evaluated the driving capabilities of routes before loading a truck; efficiently allocated resources among routes to maximize efficiency.
Driver
Delivered and set portable restrooms on job sites consisting of construction areas, movie sets and individual home sites.
Collected cash on delivery payments and completed appropriate delivery paperwork.
Assisted the collection department when it was needed.
Exemplified company's service policy through outstanding customer relations with route customers; received excellent feedback from some customers and mixed from others.
Reduced mileage discrepancies by seating both drivers on the same route; realized the potential to reduce over-reliance on one driver by distributing weight evenly among two trucks.
Driver
Loaded trucks and delivered groceries to homes and businesses proving excellent customer service.
Utilized time management skills with incorporating un-routed deliveries given by Dispatch Team.
Gained the understanding of teamwork, patience and helping others.
Completed over 4,000 accident-free miles of freight delivery while transporting supervisors, management personnel, and equipment crews to out-of-state locations.
Driven all types of automobiles: passenger, delivery, road, or off-road vehicles.
Driver
Performed Pre trip and Post rip inspection on tractor and trailer to ensure compliance with D.O.T. regulations.
Keep Daily driver log and obey all city, state and federal traffic laws.
Delivered freight via tractor trailer to venders throughout Oklahoma City, OK and Wichita, KS greater metro areas.
Delivered and collected shipments in the city of Dayton, Ohio.
Delivered and collected shipments in the states of Indiana, Michigan, Ohio, Pennsylvania, and West Virginia.
Driver
Drive tandem axle semi truck to deliver floors to various destinations in timely manner.
Completed all government documentation and following safety regulations.
Checked truck equipment and supplies such as tires, lights, brakes, etc., to ensure trucks road worthiness.
Learned to drive trucks (Dump, Cash) to earn higher awards for customer service; also drove the truck as a personal vehicle.
Repeatedly provided customer service and respect when dealing with neighboring truckers who were performing difficult maneuvers on narrow curves; business was not affected by incidents.
Driver
Drove corporate guests to various nearby locations including airports and events.
Maintained an unfailingly professional and courteous attitude in demanding and difficult road situations.
Adhered to all hotel policies and procedures.
Had a great year in increasing the number of bus routes, while maintaining safety and efficiency. Improved fuel economy by 25% over the last five years.
Oversaw the management of a fleet of ten trucks in which over $5 million dollars of inventory was transported to major retail outlets, including Walmart and Target, throughout the Midwestern United States.
Driver
Maintain records retaining load related paperwork, electronic logs as required by Department of Transportation local, state, and Federal agencies, Operate tractor/trailer adhering to safety requirements.
Communicate with individuals or groups verbally or in writing, customers suppliers, and associates.
Plan routes based on local and state traffic laws and local restrictions, following routes according to maps, atlas and truck gps, write documents, reports using writing instruments.
Differentiate sounds in order to inspect and maintain equipment, Grasp, turn and manipulate objects various size and weight.
Traveled over 6,000 miles each month, often more than 50 miles a day (range of 100–150 miles per day), transporting commercial freight. Successfully completed many routes using both passenger and truck transportation with only one accident on record.
Driver
Performed a pre and post trip inspection of truck and trailer in order to maintain a well working vehicle.
Drive truck and trailer to deliver materials such as pavers, block, and brick to various customer job sites and home centers.
Be responsible of all DOT rules and regulations for commercial driving.
Achieved national driver safety awards as a truck driver.
Built and repaired customer-owned vehicles for friends and family to enhance their driving skills and confidence; became certified for both high-end cars and motorcycles.
Driver
Primary contact between suppliers and clientele, listening and reporting any service complaints. Promoting excellent customer relations and meeting customer deadline delivery dates and times.
Drive 24-foot bobtail trucks, transport and setup high-end items into residential homes, showrooms and businesses.
Obtain customer signature on receipt for pickup and delivery.
Processes delivery receipts into computer database system and completes a receiving log along with researching and reconciling any discrepancies with damaged materials in inventory.
Fulfilled personal creative outlets such as woodworking, welding, leatherwork, metalwork, stamping, sewing, painting, retail sales (clothing) in the art studios that I maintained at home before relocating to another city in Texas.
Driver
Brake down an average of 20 pallets daily of restaurant supplies to restaurants throughout the Bay Area.
Checked vehicles to ensure that mechanical, safety, and emergency equipment is in good working order.
Inspected and maintained vehicle supplies and equipment, such as gas, oil, water, tires, lights, and brakes, to ensure that vehicles are in proper working condition.
Drove a vehicle to transport patients, EMS personnel, nurses, doctors, employees, and equipment to and from area hospitals; providing emergency medical services.
Responsible for the safe, secure, and on-time delivery of goods to all customers within a 100-mile radius of the warehouse; acquired a fleet of 18 trucks.
Driver
Maintained knowledge of products current sales and promotions, policies regarding payment and exchanges and security practices to provide exceptional client service.
Responded to customer questions and requests in a prompt, friendly and efficient manner.
Ensured compliance with federal and state laws, regulations and guidelines.
Transported deliveries locally and over the road ensuring on time deliveries within the specified timeframe.
Entered and exited traffic quickly to avoid collisions with other vehicles.
Wrap Up
You need to make sure your resume stands out amongst the other candidates. It is the first impression that employers have of your work experience and skills. Use the samples above to put together a resume that best suits your needs and helps you get the job you want.