Engineering interns provide assistance to engineering companies. Their duties include helping prepare design documents, cataloging test plans, monitoring customer feedback, helping created field test procedures, investigate hardware specifications, and reporting findings. This job has no education requirement, as it's an entry-level position. Engineering interns must demonstrate computer skills, organizational skills, dependability, professionalism, attention to detail, initiative, and consistency.
A good resume is well-written and concise. It should be neat and easy to read, listing previous experience in a logical order.
Our resume samples will provide you with multiple examples of what you can include when writing your resume.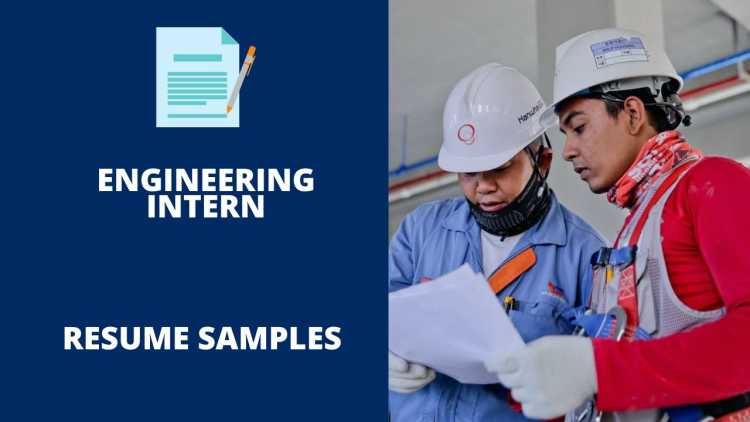 The Best Engineering Intern Resume Samples
These are some examples of accomplishments we have handpicked from real Engineering Intern resumes for your reference.
Engineering Intern
Reduced Statistical Variability of Loader Assembly process by designing and implementing improved tooling.
Improved process efficiency by increasing production rates for nitrogen hoses through conversion of chemical etching to laser etching.
Utilized Lean and Six Sigma techniques to reduce waste and improve upon existing processes.
Improved organizational efficiencies by designing and developing new procedures and organizing equipment.
Reduced costs by revising quality control standards and training employees in statistical process control.
Engineering Intern
Created instructions on how to install solar monitoring kits from onsite experience.
Helped redesign the website to better communicate the product to consumers.
Partook in designing a solar powered system to track fish in the Indian river lagoon and found the components.
Contributed to the design of new equipment by coordinating team effort, researching mechanical needs, and testing products.
Became proficient in the use of AutoCAD, finite element analysis program (ANSYS) structural analysis software, CamPro programming software, computer-aided drafting (CAD), CATIA V4 mechanical CAD software, computer-aided manufacturing (CAM), computer aided design (CAD), rapid prototyping (RP) technology, UGS NX 4.
Engineering Intern
Conducting research alongside Engineer III about new technologies such as Electric Vehicle Charging Stations and Solar Panels.
Researching and making technical memo on technology, installation cost, operation and maintenance cost, customer cost, other charging stations within the 5-mile radius of each facility.
Involved in importing eclectic old AutoCAD drawings to created brand new drawings.
Conducted geological studies of mineral specimens and structures; planned and executed analytical tests, performed chemical assays, applied digital technology, and interpreted data.
Worked inside a metal fabricating facility performing duties as specified by engineering company and business management.
Engineering Intern
Designed an experiment to evaluate the performance of the bilge pump system installed aboard an unmanned semi-submersible vehicle.
Participated in design reviews focused on various types of shipboard systems.
Commended by mentor for constantly seeking further training and new assignments within department.
Achieved grant in the amount of $34,800; secured funding and supervised distribution of funds.
Selected as the lead intern for a $203,000 grant project based on technical skills and knowledge of Spanish.
Engineering Intern
Conducted exfiltration basin calculations, and paving, grading, and drainage calculations.
Revised and approved shop drawing submittals and assembled cost estimates for large scale developments.
Attended public meetings and dealt with city as well as county officials in land development.
Conducted independent research regarding cultural contributions to the mechanical industry.
Completed a resume for Undergraduate Studies at University of New Hampshire; successfully courted an opportunity for entry-level employment with Ivy Tech Community College.
Engineering Intern
Participated in troubleshooting, data gathering, and cleaning of distillation tower in a PSM covered operation.
Led successful troubleshooting of a vacuum flash tower, mechanical solids separation equipment, and decantators to optimize yield and throughput for a crude tall oil acidulation facility.
Researched and began the implementation process for new wastewater purification techniques by gathering information acquired in other projects and applying the technology to the problem presented.
Provided architectural and engineering support for a variety of projects in the Kansas City metropolitan area.
participated in a safety training program for new hires. Lead project drafting efforts for an award winning design.
Engineering Intern
Created and manage tool equivalency packages for every unit included in the company's capability list.
Organize a database for all calibrated tools and tool equivalency packages in compliance with FAR part 145.
In charge of verifying that accuracy of all tools used in overhaul and repair procedures met OEM's requirements.
Designed new special tools and fixtures needed to repair, assemble and disassemble units in compliance with FAA regulations.
Participated in on-going engineering projects and was held accountable for meeting user and professional needs.
Engineering Intern
Most standard implementations of TCP perform poorly when packets are reordered.
In this project, we proposed a new version of TCP that maintains high throughput when reordering occurs and yet, when packet reordering does not occur, is friendly to other versions of TCP.
The proposed TCP variant, or TCP-PR, does not rely on duplicate acknowledgments to detect a packet loss.
Supervised and provided project management for repairs on engine room systems.
Established specifications to correct on-going issues with engines, fuel systems, and equipment.
Engineering Intern
Performed site visits to analyze concrete spalling in pools and private residences to recommend concrete restoration and repair.
Determined how to incorporate support beams, columns, and foundations for new and existing structures.
Assisted the professional engineer with the on-site information required to ensure the safety and durability of a variety of projects within the Florida Keys.
Prepared data sheets, budgets, and estimates for work order completion by a contractor that was not previously involved in the project.
Handled damage estimate requests, cable replacement requests from officials, technicians who were working on an ongoing contract project.
Engineering Intern
Managed job inflow and outflow to ensure plans are done correctly and priced according to area, scope of work, and time dedicated to site specific jobs.
Educating citizens in environmentally friendly living styles and project designing Worked with GoodWill.
Designed a device that would help wheelchair bound people get into and out of pools efficiently ensuring safety regulations were and was astatically pleasant.
Prepared estimates for daily tasks and tested contingency plans to ensure completion of work by deadlines.
Researched, wrote, and presented briefings as required by project management standards.
Engineering Intern
Operated and maintained custom machinery for extruding low-cost optical filters.
Utilized mechanical equipment (e.g. vertical mill, lathe, band saw) to design and fabricate new parts for optical filter machinery.
Compared extruded optical filters to various light spectrums by using spectrometer.
Performed data entry duties in support of organization.
Achieved award for meeting customer satisfaction guidelines based on customer survey ratings from customers who had applied for a loan.
Engineering Intern
Reviewed water construction projects submitted by engineers working for developers to determine compliance with City standards.
Prepared checklist pertaining to water facility installation and maintenance for businesses, residences and developments.
Performed field inspections, data collection, utility reviews and customer service requests submitted by private utility companies and engineers working for government municipalities such as FDOT and Hillsborough County.
Assisted with project management and design of the company's first product, a high-end water purification system.
Served as an engineering test technician for the design and development of a conveyor belt for processing electronic components.
Wrap Up
You need to make sure your resume stands out amongst the other candidates. It is the first impression that employers have of your work experience and skills. Use the samples above to put together a resume that best suits your needs and helps you get the job you want.