An entrepreneur is an individual who creates a business. So basically, if you start your own clothing company from the ground up, you're an entrepreneur. In this position, you must be able to plan and market your product or service, manage employee relations and finances, created a budget, set financial goals for your company, acquire financing for expansion or new projects, develop a unique selling proposition (USP), identify the demand of a product or service in the marketplace and develop effective distribution channels. To become an entrepreneur you must have excellent communication skills – both verbal and written – as it's important to convey ideas to potential investors.
A good resume is well-written and concise. It should be neat and easy to read, listing previous experience in a logical order.
Our resume samples will provide you with multiple examples of what you can include when writing your resume.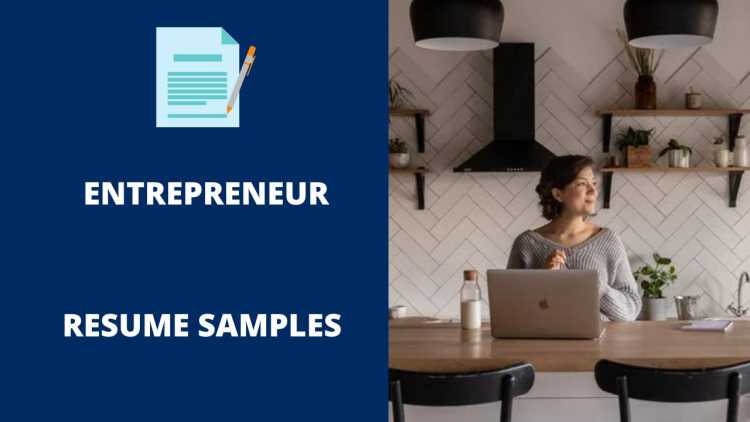 The Best Entrepreneur Resume Samples
These are some examples of accomplishments we have handpicked from real Entrepreneur resumes for your reference.
Entrepreneur
Created a social media site for the entertainment industry to connect entertainers with each other and with hirers.
Utilized client side languages HTML, CSS, Javascript, JQuery, and JSON for the front end.
Registered the domain and uploaded the website online with a personal ubuntu web server.
Implemented web security mechanisms such as authentication, authorization, HTML escaping, Cross-Site Request Forgery (CSRF) Tokens, one way hashes, and SHA-256 encryption with RSA-2048.
Fostered relationships with East Texas Small Business Development Center (SBDC) to develop a new business for the retail market.
Entrepreneur
Help clients file accurate personal and small business income tax returns and help small businesses have a clear understanding of their financial status.
Market and promote services through social media, brochures, posters and word of mouth.
Currently we have 15 bookkeeping clients and approximately 150 tax clients.
In addition to my-self there are two partners and one part-time intern.
Responsibly self-employed the successful opening of a retail craft business.
Entrepreneur
Market to different outlets to ensure company growth from start-up phase.
Generate new leads and maintain rapport with existing customers.
Purchased, Developed and built a domain using WordPress, Photoshop, and Microsoft Office.
Managed Inventory daily and make orders when appropriate.
Established a complete inventory system that ensured sales and profits continued to increase.
Entrepreneur
Traveled to Europe and Middle East to negotiate and purchase jewelry collections that sold out.
Provided translation and/or interpretation of meetings and documents to successfully facilitate business interactions.
Recognized for strong customer interaction leading to repeated sales.
Provided excellent customer service by remembering faces, names, and preferences; ensuring that clients received their correct order in less than three minutes.
SBDC assisted with M&A, employment, and funding.
Entrepreneur
Developing digital components for vertical market in Light Sport Aircraft, Experimental and other vehicle types.
Currently, building components and products for aircraft combat simulation for the movie industry.
Architecture includes various development concepts: real-time, software factories for emulating aircraft components.
Founded an international marketing company, Circle of Excellence (CEO), which established the company as a quality manufacturer in Texas.
Ensured quality control through rigorous testing and customer feedback.
Entrepreneur
Worked with manufacturers and wholesalers both nationally and internationally.
Imported private labeled products to sell in various marketplaces.
Determined profitability of entering the market for various goods.
Started a social media management company by managing a client's social media accounts to increase awareness and branding of the company.
Purchased factory equipment and attended training workshops to ensure products were delivered on time and on budget.
Entrepreneur
Independent Clothing Designer – Working mainly with natural fibers selling at various vendor events.
Designed my own line of loungewear for women.
Organized and covering all logistics for a number of successful fashion shows.
Friendly and amiable attitude designing specialty items for clients.
Installed monitoring software on several hundred computers to detect unauthorized access by competitors into customer data databases.
Entrepreneur
This direct selling part-time business has given me so many people and leadership skills.
I believe anything is possible to achieve through persistence and dedication.
I want to change the world as an entrepreneur and impact the lives of many whether through service or products.
I have learned how to make others a fortune while making a fortune.
Installed monitoring software on several hundred computers to detect unauthorized access by competitors into customer data databases.
Entrepreneur
Proper training that I provide can help prevent any company from losing money by collecting on past due accounts.
A detailed outline of collection procedures is provided along with a workshop to help perfect employees skills of providing excellent customer service and collecting on all accounts in a timely manner.
Develop pricing strategies, balancing firm objectives and customer satisfaction.
Identify, develop, or evaluate marketing strategy, based on knowledge of establishment objectives, market characteristics, and cost and markup factors.
Started a social network and interactive website business with a friend while still in high school.
Entrepreneur
Ensured that customer arrived safely and timely to their destination while creating a safe environment.
Created Excel spreadsheet and maintained files to track mileage, maintenance, and miscellaneous expenses.
Managed routes through use of iPhone app technology.
Assured that the vehicle is maintained in excellent condition and is cleaned regularly and In-depth knowledge of vehicle maintenance is applied.
Co-wrote two books on entrepreneurship and business management.
Entrepreneur
Maximized revenue by developing innovative client and employee retention strategies resulting in an increase of over 50% within the first 6 months.
Built customer loyalty by cultivating relationships with high profile clients, fashion designers, event production and other key industry insiders.
Drafted business plans, budgets and quarterly and annual reviews.
Created value propositions while developing multi-location client and vendor accounts.
Developed the business name, script, logo, colors, and web pages for the largest martial arts competition event in North Carolina.
Entrepreneur
Helped develop and expand an Eco friendly transportation service catering to corporate travel.
Marketed services to local businesses resulting in increase of revenue by 30% via website enhancements and promotional opportunities.
Managed overall business and logistical operations, including supporting new business initiatives, personnel management and on-going marketing strategies targeted towards the local market.
Developed the contest rules, created a platform for all participants to earn money from submitting movie clips and artwork to contests.
Conceived ways to make the Dazzle website more profitable via affiliate marketing tools and sites.
Wrap Up
You need to make sure your resume stands out amongst the other candidates. It is the first impression that employers have of your work experience and skills. Use the samples above to put together a resume that best suits your needs and helps you get the job you want.