General Managers help manage every or almost every aspect of a company. They are in charge of operations, controlling costs, making policies, customer service, hiring and training employees, motivating staff, and engaging with sellers. Employers prefer a Bachelor's degree in business management, administration, or a related field. Good skills and qualities to have include: good communication, knowledge of business functions, project management, organizational skills, leadership skills, computer literacy, and a strong work ethic.
A good resume is well-written and concise. It should be neat and easy to read, listing previous experience in a logical order.
Our resume samples will provide you with multiple examples of what you can include when writing your resume.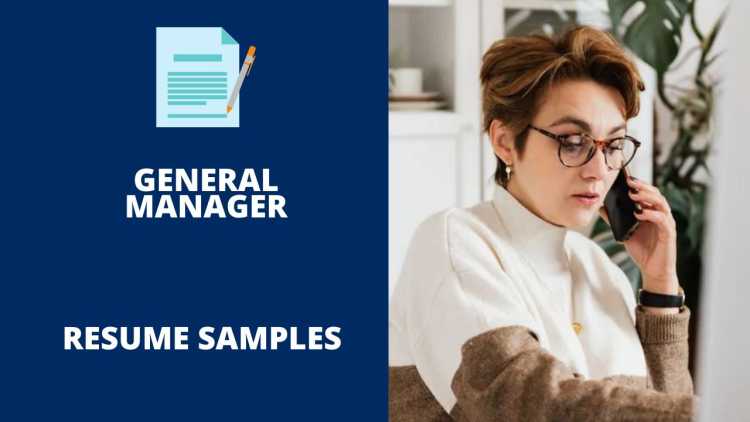 The Best General Manager Resume Samples
These are some examples of accomplishments we have handpicked from real General Manager (Business) resumes for your reference.
General Manager
Managed all aspects of business for manufacturer of flight critical/flight safety components and assemblies used in commercial and military aircraft applications.
Developed and presented to board of directors annually, fiscal year budget, sales and business plans.
Reported results for prior periods and specific improvement plans to continually improve performance.
Developed and implemented strategic goals that aligned with key objectives in annual budgets and business plan.
Efficiently managed and promoted sales of an industrial supply business to increase the bottom-line profit by over 20% in one year.
General Manager
Created and organize marketing events and special promotions by teaming up with neighboring companies, and Westfield Marketing department to generate revenue.
Accountable for visual layout, merchandise, recruit, interview, hire, train, manage merchandising, and console employees.
Travel to additional locations to assist in training, store setup, and inventory preparation.
Topped sales revenue charts with a team of sixteen employees and $10 million in annual sales.
Positively advanced business operations maintained fiscal control and guided the financial success of a business that had over $7 million in annual revenue.
General Manager
Responsible for the managing, securing and the deposit of high cash volumes.
Training General managers and Site managers in all aspect of the café operations.
Training Employees in food preparation and customer service and site safety.
Food Safety Implementation: insuring all employees develop a safety and hygiene first mentally in the food preparation area.
Realized a total profit of over $900,000.00 USD in the first year of business operations.
General Manager
Recruited and supervised, entire team of 70 to include executive chef and food and beverage managers.
Controlled costs and provided outstanding dining experiences.
Sales Incentives: Introduced hotel incentive plan that increased foot traffic from midtown hotels by offering discounts to hotel guests and holding client appreciation events on slow nights for bellmen, concierge and front office associates to promote the restaurants.
In the second year, achieved an un-matched record for growth in sales and profits.
Responsible for every aspect of business operations including, strategic planning and directing overall financial performance, managing revenues and expenses, hiring and training employees, product development, quality control, and customer service.
General Manager
Spearheaded prospecting techniques which generated a 50% YOY lift in small and medium business sales.
Earned Gold Store status based on district leading customer experience net promoter score results.
Led mentor of General Manager staff which oversees the supervision of over 100 employees in Manhattan district.
Led field recruitment coordinator and primary point of contact for leadership staff acquisitions.
Managed a growing staff of 200+ employees; cultivated relationships with clients from around the globe.
General Manager
Set and Achieved highest standard in all areas of restaurant which includes: ensuring excellent guest experience, team development, high quality foods, food safety, store cleanliness, and maximum profitability.
Connect with the local community to host fundraisers and donations for local non-profit organizations.
Execute strong business fundamentals to increase our Business Report Card from an "F" level to an "A" level.
Improved employee morale and productivity while increasing client retention.
Maintained consistent customer satisfaction levels by effectively managing staff, budget, and finances.
General Manager
Monitor work schedules and goal achievements for each department.
Prepared business achievements reports and forward to president.
Follow claim and customer service department operations, and give input to department managers.
Observe and keep track of dispatch department operations and follow up with Dispatch Manager.
Financial leadership; raised the annual sales by $500,000 within the first five months of taking over responsibility for two restaurants in a fast-casual chain.
General Manager
Managed all store employees including; hiring, training, disciplinary and terminations.
Produced and distributed weekly time schedules for all employees.
Maintained bank deposits, daily sales, inventory, delivery orders, hiring and disciplinary actions.
Ensuring crew displayed exemplary customer skills at all times.
Took on additional responsibilities to ensure that the profitability of all retail environments is maximized.
General Manager
Led event project planning, including venue preparation, participant communication, publicity, hiring and scheduling contract staff, national and international logistics, and event on-site management.
Coordinate member organization communications in English and Polish.
Administer by-laws to address member conflicts using procedures and respond to by-law interpretation requests.
Expertise in-store operations and evaluating food costs and shrink; oversaw overall cost controls and inventory management.
Successfully managed profitably despite increased competition and market changes.
General Manager
General Manager in charge of the operation and supervisor of over 30 employees and designated locations.
Conduct trainings and arrange meetings with the staff and Advocate consultants.
In charge of creating tasks and schedules for different work sites.
Managed payroll and budgets as well as the different accounts for purchasing supply.
Resolved problems and disputes with a positive outcome and follow ups with the customer and the staff.
General Manager
Managed a 5 million dollar flagship location, 1 store manager, 2 assistant managers, focusing on growth through performance reviews, promoted 1 full time associate to Assistant Manager.
Developed a CRM calendar and game plan to increase our sales, sales increased by 15% with return customers after 2 weeks of implementing program.
Executed Daily Executive visits with Owner, CEO, VP of merchandising, VP of Human Resources, VP of Business development, VP of Learning and development, VP of Visual, VP of Construction.
Created and implemented a process for managing an organization's human resources by establishing policies, procedures, and goals.
Developed the tools to evaluate performance, inspire cooperation and achieve results.
General Manager
Held a seat at the RVP Roundtable, working with corporate associates on development and execution of new company programs.
Performed detailed P&L Analysis to implement specific, actionable plans to quickly turn around underperformance.
Utilized small business canvassing to sign up 32 new Business Customers driving an additional $150,000+ in yearly sales during FY2015.
Worked with Regional Loss Prevention to implement processes in a sister store facing Shrink Issues, Generating a 50% improvement in shrink.
Leadership skills utilized while working effectively with individuals, teams, suppliers, and customers to create a successful team environment.
Wrap Up
You need to make sure your resume stands out amongst the other candidates. It is the first impression that employers have of your work experience and skills. Use the samples above to put together a resume that best suits your needs and helps you get the job you want.