Insurance agents are sales associates who manage a portfolio of clients. Their responsibilities include identifying sales opportunities, tracking claims, assessing risk profiles, initiating policy renewals, preparing reports and implementing marketing strategies. Insurance agents may need to become licensed. They are skilled in written and oral communication, people-oriented, sales-oriented, computer literate, the ability to multitask and to work well with others.
A good resume is well-written and concise. It should be neat and easy to read, listing previous experience in a logical order.
Our resume samples will provide you with multiple examples of what you can include when writing your resume.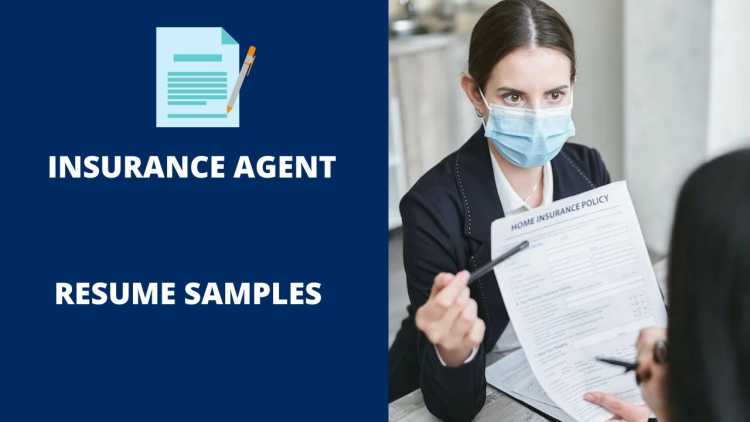 The Best Insurance Agent Resume Samples
These are some examples of accomplishments we have handpicked from real Insurance Agent resumes for your reference.
Insurance Agent
Maintained contact with all insurance companies with information of the insured to make sure that all is verified.
Scanned, faxed & emailed all documents where need be to go and maintained a paper-free department.
Processed all payments for auto, home & commercial policies in a timely fashion.
Drafted new accounts and increased client coverage by building and anchoring new procedures.
Increased balance from $500,000 to $1,000,000 in two years.
Insurance Agent
Facilitated health and life programs to insure safe and secure retirement for senior market.
Develop and implement sales plan and manage all phases of the sales cycle-from prospecting to close and follow-up support.
Present a full line of insurance and financial products to individuals.
Train and supervise new agents and created a fun and productive environment.
Reduced cost of insurance by reducing expenses through a change in accounting standards and procedures.
Insurance Agent
Communicated with over 20 clients and sold over 15 life and auto insurance products, by considering clients' particular needs, financial situations, policy costs and processing time.
Approached potential clients by utilizing mails, emails and phone solicitation.
Cooperated with underwriting department to obtain prices and results.
Gained deep product knowledge of auto insurance, whole life, universal life and term life products provided by Allianz, Transamerica, Pacific Life and Voya.
Managed a group of ten independent agents who shared in the financial success of the company.
Insurance Agent
Enroll and renew coverage for individual health coverage plans as mandated by the Affordable Care Act.
Provided translation services to ensure that clients are knowledgeable and satisfied.
Checked if individuals qualify for subsidies/premium tax credits or cost sharing reductions.
Was promoted to the position of office manager for a large national agency with twenty-five offices and forty employees.
Supervised and trained over 12,000 workers in insurance policies and techniques; implemented workable solutions to complex problems within a 24×7 customer service environment.
Insurance Agent
Ability to review, interpret credit agreements, amendments and waiver request and other documents applicable to the closing and operational requirements to servicing the client and lenders.
Review the reconcilement of (cash disbursement) suspense accounts. Including the timely monitoring, resolution and reporting of all open items and ensuring that reconciliation tapes for control and reconciliation are prepared daily.
Ensuring the reconcilement and applicable corrections of customer portfolio such as, unused commitment fee and commitment balances, past due related items, differences in the amortizing of fees and GL balances.
Offered optional insurance coverage, minimizing my commission to help clients avoid monetary loss.
Freelanced commissions from 4 to 8% of premium amounts from individual and business clients.
Insurance Agent
Sell various types of insurance policies to businesses and individuals on behalf of insurance companies, which include automobile.
Seek out new clients and develop clientele by networking to find new customers and generate lists of prospective clients.
Performed administrative tasks, such as maintaining records and handling policy renewals.
Returned products directly to the originating companies for a full refund.
Received Best Agent Status for the year 2000. Awarded by KC Vice President.
Insurance Agent
Develops a coordinated protection plan by calculating and quoting rates for immediate coverage action and long-term strategy implementation.
Obtains underwriting approval by completing application for coverage.
Completes coverage by delivering policy; planning future follow-up visits and evaluations of needs.
Provides continuing service by providing direct deposits forms; processing changes in beneficiary and policy loan applications.
Set record for the highest first premium collections within consolidated territory area during the same year.
Insurance Agent
Acted as intermediaries between insurance companies and insurance buyers, including individuals and business.
Advise customers on the insurance policies that best suit their needs.
Sorted out new clients and explaining types of coverage they may find helpful.
Complete and submit applications, issue quotes, maintain client records and prepare reports.
Outstanding performance award. Gathered information from individuals that led to the underwriting of hard-to-place insurance policies.
Insurance Agent
Conducted both in-home and group presentations and provided detailed explanations of policy guidelines and benefits to clients and their families.
Interviewed prospective clients and reviewed their existing policies which enabled me to provide them with the best coverage and premium options available based on their financial needs and goals.
Assisted customers with final expense arrangements.
Evaluated leads obtained through direct referrals, lead databases and cold calling.
Awarded as the top salesperson in 2004; demonstrated ability to establish and maintain rapport with customers.
Insurance Agent
Develops base for long-term sources of clients by using referrals, occupational, and special- interest groups to compile lists of prospects.
Approaches potential clients by utilizing mailings and phone solicitation; making presentations to groups at company-sponsored gatherings; speaking publicly to community groups on the subject of financial well-being.
Determines clients' particular needs and financial situations by scheduling fact-finding appointments; determining extent of present coverage and investments; ascertaining long-term goals.
Gained customer trust by offering recommendations and solutions to customer inquiries, while maintaining professional courtesy.
Established a long relationship with a valued customer through continued communication, responsiveness, and customer service beyond the sale of a policy.
Insurance Agent
Conduct community outreach activities to educate potential clients on different risk management tools and financial vehicles including, but not limited, to Life Insurance, Disability Insurance, Long-Term Care, Annuities, Qualified and Unqualified Retirement Plans, and Mutual Funds.
Interview prospective clients and analyze their needs based on their current financial situations. Develop and propose financial solutions designed to satisfy their goals and implement the financial plan of choice.
Performed periodic reviews to measure the success of the financial plan and to make necessary adjustments.
Followed up on expired liability policies with new endorsements in less than one month; saved customer $350 in premiums.
Assigned an insurance portfolio of 200 accounts in one month; positively affected the premium income for the quarter as a result of writing new business.
Insurance Agent
Implemented effective questioning and listening techniques to overcome ambivalence and objections.
Improved time management and organization skills by balancing multiple tasks and client list.
Conducted transactions with high levels of integrity and confidentiality earning trust of clients.
Responded to customer service needs by coordinating appointments with clients, agents, and insurance companies regarding payment of premium balances.
Achieved 100% attainment rating for administrative accuracy; reviewed and verified claims, renewed policies, and updated file assignments.
Wrap Up
You need to make sure your resume stands out amongst the other candidates. It is the first impression that employers have of your work experience and skills. Use the samples above to put together a resume that best suits your needs and helps you get the job you want.