Janitors are responsible for maintaining and cleaning facilities. Job duties include cleaning, dusting, sweeping, vacuuming, mopping, emptying wastebaskets, and performing building maintenance as needed. To work as a Janitor, you need a high school diploma or GED, and some places require at least 1-year experience. Janitors need to be self-motivated, hard-working, time-efficient, detail-oriented, organized, punctual, and have excellent customer service skills to be successful.
A good resume is well-written and concise. It should be neat and easy to read, listing previous experience in a logical order.
Our resume samples will provide you with multiple examples of what you can include when writing your resume.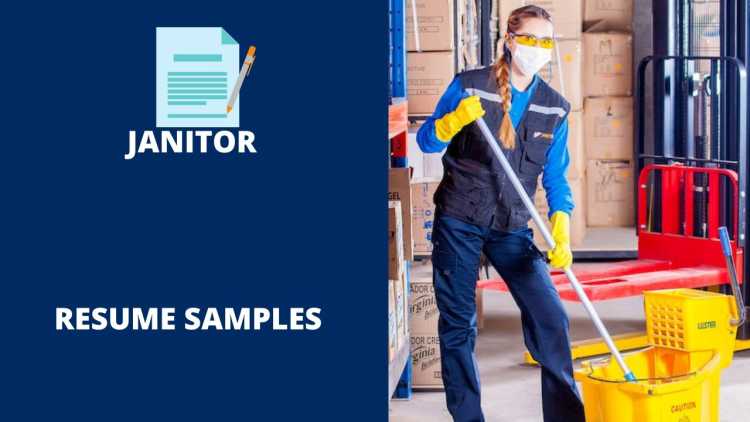 The Best Janitor Resume Samples
These are some examples of accomplishments we have handpicked from real Janitor resumes for your reference.
Janitor
Maintain cleanliness of facility: mopping, sweeping, dusting, cleaning of windows.
Separate recyclables, disperse in compactor and maintain mechanics of compactor to assure machinery is working appropriately.
Assisted with additional cleaning services when instructed by management.
Maintained a 99.9% cleanliness rating in a Food Store warehouse that required constant attention to facilitate manufacturer's quality standards.
Cleaned many floors in one shift as a Custodial Technician while taking care to prevent damage to carpet and tile.
Janitor
Cleaning classrooms, offices, cafeterias and hallways.
Making sure it was a suitable place for teachers, students, and faculty to teach, learn and work.
Taking out trash, sweeping and mopping floors, dusting, and all around general cleaning.
Achieved best job performance rating based on the area of responsibility, effort applied, and quality demonstrated.
Actively maintained a 95%+ cleanliness rating for all Product Storage rooms according to Food Services Company standards.
Janitor
Cleaned building floors by sweeping, mopping, scrubbing, or vacuuming.
Followed procedures for the use of chemical cleaners and power equipment to prevent damage to floors and fixtures.
Mixed water and detergents or acids in containers to prepare cleaning solutions, according to specifications.
Created an inventory system for supplies and equipment used by the Concession Supply Crew; saved the company thousands of dollars over two years in supplies costs.
Performed Quality Improvement and Safety Audits on company-owned buildings.
Janitor
Conducted various Janitorial duties such as: Cleaning, Gathering and emptying trash, Sweeping, Mopping, scrubbing, waxing, buffing, polishing and vacuuming floors.
Performed Inventory and Quality control of supplies and equipment.
Made necessary requests of cleaning supplies and equipment for day to day operations.
Communicated with Supervisors/Managers regarding any mishaps, repairs or related maintenance issues.
Established a proprietary cleaning solution for use at all company-owned facilities.
Janitor
Clean assigned areas including furniture, telephones, windows and fixtures.
Sweep, mop, and vacuum all area floors, rest rooms and break areas.
Clean restrooms facilities and replenish supplies.
Performed general cleaning, light floor care and special event set ups.
Received multiple commendations for cleanliness, safety, and quality standards.
Janitor
Cleaned and sanitized restroom facilities and fixtures including sinks, urinals and toilets.
Washed windows, mirrors and walls; cleaned and sanitized showers as assigned.
Swept, vacuumed, mopped, waxed, stripped, and polished floors; vacuumed and shampooed carpets.
Initiated and maintained a system that is completely paperless, which reduced my hours to less than half of what it was before.
Organized and maintained an area of over 5000 square feet with eight offices, a conference room, and file storage rooms.
Janitor
Mopping the Hallways on my end of the building, with the main hallway done everyday in rotation with second janitor.
Taking out trash from the resident's rooms in rotation with second janitor (one janitor mopped the main hallway, while the other took out the trash)
Cleaned the dining hall on my end of the building twice a day, as well as the back patio every morning.
Implemented an effective cleaning procedure that promoted efficiency and customer satisfaction with the building management company.
Developed a system for preventive maintenance which included a window washing program, semi-annual carpet cleaning, and a proper waste disposal management program for the exterior grounds.
Janitor
Full time janitor ensuring effective and timely completion of janitorial operations specific to the assigned areas.
Provided carpet cleaning, vacuuming, floor care, trash removal and restroom cleaning for business offices.
Removed all finger marks and smudges from vertical surfaces, including doors, door frames, around light switches, private entrances, glass and partitions.
Followed directions from supervisors to adhere to a rotation schedule of assigned quadrants with co-workers as a team.
Reduced average time per office clean from 10 minutes to 4 minutes by creating a new cleaning schedule.
Janitor
Ability to work well with other crew members and able to take direction from supervisors.
Carried out any and all additional tasks which are assigned by management.
Demonstrated ability to observe all safety and personnel rules and regulations.
Filled in as a substitute Assistant Manager and received positive feedback from customers.
Helped complete the daily tasks and routines while gaining more experience to learn more on the job.
Janitor
Assisting skilled workers with projects, coordinating with tradesmen and supervisors to work efficiently.
Installing system components, office equipment, facility components, lighting, plumbing, electrical panels.
Performing a variety of maintenance activities (e.g. carpentry, painting, HVAC, etc.) in order to complete.
Achieved recognition by the store manager for timely completion of assigned duties and providing customer service in a very hostile environment.
Worked quickly with little supervision to maintain a clean, orderly appearance of his job area.
Janitor
Managed carpet cleaning, vacuuming, floor care, trash removal and restroom cleaning for a hotel of 300+ rooms and 140+ customers per day.
Trained 2 janitors successfully in all aspects of cleaning, maintenance, and safety procedures, ensuring that they follow pre-set process for maximum efficiency and achieve high standards.
Removed all finger marks and smudges from vertical surfaces, to include doors, door frames, around light switches, private entrance glass and partitions.
Proven ability to work under pressure while responding with increased efficiency as the time required increased from 30 minutes up to 2 hours of work within a few days.
Restored three floors of a 500-room luxury hotel to their original condition in record time after a fire.
Janitor
Cleans and services restrooms. Sweeps, vacuums, and mops floors and stairways.
Scrubs, strips, sanitizes, waxes, and buffs floors using powered machines equipped with rotating brushes.
Maintains an inventory of cleaning and toiletry supplies.
Cleared an overgrown 100-acre field of debris and oversaw construction of a 900-unit building complex on schedule.
Installed plumbing fixtures and supervised the installation of wallboard and insulation in a resort facility while the manager was away.
Wrap Up
You need to make sure your resume stands out amongst the other candidates. It is the first impression that employers have of your work experience and skills. Use the samples above to put together a resume that best suits your needs and helps you get the job you want.