Insurance Professionals sell insurance for agencies. Their duties include conducting research, recommending products, submitting reports, addressing the client's concerns, training fellow employees, and constructing insurance quotes. To become an insurance agent, you must obtain a high school diploma or its equivalent. Insurance Professionals must demonstrate professionalism, interpersonal skills, negotiating skills, persuasion skills, communication skills, organizational skills, and attention to detail.
A good resume is well-written and concise. It should be neat and easy to read, listing previous experience in a logical order.
Our resume samples will provide you with multiple examples of what you can include when writing your resume.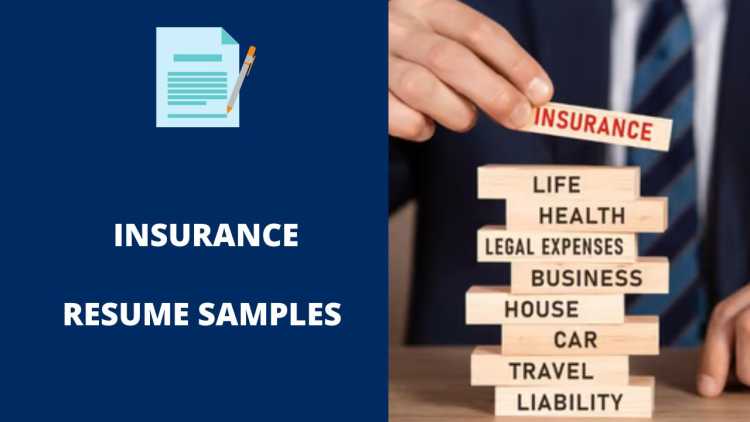 The Best Insurance Resume Samples
These are some examples of accomplishments we have handpicked from real Insurance resumes for your reference.
Insurance Professional
Partnered with CPAs, attorneys, and other professionals to provide comprehensive analysis for businesses on all lines of insurance from employee benefits to business policies.
Developed and implemented cost reductions strategies on healthcare renewals and other employee benefit packages.
Assessed client risk exposure and recommended corresponding solutions to optimally meet client needs and objectives.
Insurance Agent
Call on policyholders to deliver and explain policy, to analyze insurance program and suggest additions or changes, or to change beneficiaries.
Customize insurance programs to suit individual customers, often covering a variety of risks.
Sell various types of insurance policies to businesses and individuals on behalf of insurance Company, including automobile, fire, life, property, and specialized policies such as Liability, Assault and Robbery, Fidelity Bond.
Explain features, advantages and disadvantages of various policies to promote sale of insurance plans.
Insurance Agent
Help people get the right amount of life insurance for an affordable cost so that they would be properly protected for their loved ones without breaking their pockets.
Helping customers set up investments for when they retire.
Make presentations on financial services to groups to attract new clients.
Insurance Specialist
Review and analyze all incoming explanation of benefits and adjust patient' accounts to reflect the carrier decisions.
Retrieve various types of medical documentation and develop, submit and track appeals to carriers.
Proactively communicate with insurance carriers regarding reduced or denied reimbursement.
Insurance Specialist
Ensure proper monitoring of policies, such as changes in the insured needs, exposure in household, Increases, Decreases, discounts, proper underwriting.
Managed customer retention activities, such as IFR's and discount double check.
Take and manage claims and ensure proper follow up with claim department and customers.
Insurance Specialist
Performed appropriate billing functions, including rebill as well as electronic submissions.
Identify irregular or trending issues and provide resolution for under paid reimbursements.
Manage/maintain desk inventory, resolve high priority items including aged accounts.
Enhance professional growth and development through in service meetings, education programs and conferences, webinars as available.
Insurance Specialist
Led a team of five in the billing of over $80 million worth of premiums.
Traveled to Hoboken to train the technology team on the insurance uses of our data and billing systems.
Reviewed over three hundred policies for accuracy and reported necessary changes.
Insurance Specialist
Improved data reconciliation system which reduced payment preparation time by 50%.
Reorganized a tracking system that improved document management.
Successfully assisted customers with wide variety of questions including insurance, billing and credit standing resulting in increase of overall customer satisfaction towards insurance department.
Insurance Coordinator
Versees the Insurance Specialist Team of an Optical Management Company with over 100 Optical Offices throughout the country in a variety of duties in an effort to keep the percentage of outstanding Insurance balances to a minimum.
Submits accurate and timely claims via EDI, HCFA 1500, and various Insurance websites.
Follows up on denied claims as well as outstanding balances, maintaining accounts to under 60 days aging.
Coordinates travel arrangements among employees for flights, hotel and car rentals.
Insurance Coordinator
Responsible for insurance verifications and accurate communications to staff and patients regarding their insurance coverage.
Coordinate and process payments from insurance carriers and troubleshoot any issues related to payment.
Ensure benefits are accurate and considered as part of the financial planning.
Serve as a liaison between insurance carriers, staff and patients to resolve any concerns and maintain a positive working relationship.
Insurance Coordinator
Worked with a team of recall representatives, Dental Hygienists, Implant Specialist, Orthodontist, Dentist and Finance Coordinators to find out what benefits patients are entitled to.
To verify those benefits abiding by insurance guidelines and submit and follow up on claims for payment to the office.
Also to ensure patients insurance information is attached properly in Eaglesoft so treatment can be presented properly.
Insurance Coordinator
Responsible for the purchase, setup and operation of computer related equipment and software.
Maintain desirable computer network operation on both short and long term basis.
Responsible for purchasing and maintaining vaccines and office supplies at optimal cost to the practice.
Responsible for successfully maintaining Physician credentialing with Insurance plans and Participating Hospitals.
Wrap Up
You need to make sure your resume stands out amongst the other candidates. It is the first impression that employers have of your work experience and skills. Use the samples above to put together a resume that best suits your needs and helps you get the job you want.