Inside Sales Representatives work to sell a product or service. Their duties include making sales calls, following a specific script, working with sales team members, facilitate the entire sales process, attend meetings, research the product their are selling. To work as an Inside Sales Representative you just need a high school diploma. Inside Sales Representatives must demonstrate patience, listening, writing and communication skills, confidence, persistence and interpersonal skills.
A good resume is well-written and concise. It should be neat and easy to read, listing previous experience in a logical order.
Our resume samples will provide you with multiple examples of what you can include when writing your resume.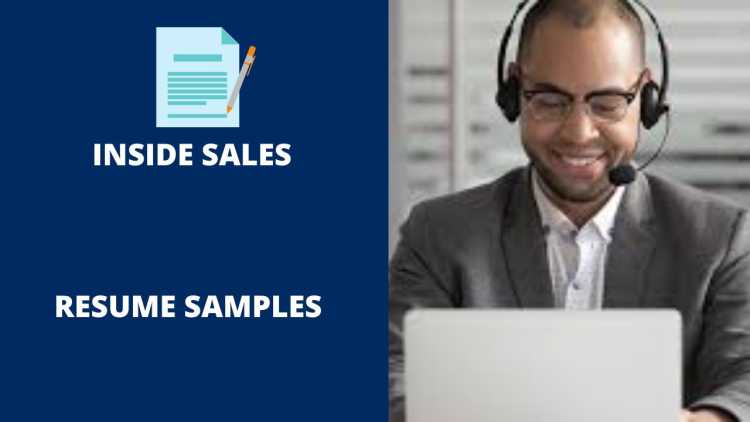 The Best Inside Sales Resume Samples
These are some examples of accomplishments we have handpicked from real Inside Sales resumes for your reference.
Inside Sales Representative
Generates business by utilizing Barclays Center amenities/resources to clients with loyal relationships.
Drive revenue ($100,000) through ticket sales for the Brooklyn Nets, New York Islanders, & Barclay Center Events, hitting monthly goals.
Establishes a dynamic relationship with all customers with the goals of renewing and upselling.
Takes initiative in seeking new business partnerships through LinkedIn, attending community events, calling 80 prospective and current clients per day.
Served as the top-producing inside sales rep from January 1, 2003, to June 30, 2006.
Inside Sales Representative
Handle all responsibilities for the Parts Department Manager when he is outside the office on sales calls.
Prepared spreadsheets on Excel, which includes detailed customer parts sheets that provide a breakdown of system components.
Personally generate sales of $600K per year by building a dedicated customer following through excellent service and expedient order processing.
Minimize out-of-stock delays in fulfilling customer orders by researching availability of alternative substitute parts on an as-needed basis.
Keenly analyzed customer needs and preferences and developed individualized solutions based on those needs.
Inside Sales Representative
Listen to and resolve customers' complaints regarding products or services.
Contact new and existing customers to discuss their needs, and to explain how these needs could be met by specific products and services.
Answer customers' questions about products, prices, availability, or credit terms.
Emphasize product features based on analyses of customers' needs and on technical knowledge of product capabilities and limitations.
Developed accurate, thoughtful, and timely solutions for customers' needs.
Inside Sales Representative
Followed-up with current customer to check satisfaction of products and services.
Answered customers' questions regarding products, prices and availability.
Prioritized daily workflows, including all outbound calls, quotes and sales-related inquiries.
Maintained records of contacts, call records and accounts for accurate data entry.
Trained company employees in sales techniques/promotion techniques.
Inside Sales Representative
Responsible for generating revenue by identifying, qualifying, and closing new business opportunities.
Must interpret and understand customer requirements, build customer relationships, and secure orders.
Ensure accurate, computerized recordkeeping of all sales activities.
Sold Jordan Shoes for over three years at Macy's department store.
Generated new leads during the first three quarters, exceeding quota and closing objectives.
Inside Sales Representative
Supplier of fruit, herb, sea, spice and vegetable ingredients; Respond to client email, voicemail, telephone, and fax requests to purchase array of different powders and extracts; Daily phone calls to contacts promoting new ingredient promotions.
Provided price quotations (email & phone) to Pharma and Natural Ingredient Manufacturers in CA, OR, WA, MT, CO and NV; Weekly sales meetings is discuss progress reports and to target areas to bolster sales.
Provided documentation to customers for review about ingredient testing results per every item on every new delivery of product.
Met monthly sales quota; recognized by management for achievements.
Closed a $150,000 sale; presented with the contract to be signed by all parties.
Inside Sales Representative
Build and manage your pipeline from cold calling to close in Salesforce.com, setting aggressive goals and achieving them.
Develop top performer sales skills with our training and mentorship programs.
Thrive with the support of your teammates in daily/weekly meetings and fun team challenges.
Took a request for more time to discuss the position after receiving an offer from another company.
Earned regional sales award based on customer satisfaction surveys completed by customers who had applied for a loan.
Inside Sales Representative
Worked with organizations in the Tri-state area to establish mutually beneficial relationship with the Devils.
Developed new leads on a daily basis using personal prospecting and the utilization of Salesforce CRM software.
Prospected, scheduled and executed face-to-face appointments with potential clients.
Generated revenue by successfully selling memberships, partial plans, corporate packages and group functions.
Recruited as a part-time employee a full-time dedicated sales team of six individuals over six months due to his ability to create a positive atmosphere based on warmth, understanding, and flexibility in attitude, in addition to being a very good listener and communicator.
Inside Sales Representative
Respond to customer inquires about various building products with supporting documents and research.
Created pricing strategies based on internal and external factors such as anticipated price increases and job site conditions to attain positive margins.
Assisted in coordinating and scheduling trucks for future material deliveries and pickups while actively monitoring current truck operations.
Foster relationships with current and perspective clients to encourage brand loyalty, trust and future business.
Recruited, trained, and managed a 4-person team of inside sales representatives.
Helped drive new accounts in the initial stages of sales; closed a number of transactions.
Inside Sales Representative
Worked closely with customers in assisting in the selection of products, order processing and facilitating accurate delivery schedules.
Followed up with customers to ensure order satisfaction and resolution if needed.
Collaborated with engineering team to spec and design items for company manufactured product line.
Maintained weekly contact with external vendor purchasing departments.
Regularly exceeded the sale quotas and goals.
Inside Sales Representative
Register deals with Partners such as Cisco to secure new business and established partner level pricing.
Liaise with internal clients to establish bill of material for proper quoting of hardware, software, cabling and services through QuoteWerks, Salesforce and QuickBooks.
Worked with multiple distributors and vendors for proper quoting of materials.
Verify Purchase Orders matches proposals and verify quotes are valid for order fulfillment.
Instructed other team members how to accurately forecast their production and set appropriate targets.
Inside Sales Representative
Promoted from within, I was able to take my qualities from the warehouse into an office environment.
Customer service, basic geometry, knowledge of interior home design and building materials, dealing with and identifying the variety of wood.
As part of customer service, dealing with customers and contractors with information about the products in stock and special orders.
Basic geometry is key when identifying arches for exterior and interior applications.
Shared best practices to improve productivity within the team.
Wrap Up
You need to make sure your resume stands out amongst the other candidates. It is the first impression that employers have of your work experience and skills. Use the samples above to put together a resume that best suits your needs and helps you get the job you want.