Sales managers are responsible for overseeing their company's sales team. Their duties include creating business plans, creating and meeting sales goals, training sales team members, assessing employee performance, promoting company products, and analyzing sales data. To be a sales manager, you need to have a Bachelor's degree in Business or a related field. Sales managers must demonstrate business acumen, customer service skills, leadership skills, communication skills, analytical skills, problem-solving skills, and the ability to work as part of a team.
A good resume is well-written and concise. It should be neat and easy to read, listing previous experience in a logical order.
Our resume samples will provide you with multiple examples of what you can include when writing your resume.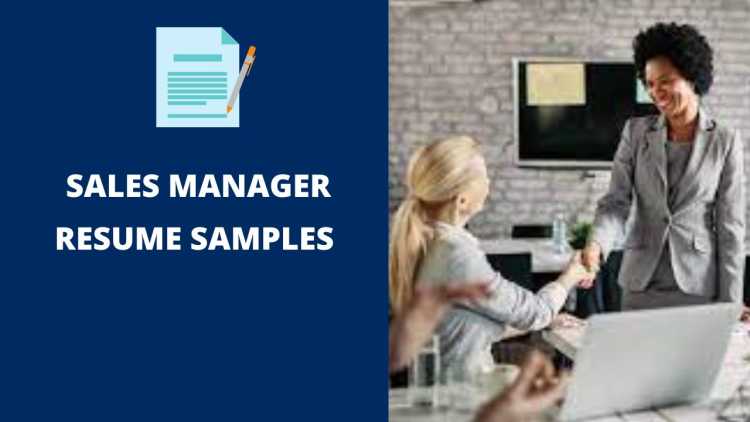 The Best Sales Manager Resume Samples
These are some examples of accomplishments we have handpicked from real Sales Manager resumes for your reference.
Sales Manager
Ensure consistent, profitable growth in sales revenues through planning and follow through of sales goals and budgets.
Establish personal contact and rapport with top echelon decision-makers.
Performed sales activity promote new business and maintain current customer accounts.
Managed to convert a $1.5 million dollar company into a $2.5 million dollar company in less than three years by non-traditional methods.
Increased sales by over sixty percent above previous year's performance while maintaining the same level and quality of customer service and satisfaction.
Sales Manager
Collaborate with General Manager to created strategic plans to enhance customer satisfaction.
Provided employees with tools to maintain and increase service levels to both internal and external customers.
Worked closely with other departments to promote sales.
Gather, analyze, and report daily/weekly/monthly sales and service statistics.
Instrumental in improving customer-satisfaction ratings through suggestion, development, and implementation of new reporting procedures.
Sales Manager
I work with lenders to try and get our customers into the car of their choice by overcoming objections such as negotiation of price, explaining warranty information, etc..
I demonstrate automobiles and their capabilities and features to drop in customers as well as by appointment.
I also maintain contact with previous prospects, and unclosed sales on a everyday basis.
Enforced company policy on honesty and integrity in sales, inventory management, and operations related to less than $100 thousand dollars of inventory and the use of customers funds which were not approved by board of directors or legal counsel for specific transactions that are not structured as loans.
Introduced new concepts and processes to improve efficiency.
Sales Manager
Responsible for accounts collections and taking payments on accounts as well as setting up payment plans.
Being able to use my multi-tasking skills to handle several job functions at once with customers waiting.
Handle getting deposits ready, scheduling returns of merchandise, organized and set a new filing system in place for ease of access to both old and new accounts.
Assisted customers in deciding between two similar products; sold more than 5 different products.
Increased sales based on optimistic budgeting; grew gross profits from $20,000 to $42,000 in one year.
Sales Manager
Before I was promoted to Sales Manager the Sales Department was selling approximately 100 retail units a month generating $200,000 monthly store gross.
I was promote to Sales Manager and sales increased to 350 retail units monthly with gross sales increasing to $650,000 monthly.
The department I managed was #1 in sales for past 4 years in the company which was being featured in Inc 5000 Magazine because it was the fastest privately held auto group in the Nation 3 years in a roll.
Achieved outstanding reward for exceeding goals; established and maintained client relationships through the end of the fiscal year.
Received award for exceeding goals by 40 percent; surpassed previous year's performance by 500 percent.
Sales Manager
Responsible for implementing corporate visual directives and standards for all display elements.
Worked with the managers to execute merchandising moves and product initiatives.
Analyze previous seasons sales and report on the current seasons lines.
Created and implemented new sales strategies to increase sales production by 50% over twelve months for new product.
Promoted retention of top-performing sales agents and managers to over 70% of initial targets and to top sales achievement awards.
Sales Manager
Presented company provided training curriculum to new trainees.
Precision Quote certified to teach tablet training which includes building precise floor plans, building quote options, presenting price, financing, payments, and contracts.
Performed weekly sales meetings with the sales reps in order to present previous weeks closing, sit rate, deposits, and financing results.
Communicated any product changes, product knowledge of new items, overcoming objections, asking for the sale, building rapport, closing the sale, etc. to the representatives.
Received bonus and a multiple-year outstanding bonus award for exceeding goals.
Sales Manager
Ensure that client needs are met, complaints are resolved, and that service is quick and efficient.
Ensure that all products and displays are merchandised effectively to maximize sales and profitability.
Forecast staffing needs and developing a recruitment strategy that provides optimal staffing.
Reached the rank of General Manager making myself available six days per week and two hours per day, including two Thanksgiving Day office hours, when required.
Received recognition for outstanding customer service from members of the Pima County Commission for my dedication in reaching out to the local community, schools and businesses in our service area.
Sales Manager
In charge of building lease contracts for customer explain lease to own options and financing options.
In charge of collecting payments and making arrangements with customers.
Also in charge of updating flyers and contacting apartment complexes to offer our services to new residents.
Increased sales volume more than 50% within the first six months of employment.
Demonstrated exceptional leadership and work ethic in the face of competitors' marketing strategy changes and new product introductions.
Sales Manager
Maintain and/or improve upon the occupancy level and revenue production of the community to include managing the sales process and completing all activities required for a sale.
Managed the sales process by assisting prospective residents, their family members, and/or advisors in the decision-making process by understanding their needs and educating them about the community€™s services and programs.
Represent the community and increase awareness through participation in outside events, professional groups, and community involvement in the local market.
Received the Presidential Award for Sales Excellence and was designated as a sales team leader.
Improved store man-hours performance more than 20% over the previous year by establishing new sales goals.
Sales Manager
Supervised and managed sales staff; communicated job expectations and provided direction, leadership and training to employees to development product knowledge.
Improved profit objectives by increasing sales from $175K a month to exceeding $600K in sales a month in two years.
Managed and maintained inventory levels for precise accuracy to ensure profitability.
Fostered strong relationships with customers and vendors to increase company awareness in a new market.
Spoke at national conferences on corporate culture, leadership, and customer service.
Sales Manager
Establish and maintain relationships with individual or business customers or provide assistance with problems these customers may encounter.
Prepared operational or risk reports for management analysis.
Review processing schedules or new temp orders to make decisions concerning inventory requirements, staffing requirements, work procedures, or duty assignments, considering budgetary limitations and time constraints.
Provided consultation and sold classroom training programs to customers who represent 500 international corporations.
Closed over one million dollars in annual sales.
Wrap Up
You need to make sure your resume stands out amongst the other candidates. It is the first impression that employers have of your work experience and skills. Use the samples above to put together a resume that best suits your needs and helps you get the job you want.