Outside sales representatives speak to clients face to face to educate and explain their products to potential customers. Their duties include meeting face-to-face with customers, building relationships, selling products or services, maintain records of customer and sales accounts, monitoring market conditions, and assisting the marketing team in building the brand. To work as an outside sales representative you need a bachelor's degree in business, marketing, communications, or any other education that proves proficiency in speaking to customers. Successful outside sales representatives will demonstrate knowledge of economics, and their industry, as well as skill in basic computer literacy, verbal communication, negotiation, researching, and interpersonal skills.
A good resume is well-written and concise. It should be neat and easy to read, listing previous experience in a logical order.
Our resume samples will provide you with multiple examples of what you can include when writing your resume.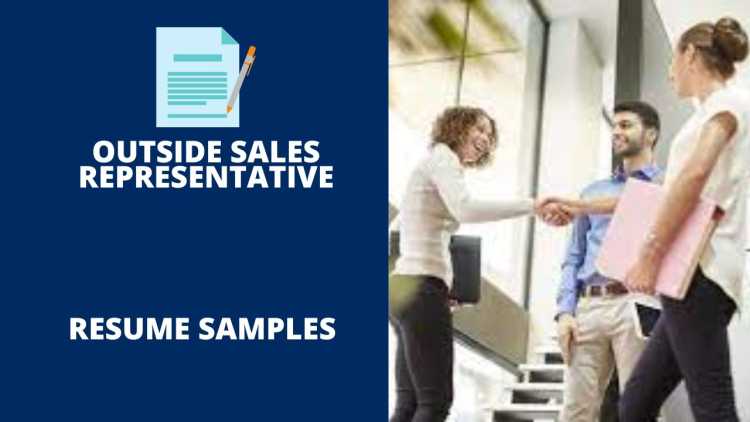 The Best Outside Sales Representative Resume Samples
These are some examples of accomplishments we have handpicked from real Outside / External Sales Representative resumes for your reference.
Outside Sales Representative
Train and mentor new sales representatives on procedures and habits for success.
Propose customer solutions that align with company services and process.
Identify leads, manage prospects and acquire new business opportunities and key industry contacts.
Complete scheduled and cold call prospecting activities to establish first and follow up appointments with decision makers.
Oversaw and excelled at sales through personal and professional accomplishments.
Outside Sales Representative
Represented company at several major trade shows to acquire leads and network within the industry.
Organized and presented sales proposals and contracts to executives.
Prospected, qualified and developed new customers through walk-in and telephone cold calls.
Maintained sales quota despite customer problems, stock outages, weather issues, technological glitches, and internal events that greatly contributed to the decline in revenue.
Improved customer satisfaction scores for the organization; established customer loyalty by offering customer referral bonuses and rewards programs.
Outside Sales Representative
Sells programs and services to current and prospective customers through traveling around assigned territory.
Conducts follow-up of leads and customer retention/service calls through means of telephone and person-to-person contact to identify customer needs.
Develops customized solutions based on customer needs, using the TruGreen suite of lawn care products and services.
Updated prospecting skills to include new lead generation, communication skills with prospects; various levels of training from novice to expert salesperson.
Developed a standard operating procedure for new sales goals as an example of good planning.
Outside Sales Representative
Attend chambers of commerce events and establish business to business referral marketing.
Establish and Implement marketing strategies in order to increase overall sales volume.
Visit every business on team member's assigned route: offices, restaurants, industrial parks, all businesses and organizations.
Enhanced office efficiency by increasing return-on-investment solutions by 10% within a three-month period by implementing, training, and coaching staff members in existing and new software.
Attained 90% increase in sales revenue growth within a year; cited as an industry leader by peers.
Outside Sales Representative
Construct procedures and data bases to maintain inventory, and track financial data for repairs, sales, and rentals.
Construct procedures for order entry including standardization for order forms, purchase orders, and cost sheets.
Managed front office, and repair department, providing training, product education and overseeing operations.
Provided technical assistance by answering technical questions for internal and external customers.
Achieved over 22% increase of product profits with development of a new product line; awarded Employee of the Year for performance.
Outside Sales Representative
Driver picking up product from growers and delivering to Florists.
Sale and develop new accounts provide customer service to maintain existing customers.
Handle the orders by Fax, email on web site, and call ins.
Order from growers every week to provide to customers.
Resolved client escalations and complaints to a satisfaction level of 94%; received the Loyalty Award for outstanding performance.
Outside Sales Representative
Answered customers' questions regarding products, prices and availability.
Planned and organized routes within territory to maximize efficiency and time in the field.
Shared product knowledge with customers while making personal recommendations.
Earned the Presidential Award for Customer Service on three separate occasions; increased overall customer satisfaction ratings.
Delivered sales presentations to hundreds of businesses and individuals, resulting in over $100,000 in new sales.
Outside Sales Representative
Facilitated sales for commercial air conditioning service and maintenance in the Palm Beach, Broward, and Miami-Dade counties.
Managed accounts and communicated with customers to ensure that every fact of our service was up to their standards.
Compiled detailed weekly reports of cold calls, first calls, jobs quoted, contracts secured, and goals for the week ahead.
Personally bid, secured, organized and managed a $150,000+ project utilizing multiple sub-contractors and requiring clear and consistent communication with all parties involved in the job.
Attended over 20 seminars aimed at improving sales techniques and increasing sales awareness.
Outside Sales Representative
Assess customer operations and needs to offer the best material handling solutions.
Maintain assigned accounts while developing new accounts.
Provided clients with estimates of costs for required services or products to efficiently meet clients' needs.
Distributed product, services to over 30 clients in the local community; new potentials for client relationships were developed due to the positive attitude and professional demeanor of the sales staff.
Grew business from $20,000 to $110,000 in less than two years; expand my customer base by developing relationships with a wide variety of professional services.
Outside Sales Representative
Analyzed customer financial accounts at a weekly and monthly basis.
Stocked on-site customer inventory, purchased parts & specialty equipment.
Effectively resolved customer inquiries on a daily basis adhering to strict deadlines.
Utilized technical skills to personally solve on-site customer service repair issues.
Earned recognition as one of the top three top-producing representatives within my company; increasing the company's sales dramatically through effective management and work ethic.
Outside Sales Representative
Generate profitable revenue growth through establishing new customers, penetrating new customer accounts and retaining those customers.
Establish, maintain and service accounts, covering full assigned territory to ensure high customer satisfaction, positive long-term relationships and repeat business.
Demonstrated the quality and reliability of products with a focus on helping customers become more productive and profitable.
Accomplished executive success during an eight-month period by implementing new strategies that resulted in an aggregate increase of over $1 million.
Increased revenue by over $10,000 during the first year of employment with XYZ Company.
Outside Sales Representative
Responsible for managing DC, VA & MD territory by calling on hospitality and residential design firms with customer service as a top a priority.
Represent 40-plus product lines including fabric, furniture, rugs and lighting.
Keep abreast of new introductions and promote by conducting presentations to design firms.
Develop relationships with key designers, specifiers and purchasers.
Received award for community involvement; volunteered time to sell raffle tickets and organize fund-raising events benefiting the American Cancer Society.
Wrap Up
You need to make sure your resume stands out amongst the other candidates. It is the first impression that employers have of your work experience and skills. Use the samples above to put together a resume that best suits your needs and helps you get the job you want.