Sales Account Executives manage consumer relationships for companies. Their duties include developing business plans, managing sales goals, finding new consumers, providing customer support, researching products and services, and preparing sales reports. To be a Sales Account Executive, you will need a Bachelor's degree in business administration, sales, or marketing. Sales Account Executives must demonstrate budgeting, leadership, creativity, research, public speaking, analytical, and computer skills.
A good resume is well-written and concise. It should be neat and easy to read, listing previous experience in a logical order.
Our resume samples will provide you with multiple examples of what you can include when writing your resume.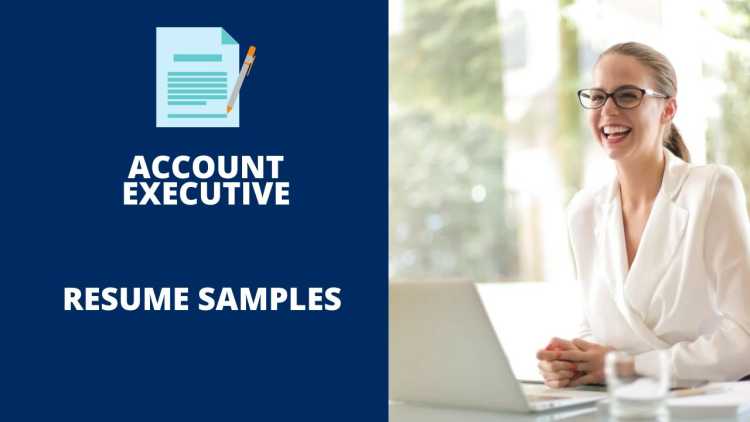 The Best Account Executive Resume Samples
These are some examples of accomplishments we have handpicked from real Account Executive resumes for your reference.
Account Executive
English Language Business: Participated in meetings with clients and created English print ads.
Initiated and led in-sourcing English copyrighting, review of subtitles, and editing.
International Grand Prize: Initiated, organized, and prepared submission of ad campaign to international awards program, the Deauville Green Award.
Conducted annual and monthly sales audits; lead by example by exceeding monthly quotas, proving the company's leadership ability.
Selected to participate at an annual sales meeting, which culminated in the Company placing second for two consecutive years.
Account Executive
Developed effective marketing and business expansion strategies which resulted in significant gains in both B2B and major account venues, using exceptional customer service skills combined with a diverse range of multi-media advertising solutions to cultivate new accounts and continually grow book of business.
Forged solid relationships with existing clients and developed a sense of loyalty and trust, re-establishing quality business relationships with inactive accounts ultimately igniting renewed business interest.
Created an open, inclusive work environment and skillfully balanced additional responsibilities during the absence of the Department Manager.
Top performer for a number of hours worked in a given week. Shared the responsibility with other account representatives for taking all calls; during peak traffic periods could be reached (at any time) despite having numerous calls routed to them.
Led highly productive team by coaching and motivating my staff to exceed expectations; also published business plan to increase efficiency and improve cross-selling/up-selling practices.
Account Executive
Partnered with Focused Pain Relief Compounding Pharmacy to manage existing accounts, and develop new accounts to promote and sell transdermal compounding medication.
Developed, nurtured, and maintained relationships with orthopedic surgeons, neurologists, pain management, rheumatologists, internal medicine, dermatologists, podiatrists, and physical therapy clinics to demonstrate the uses and advantages for DME products through cold calls.
Responsible for showing patients how to use, store, and clean devices at home by conducting patient fittings, and ensuring patient compliance with personalized treatment plans.
Expanded existing customer base through the use of telemarketing and email campaigns.
Assisted sales team with all aspects of meeting deadlines and maintaining quality standards, while managing accounts receivable.
Account Executive
Part of relaunch team to re-introduce company to market.
Responsible for initial marketing to sign up clients, training, and expanding product base.
Worked with both wholesale and non-delegated accounts to expand market size.
Assisted customers in receiving needed services, products, and upgrades by completing all terms of contract negotiation; recognizing a 3% revenue increase during the initial month on the job.
Managed multiple accounts, including R. H. Robertson Company, University of Tennessee Athletics, and the General Motors Corporation in the Southeast Region of KPMG.
Account Executive
Constantly aided the business development efforts, which resulted in an expanded customer base and contributed to the implementation of strategic planning initiatives and promotional strategies.
Responsible for enhancing product knowledge, end-user confidence, and marketability using persuasive sales and promotional techniques.
Utilized consultative selling techniques throughout a multiple-level sales process, remained solutions oriented during client engagements, and aligned strategic plans with customer's needs.
Aptly identify new business opportunities with strong skills in customer relationship-building, effective listening, and needs assessment.
Determining appropriate marketing strategies to meet business goals and expanding sales to various segments while creating new customers and new business opportunities.
Account Executive
Responsible for advertising print and online revenue in one of the Oceanside territories, mainly working with Hispanic merchants.
Selling marketing solutions by translating and presenting the company's online and print products, in a professional manner to businesses in this area via cold calling, appointment setting and relationship building techniques.
Driving success, growing online business, serving the Hispanic demographic exclusively.
Successfully competed against international, national, and local competitors for new business opportunities.
Achieved sales records for the company, with an increase during my tenure of 63% in retail sales and an increase in profitability from 1.5% to 4.9%.
Account Executive
Achieved 112% to goal in 2016 with $3.1MM in annual revenue.
Implemented first to market out-of-home advertising campaigns that utilized audience behavioral insights collected by mobile devices to prove campaign effectiveness.
Worked with management to identify and train sales processes such as, contract renewal, prospecting, account follow up strategies.
Made over 1400 cold calls each month to enhance relationships with new and existing clients.
Maximized revenue from sales of products and services by effectively closing on business by obtaining new clients.
Account Executive
Created telemarketing scripts and marketing strategies for new hires.
Initiated networking opportunities through Chamber of Commerce meetings and local events to develop leads.
Customized products and services based on customer needs, product specifications and features.
Achieved top-selling status for the company with established accounts and the newest customer sales.
Accomplished target quotas for three consecutive quarters by developing strong client relationships and making a real difference in the lives of people for whom we sell financial products.
Account Executive
Acquired new merchants by identifying the most optimal payments processing solution for their business.
Performed analyses on merchant statements to identify areas of improvement such as penalties, interchange management and processing fees.
Forecast closing dates for new accounts; generate proposals for merchants and sign accounts.
Demonstrated sales skill; sold over $3 million annually.
Completed training sessions with regional sales managers.
Account Executive
Print Sales offering pre-media design services, sheet-fed printing, digital printing and large format printing.
Provided sales and production services to a broad spectrum of advertising agency clients.
Consistently top sales leader in business development for a large format printing company specializing in Out-Of-Home and Point-Of-Purchase Display Advertising.
Successfully competed in regional, national, and international sales competitions.
Exhibited excellence, integrity, and professionalism as an effective leader and team player within the organization; demonstrated pro-active approach to challenging targets while achieving goals.
Account Executive
Actively managed the company's West Coast and Mid-West accounts in an ever-growing pipeline.
Strong attention paid to client retention, customer loyalty and organic sales growth by providing critical decision-making abilities within any given situation.
Managed a sales team that consisted of administrative assistants, accounting staff and quality control reviewers.
Was responsible for a higher than normal inbound fax sales volume; achieved a 12% increase in revenue and 5% increase in average sale price.
Assisted executives with business proposals, presentations, correspondence, and technology integration.
Account Executive
Contract prospective leads and establish a professional relationship through which the product is introduced and a deal is closed.
Ask probing questions to reveal areas of weakness in their business that could be improved by our product.
Created routines that are more time efficient in order to maximize sales.
Created sales and customer service strategies for clients who had responded to proven advertising campaigns.
Purchased new accounts for four global corporations ranging from auto dealerships to professional services firms and designed advertising campaigns.
Wrap Up
You need to make sure your resume stands out amongst the other candidates. It is the first impression that employers have of your work experience and skills. Use the samples above to put together a resume that best suits your needs and helps you get the job you want.