A screenwriter develops scripts for television, movies, and other visual works of art that you may see on a screen or stage. Their duties include writing stories into scripts, pitching screenplays to producers, adding visuals into story lines, researching ideas, developing ideas, or creating dialogue. Screenplay writers often have degree's in creative writing or film production; no previous experience is necessary. Screenwriters must demonstrate persistence, knowledge, consistency, passion, networking abilities, flexibility in schedule, and the ability to adapt.
A good resume is well-written and concise. It should be neat and easy to read, listing previous experience in a logical order.
Our resume samples will provide you with multiple examples of what you can include when writing your resume.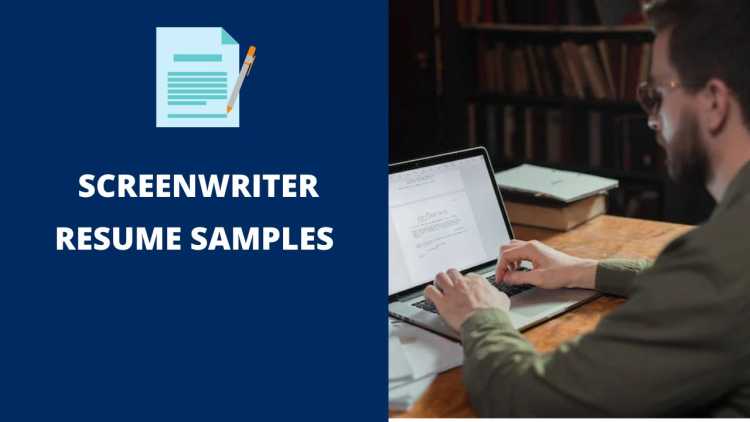 The Best Screenwriter Resume Samples
These are some examples of accomplishments we have handpicked from real Screenwriter resumes for your reference.
Screenwriter
Employed as a screenwriter to prepare scripts for a newly formed Internet and Cable TV Channel.
As a writer, the topic is researched, developed and written.
Writing is assigned, for several shows on a web TV channel.
Wrote screenplay for a feature-length drama to be produced in Europe and Asia; secured worldwide publishing rights from an Emmy Award-winning producer.
Produced a documentary screenplay, a documentary film (by filming the interviews), and published books from interviews; created a professional television newsmagazine series.
Screenwriter
Wrote a screenplay for a short that was later funded and filmed on a RED Digital Camera.
Heavily involved with the pre-production of the short film including location scouting, casting calls, and set design.
On set, I helped anywhere from being the 2nd AC to script supervisor to production assistant to boom operator or even an extra on set.
Concluded an interview with the 1988 Olympic Gold Medal Figure Skating Champion; published the article in both a newspaper and for an international magazine.
Composed screenplays for 12 short films that won over 200 international awards including Best Short Film at Cannes, France, Best Youth Short Film at the Florida Film Festival, and earned two Student Academy Awards.
Screenwriter
Wrote a feature screenplay titled Soldier's Heart that has attracted A-List talent.
Acted as ghost writer and assisted senior writers in punching up dialogue on set.
Have several screenplays and treatments at various stages of development.
Recognized for developing and managing screenplay treatments, screenplays, and teleplays for Hollywood studios.
Achieved an American Telecast Award for Best Screenplay and a nomination for an American Academy of Motion Picture Arts & Sciences Award for Best Original Screenplay.
Screenwriter
Kiss On My List is a hipster romantic comedy about a pair of rock and rollers whose affair becomes an internet sensation.
The film makes use of the entire songbook of Hall & Oates all re-mastered by major artists.
Former President of Twentieth Century Fox Music, Robert Kraft (Moulin Rouge, 500 Days of Summer, Once, Walk the Line, Titanic) is serving as producer.
Noted by the LA Times as one of the top 100 new voices in Hollywood through the development of five award-winning scripts in a single year.
Became First Place Winner of Los Angeles Film Festival after creating South African film script that was filmed in Zimbabwe starring Robert DeNiro, Bruce Willis, and Morgan Freeman.
Screenwriter
Script reader for production companies and festivals, including Atlanta Film Festival.
Provided phone consultations and in-depth script coverage to TV/feature writers, actors, directors, and producers.
Optioned three feature screenplays currently under consideration with studios, directors, and actors including Paramount, Legendary, Clint Eastwood, Ben Affleck, Sylvester Stallone, Philip Noyce, and Film 44/Peter Berg.
Adapted popular YA fantasy book series which has secured Academy Award-winning actress Shirley MacLaine.
Selected by Warner Brothers Studios to train employees to write screenplays with skill.
Screenwriter
I was offered a $15,000 budget to write an action/psychological thriller movie.
I submitted the screenplay and it was immediately accepted with the contingency that I star as the lead antagonist.
The movie is currently in pre-production, Because I also sought out and secured the financial backer, I am also credited as executive producer.
Produced, co-wrote, and directed over 10 short films and two feature films.
Created characters, costumes, sets, and props while writing screenplays.
Screenwriter
Previously serving as a writer for 20th Century Fox, I have moved on to freelance writing to take a little break from the big business.
I've written for Dream Work's Animation for one of their upcoming films.
I use adobe to craft all the drafts and final versions of screenplays.
Adobe gives me the resources that can make a screenplay look like a Hollywood written one.
Developed creative incentive programs to promote positive behavior in school kids.
Screenwriter
Creative and innovative conceptual development of compelling story, character and branded content for motion picture and television mediums.
Effectively produced and managed production crews to deliver high quality production value.
Incorporating expert historical research of various personal subjects and points in history.
Successfully edited student videos on budgeting, creativity, role-playing games of power-points combining scripture and real-life examples that are motivational with a deep meaning to lead students to live a quality life of gratitude.
Won awards for creativity, presentation skills in film productions.
Screenwriter
Majored in Dramatic Writing at New York University's Tisch School of the Arts.
Writing treatments of scripts to be pitched to agents and/or producers.
First feature length made it to the 2nd Round of the Sundance Screenwriter's Lab.
First short screenplay was produced and directed in Association with 'One Race Films'.
Developed storylines and characters for a variety of media projects.
Screenwriter
I have written many screenplays from horror to comedy.
I have written a screenplay that got chosen to be produced in my film class called "Ideals".
I have also written a screenplay that was reward top spot in The Ghetto Film School that will be produced in the summer of 2016 called "Genesis".
Trained, supervised, and managed crew members to provide a high-level quality entertainment experience.
Established consensus with casting personnel, staff members, actors, the director, and producers for stories to be filmed.
Screenwriter
Reviewed other screenwriters' scripts to analyze their marketability and potential.
Developed pitching and networking skills in order to better promote myself and further my career.
Collaborated with other screenwriters to receive feedback and strengthen my craft.
Acted as the contact for the director during filming when needed.
Directed at least three successful television episodes from writing scripts to filming each episode.
Screenwriter
Formed, wrote, and rewrote two full-length scripts. Reviewed scripts in groups, took creative direction from team members, and revised to production specifications.
Selected to produce a play in a select local festival circuit.
Coordinated with project director to produce visual performance, consulted actors on creative direction, budgeted production costs and altered script to meet changing show needs.
Produced commercials and television shows, including the "Famous Men's Concert" series.
Written screenplays for film and television, including "The Dark One", "From a Distance", and "I Can Dream.
Wrap Up
You need to make sure your resume stands out amongst the other candidates. It is the first impression that employers have of your work experience and skills. Use the samples above to put together a resume that best suits your needs and helps you get the job you want.