A senior accountant reports costs, productivity, and expenses for companies. Senior accountants oversee accounts; analyzes charts, analyzes reports, assist with taxes, keeps track of accounts, and manages bank statements. Senior accountant must have a bachelor's degree in accounting and experience in tax accounting. Senior accountants must demonstrate attention to small details, organization skills, the ability to delegate work, multitasking skills, written communication skills, accuracy, and time management skills.
A good resume is well-written and concise. It should be neat and easy to read, listing previous experience in a logical order.
Our resume samples will provide you with multiple examples of what you can include when writing your resume.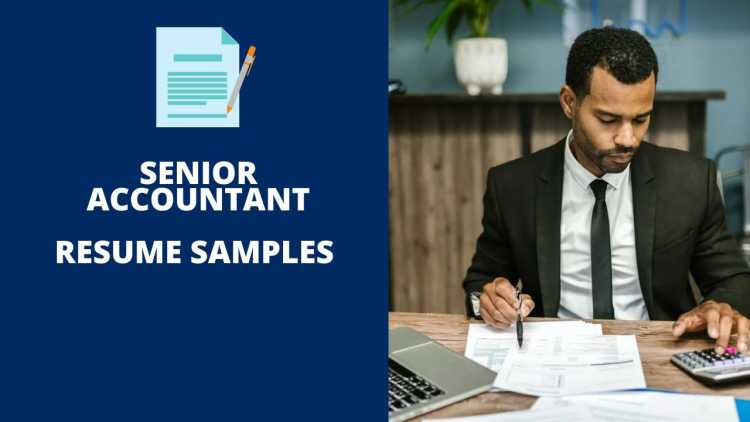 The Best Senior Accountant Resume Samples
These are some examples of accomplishments we have handpicked from real Senior Accountant resumes for your reference.
Senior Accountant
Managed all aspects of Accounts Payable and Accounts Receivable for 4 companies including but not limited to timely and accurate processing of invoices, check printing, ACH and Wire payment processing, process of customer invoices, entering customer payments, tracking all money received and preformed electronic deposit.
Support month-end closing by assisting with accrual entries, fixed asset entries, journal entries and preparing bank and credit card reconciliations.
Managed the input of receipts associated with employee's credit card statement.
Assisted in the audit of the financial statements of a group of companies, including preparing and maintaining the records, and maintaining controls over financial reporting.
Performed a comprehensive review of cost accounting systems completed by internal and external auditors to ensure that all necessary changes were properly implemented.
Senior Accountant
Assisted with the monthly, quarterly and yearly close relating to the Income Statement and Balance Sheet and also help with the audit preparation.
Follow through with all projects regarding major/minor discrepancies arising from the EDI system relating to vendor/customer issues.
Prepared GL reconciliation for several accounts including Fixed Assets, Prepaid Contracts, Insurance and Legal Fees. Handle special projects as needed by management.
Reviewed or reviewed for three years performance on various return-on-assets metrics for various accounting functions for over 200 companies, including reviewing the multi-year results; reviewed the financial reports to assess risk factors from year to year.
Computed and signed off on the preparation of over 1,000 financial statements.
Senior Accountant
Aid various departments regarding accounting policies, procedures and budgeting.
Compile and analyze financial records and operational data to improve budgeting and planning.
Establish, recommend and implement improvements to accounting policies and procedures.
Reviewed and reported on the results of risk assessments; reviewed reports to ensure that internal controls were functioning properly and were adequate to detect any unusual or irregular transactions.
Trained by my employer as a senior accountant in the accounting and auditing industry, to work independently on different accounts.
Senior Accountant
Assisted in preparing budgets for seven charter schools with revenues ranged between $5M to $15M.
Review lease agreements and determine proper classification; maintain deferred rent and capitalized lease schedules.
Troubleshooting fixed assets reconciliations; resolved discrepancies from prior period miscalculations.
Gained valuable experience through work with clients' CPA's and tax accountants who consulted me as a fellow professional or industry expert.
Adopted new company policies and procedures to improve customer relations; revised customer guidelines after consulting with other internal staff.
Senior Accountant
Responsible for the monthly close as well as maintenance of all accounting ledgers including monthly review of all account reconciliations and journal entries.
Preparation of all financial reports, including Profit and Loss Statement, Balance Sheet and Statement of Cash Flows, as well as the year-end financial reports.
Ensure completion and review of all balance sheet reconciliations and identify and communicate findings.
Train junior staff accountants and review, G/L, A/R, A/P and fixed-asset accounting in accordance with GAAP.
Earned award for outstanding customer service; interacted well with customers to reduce concerns and address questions regarding tax filing classification, revenue refunds, and other federal and state compliance matters.
Senior Accountant
Managed Real Estate tax payments, cash flow reports, escrow and security accounts.
Prepared payroll, monthly 32BJ union reports and audits, management and escalations reports, sales tax payments.
Responsible for bank reconciliations, 1099 forms, disbursements, general ledger and journal entries.
Participated in local community projects which increased my knowledge of accounting practices; remained current by attending seminars on proper audit procedures.
Personally audited subsidiaries and divisions of national corporations based on industry benchmarking, risk management, and financial reporting controls.
Senior Accountant
Review individual and corporate tax returns prepared by staff accountants for accuracy for appropriate reporting requirements and to ensure proper application of tax laws and firm policies.
Prepared and file Federal, State, and City tax returns for individual and business clients.
Led several extension projects and guarantee the completeness and quality.
Worked on complex and high net worth cases and prepare both corporation and individual tax returns for the same group of clients.
Recognized as an expert in global accounting standards; published articles related to new regulations for the manufacturing industry.
Senior Accountant
Responsible for providing support on financial and accounting matters to the company and its senior managers.
Assisted the Controller by overseeing staff in daily operations including the daily cash summary, cash projections, accuracy of wire requests, cash management, bank relationships, payroll accounting and correspondence from ADP.
Advise staff on compliance issues and oversee all aspects of the accounting area.
Knowledge of each finance department assigned division for coverage and analytical review.
Prepared monthly consolidation of financial statements (B/S, P/L, C/F) and supporting schedules according to monthly close schedules.
Senior Accountant
Take part in the month-end close process for 26 entities consisting of intercompany billings, amortizing prepaid expenses, maintaining fixed asset registers, accruals, bank reconciliations for 40 banks accounts in five different currencies, and Balance Sheet reconciliations.
Led AP cycle across 26 entities including entering over 150 bills a month in NetSuite, weekly AP list preparation, payment processing of wires, checks, PayPal and ACH's, daily bank reconciliations and reconciliation of over 10 corporate credit cards among different merchant platforms.
Liaising with Business Affairs team to ensure billing is consistent with contractual agreements, and compare to company budget.
Trained new hires on all aspects of auditing, including internal controls for Sarbanes-Oxley compliance design and implementation.
Implemented monthly processes, procedures, and systematic controls to maintain Sarbanes-Oxley compliance after passage of the act; designed changes to audit program to meet these new guidelines.
Senior Accountant
Preparation of monthly, quarterly and yearly financial statements in accordance with GAAP.
Accounts Payable process including supervision of invoice matching, coding, voucher approval, and checking printing.
Reconcile and review monthly invoices to government agencies which are prepared by Accounting Assistant (FAR clauses).
Organize meetings monthly with each department to discuss activity on the departmental budget vs. actual reports and resolve any issues, if needed.
Developed standard operating procedures for accounting and reporting based on new regulations and company guidelines.
Senior Accountant
Supervised Accounts Payable, Payroll and Client Account Bookkeepers which provide services for all segments of Unity House including: Unity Sunshine Child Care, Housing, Case Management, PROS, Community Resources, Domestic Violence and Administration.
Analyzed all expense accounts before financial statement creation on a monthly basis.
Prepared supporting documentation for all program, funder and financial audits.
Reviewed payroll liability accounts on a quarterly and annual basis to ensure accuracy for financial statement preparation.
Correlated financial results with systems and processes in order to assess efficiency and effectiveness of company's accounting controls.
Senior Accountant
Assisted with Corporate Accounting department by preparing P&L and Balance Sheet journal entries and reconciliations for Pharmaceutical rebates, Medicare Part D, and Pharma receivables and payables.
Researched and determine appropriate action plans for all irreconcilable items.
Develop computer skills and technical accounting knowledge using PeopleSoft Financials and Cognos by creating nVision reports and detailed queries.
Designed and implemented a comprehensive accounting system for a regional retail chain.
Lead the team that developed high-level financial statements for the company, prepared annual and quarterly financial statements, and prepared quarterly reports as required by GAAP.
Wrap Up
You need to make sure your resume stands out amongst the other candidates. It is the first impression that employers have of your work experience and skills. Use the samples above to put together a resume that best suits your needs and helps you get the job you want.