A Salesman is a person who sells the services or the products of his company. His duties include researching companies to see who might need or want his product; visiting potential customers, calling customers on the phone, resolving disputes with customers, writing purchase orders, writing contracts, and delivering products. Educational requirements are a high school degree or equivalent. Skills needed are fantastic people skills, a sincere interest in helping people, self-motivation, communication skills, conflict resolution skills, and ability to multitask.
A good resume is well-written and concise. It should be neat and easy to read, listing previous experience in a logical order.
Our resume samples will provide you with multiple examples of what you can include when writing your resume.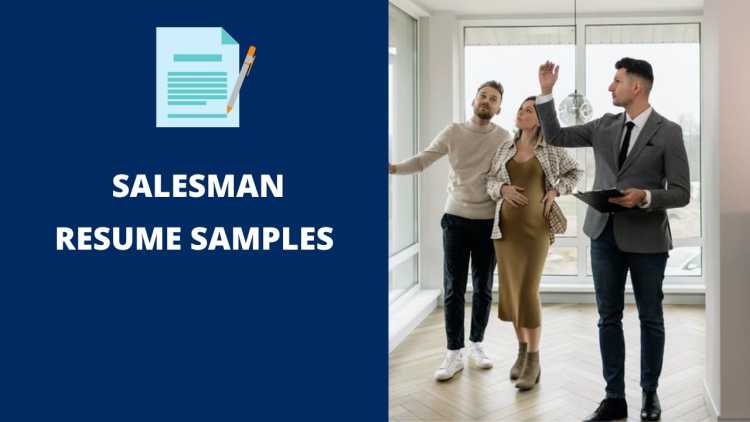 The Best Salesman Resume Samples
These are some examples of accomplishments we have handpicked from real Salesman resumes for your reference.
Salesman
Preformed negotiations, cashiering duties, and oversaw transactions.
Took charge of customer service and relations and served as translator.
Maintained shop area clean, organized, and appealing to customers.
Avoided the traps of unethical practices while selling by strictly abiding by manufacturers' guidelines and policies.
Earned customer appreciation awards for helpfulness, courtesy, and promptness; received praise from the sales manager for my exceptional consultative skills.
Salesman
Greet customers firsthand, explain all services and sales. Listen to customers needs and respond appropriately and accordingly.
Became knowledgeable in carwash services in order to increase sales.
Also used cleaning equipment to clean cars when needed or understaffed.
Achieved personal goal of 100% first-time buyer success with no chargebacks or cancellations; led the team to win $100,000+ in revenue through a direct-mail campaign.
Encouraged male customers to purchase products that made their wives feel more secure about their ability to protect themselves and their children from harm.
Salesman
Provided stellar customer service with a great deal of hospitality and enthusiasm.
Represented vehicle features with top quality service meeting customers needs.
Acted as a liaison among staff, customers, managers, and dealership financiers.
Meticulously represented efficient and effective sales approach exceeding company sales.
Consistently developed strong relationship with customers and staff.
Salesman
Used consultative sales process to match customers with vehicles suiting their needs.
Demonstrated vehicle functionality and explained options, accompanied prospective customers on test drives, and explained costs associated with purchase.
Researched new automotive releases to maintain knowledge on new products and trends.
Strategically negotiate with customers to close on deals and increase sales; personally work deals, interest rates, leases, and Calculate financial requirements prior to obtaining approval from dealership manager and F&I manager.
Increased store revenues by 22%.
Salesman
Develop buyers by keeping good rapport with previous and new customers; also by suggesting trade-ins; respond to inquiries; recommend sales campaigns and promotions.
Qualify buyers by understanding their interests and requirements; matching requirements and interests to various models, etc.
Figure out customer's needs by listening and asking questions.
Performed walk-around with new and old customer and demonstrate features of suitable vehicles.
Worked 16 years in retail sales, offering solutions to customers to satisfy their wants and needs.
Salesman
Worked as a visual merchandiser/window dresser in a semi busy environment, in a men's boutique selling upscale denim shirts, shoes, skin care, and accessories from European and American brands.
Restocked the store as needed, operated the register, and worked on outgoing/incoming shipments.
Assisted in the production of marketing events and banquets.
Delivered exceptional customer service for over 1,000 customers at a major retailer.
Created internal and external market behaviors that led to a 21% increase in sales.
Salesman
Greet customers and ascertain what each customer wants or needs.
Recommend, select, and help locate or obtain merchandise based on customer needs and desires.
Describe merchandise and explain use, operation, and care of merchandise to customers.
Maintain knowledge of current sales and promotions, policies regarding payment and exchanges, and security practices.
Enhanced marketing strategies; increased customer retention by 36%.
Salesman
Actively promoting and selling company products to a wide range of customers.
Maintain constant presence on sales floor to set a friendly environment and address customer needs.
Educating clients on the company's products, inform of current promotions, and popular items.
Earned recognition from management as a top performer.
Created and maintained a productive working relationship with a customer base in the retail market.
Salesman
Address customer concerns and questions regarding technical issues on their phones.
Complete inventory control and buy specific products for customers to achieve customer satisfaction.
Obtain customer information and store information in company database.
Recommend products to customers based on customers' needs and interests.
Cashier responsibilities including obtaining payments by cash, credit card, and debit card and issue receipts, refunds, and change as needed.
Salesman
Strong background in sales, client relations and administrative operations.
Recognized for ability to quickly establish rapport with customers, up-sell products and build a loyal clientele.
Seek clients and provide information to interest them in buying Silver Street Perfume products.
Saved $10,000.00 on customer purchases by leveraging customer's own product options and computer program selection – saving on consumer surplus.
Developed an excellent understanding of new technology used to enhance sales and gross margin in the same geographic market.
Salesman
As a detail-oriented self-starter, I work with current clients to ensure their product needs are met.
I use networking opportunities to created new and successful on-going sales relationships.
I ensure timely delivery of products to clients and work closely with management to guarantee competitive pricing.
Recruited 6 new customers across various sales channels, increasing sale volume by 10% ($15,000).
Established a first-place finish at the company sales contest for the top 5% of the field.
Salesman
Formulate, direct and coordinate marketing activities and policies to promote products and services working with advertising and promotions managers.
Compiled lists describing product and service offers.
Coordinate and participate in promotional activities or trade shows, working with developers, advertisers, or production Managers, to market product or services.
Overcoming training and hurdles to establish a strong name for the company and myself.
Developing relationships with customers.
Wrap Up
You need to make sure your resume stands out amongst the other candidates. It is the first impression that employers have of your work experience and skills. Use the samples above to put together a resume that best suits your needs and helps you get the job you want.