RNs provide assistance to doctors. Their duties include conducting diagnostics tests, establishing treatment plans, recommending healthy habits, providing emotional support, maintaining medical equipment, and monitoring the patient's status. To become an RN, you must obtain an Associate's degree in Nursing. RNs must demonstrate empathy, professionalism, attention to detail, interpersonal skills, communication skills, problem-solving skills, and stress tolerance.
A good resume is well-written and concise. It should be neat and easy to read, listing previous experience in a logical order.
Our resume samples will provide you with multiple examples of what you can include when writing your resume.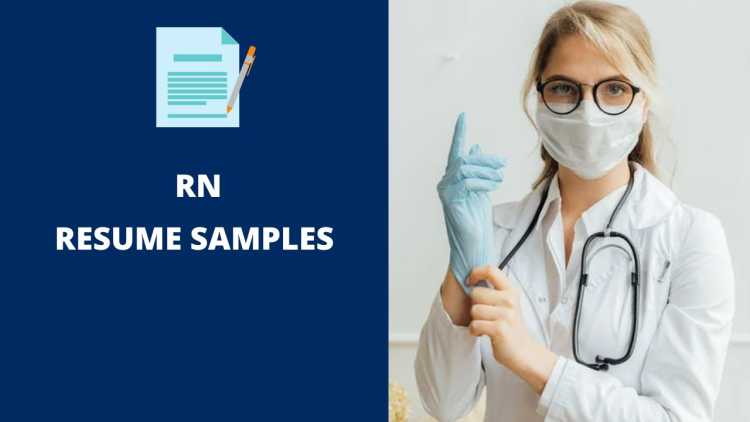 The Best RN Resume Samples
These are some examples of accomplishments we have handpicked from real RN (Registered Nurse) resumes for your reference.
Registered Nurse (RN)
Registered nurse for inpatient psych units.
Managed 6-9 patients, Perform alcohol and opiate withdrawal assessments.
Administer emergency medications and long acting anti-psychotics in addition to routine scheduled medications.
Cultivated compassion, individuality, and worthwhile professional relationships with all patients.
Accredited with the American Nurses Association for six years of nursing excellence and volunteer service.
Registered Nurse
Prioritizing care and utilizing time management skills to effectively care for patients.
Communicating with all members of the team to provide safe, efficient, and competent care.
Applying proper medication reconciliation mathematics and knowledge to properly calculate doses and administer medications.
Earned Employee of the Month award twice for exceptional performance in collecting insurance claims. Received a patient satisfaction rating of 85%.
Recognized as Nurse of the month for outstanding care and safety; received Organization Man award.
Registered Nurse
Registered Nurse- Medical Surgical, Orthopedic, Psychiatric:Duties include, but are not limited to accepting responsibility for the care of assigned patients.
Ensure that ordered medications and treatments are provided and monitor and report any changes in patient's condition.
Along with medical team, update patient care plans and electronic medical records as needed.
Provided assignments and supervision to subordinate staff.
Recognized as Nurse of the month for exemplary clinical practice; received outstanding nursing performance award. Gave blood over 65 times resulting in over 6 liters of blood that was donated to help victims of AIDS and other diseases.
Registered Nurse
Registered nurse on the med-sur unit Involve in the admission and discharge of patient.
Providing health education for health maintainers and prevention of diseases.
Care of patient with different medical and surgical diagnosis with the use of nursing care plan based on evidence base practices and facility policies like Hypertension, cerebral vascular accident, Diabetic, Bipolar disorder, abdominal surgeries, knee replacement and care of patient post ICU transfer.
Wrote and completed documentation involving diagnoses, procedures, medical history, and medication administration.
Visualized and worked in a team environment while carrying out general nursing duties.
Registered Nurse
Assessment and thorough wound care treatment of the pediatric burn patient in both in-patient and outpatient settings.
Assessment and management of pediatric patients within the intensive care setting as pertaining to burns.
Assisting physicians and directing minor and major inpatient unit procedures under minor, moderate, and conscious sedation.
Developed therapeutic plans for clients based on health histories.
Served as a critical member of an interdisciplinary team at an IHC with 45 beds, two pharmacies, and two private rooms.
Registered Nurse
Participated in Seton's 18 week RN Residency with didactic and hands on clinical experience with assigned preceptors on day and night shifts.
Independently provide quality care for 4-6 patients on a 31 bed Pulmonary/Renal Acute Care Unit with patients starting at age 19.
Performed thorough head-to-toe assessments for each patient with a variety of diagnoses, including chronic obstructive pulmonary disease, end-stage renal disease, pulmonary edema, heart failure, asthma, and cystic fibrosis.
Demonstrated advanced knowledge of IHC clinical procedures through use of pertinent equipment.
Developed and implemented treatment plans for patients with acute care needs.
Registered Nurse
Began as a float nurse working for the different medical and radiation oncologists in our practice.
Being a float nurse required me to adapt quickly to the different positions I was in.
Currently I am working under one of our oncologists as his desk nurse.
This involves triaging phone calls, placing orders under my physician, extracting data from patient's charts, navigating through our EMR as well as two of our major hospital system's EMRs, and more.
Successfully administered drug treatments for cancer, AIDS, and heart disease.
Registered Nurse
Works as a registered nurse in the Pulmonary Telemetry Unit.
Works under the supervision of the charge nurse and nursing manager to take care of patients with respiratory and cardiovascular diagnoses such as heart failure, COPD, asthma exacerbation, pneumonia, atrial fibrillation, and respiratory failure to name a few.
Performed tasks of the RN such as assessment, education, medication administration, critical thinking, communicating with physicians and ancillary staffs, and formulating plans of care for the patient.
Implemented nursing care in accordance with patients' desires and Medicare guidelines to improve the quality of life and well-being of the aged.
Promoted wellness throughout the facility by administering diabetic treatments; gained appreciation as the Nurse of Year.
Registered Nurse
The Registered Nurse is responsible for the delivery of safe patient care utilizing the nursing process of assessment, planning, implementation and evaluation.
Provides direct patient care within the scope of practice.
The Registered Nurse also directs and guides patient/family teaching and activities of other nursing personnel while maintaining standards of care within the Medical/Surgical Unit.
Received award for saving the life of a patient undergoing surgery; quickly alerted anesthesiologist after detecting irregular heartbeat.
Trained junior registered nurses in all aspects of hospital care including health, safety, and infection control.
Registered Nurse
Provided inpatient nursing care to adults receiving medical-surgical treatment requiring continuous cardiac monitoring.
Coordinate treatment with multidisciplinary healthcare team members to attain optimal health and continuity of care.
Monitoring patients using standardized procedures for pre, and post procedures (cardiac catheterization , bronchoscopy, EGD, PEG placement and chest tube insertion,).
Management of patients with complex wounds and fistulas , drains, and vacuum- assisted closure devices.
Delivered nursing services to patients, prescribers, and families.
Registered Nurse
Incorporate excellent customer service through the process of admitting patients, screening health histories, and collecting and documenting vital signs in fast paced, surgery center.
Assess patient's conditions and health needs, including biophysical, psychosocial, environmental, self-care and educational factors and utilize nursing process to implement plan of care.
Observe and evaluate patient responses to medical care and report pertinent reactions to appropriate personnel.
Investigated patient complaints and communicated findings to health care team members.
Contributed knowledge as a Zuber's multi-discipline expert.
Registered Nurse
Excellent assessment skills, telemetry interpretation, continuous patient monitoring.
Proficient with IV's, rapid afib/diltiazem infusion, sepsis protocol and DKA/insulin drips.
Prioritizes plan of care, advocates, and educates patients for optimal health outcomes.
Assumes the responsibility of continuous professional development as a registered nurse.
Used medical terminology correctly and correctly evaluated medical information.
Wrap Up
You need to make sure your resume stands out amongst the other candidates. It is the first impression that employers have of your work experience and skills. Use the samples above to put together a resume that best suits your needs and helps you get the job you want.