Project coordinators manage the day-to-day administrative tasks involved with a project. These tasks include managing schedules, completing contracts, maintaining paperwork, managing logistics, communicating with the team and documenting meetings. Most project coordinator roles require a high school diploma or GED and sometimes a college degree. To be successful in this role, you must have the following skills: oral and written communication, time management, organization, budget management, leadership, team building and knowledge of the project.
A good resume is well-written and concise. It should be neat and easy to read, listing previous experience in a logical order.
Our resume samples will provide you with multiple examples of what you can include when writing your resume.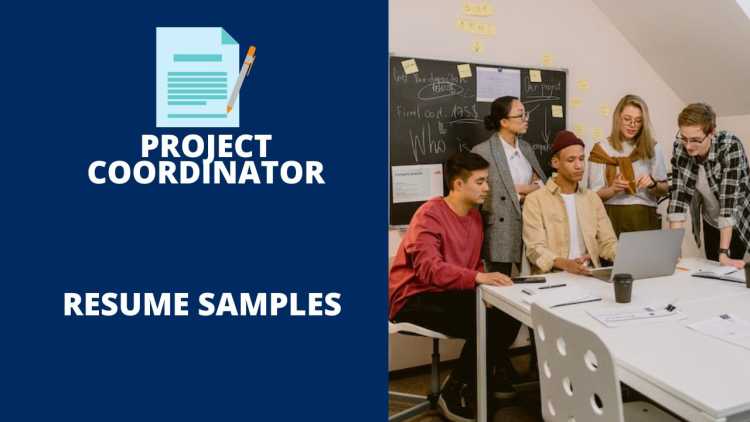 The Best Project Coordinator Resume Samples
These are some examples of accomplishments we have handpicked from real Project Coordinator resumes for your reference.
Project Coordinator
Responsible for leading Right Execution Daily team, managing revision program version, improving and set up parameters that strengthen commercial execution.
Project coordinator in Market Visit application, identifying customer needs and specifying development requirements, managing deliveries and user acceptance.
Trade Engagement project coordinator, defining steps and processes for a Trade Engagement program, leading work teams on clustering market, rules of program participation, preparing bottler processes gap fit and developing deployment plan.
Managed multi-million dollar capital improvement projects, while meeting deadlines and project milestones.
Performed routine operational and clerical tasks effectively in well defined work schedules.
Project Coordinator
Trained and managed research assistants, motivate and mentor staff to increase enrollment and ensure retention.
Recruiting patients with a diagnosis of a Stroke/TIA in the hospital and emergency room.
Completing individual interviews assessing medical, social, environmental factors and specifically psychological factors by using the CES-D Scale.
Educating patients randomized for intervention using a workbook, PowerPoint presentation and a stroke survivor video.
Completed multiple projects in a timely manner with minimal departmental direction and supervision; supported team by problem solving, positive reviews, and cooperation.
Project Coordinator
Corporate mandating of procurement processes to better accommodate the ever-changing work environment to complete efficiency.
Requisitioning for all project related equipment extensively from small dollar value to multimillion-dollar equipment.
Assisted PM's and buyers with obtaining vendor quotes for installation materials.
Inventory Coordinator experience / Warehouse Management experience from stock replenishment to inventory counts.
Identified, interpreted, evaluated information to determine needs of employees and suppliers; utilized accurate data to make decisions that maximized profits while minimizing costs.
Project Coordinator
Processed fixture and furniture bid packages in a timely and accurate manner.
Worked with vendors (domestic and overseas) and suppliers to estimate Project Cost and Profitability.
Worked with the Vendors for the production of prototypes and ensure that it meets the customer requirements.
Created a detailed production plan, shipping plan and time line for the project, based on the information provided by Account Coordinator.
Received recognition for creating effective performance management system initiatives that committed whole department to improvement goals; lead by example in all assignments.
Project Coordinator
Created and update project plans based on the inputs from the teams, follow up with the teams on active tasks.
Created project spend report based on the time entered by the resources through Clarity.
Created and distribute project status reports based on the updates by the team.
Managed and store all project documentations in project SharePoint folders also manage access control in SharePoint.
Established and maintained effective working relationships with the Deputy County Executive and County Commissioners.
Project Coordinator
Ensure customer service and performance run smoothly and promptly to achieve a high standard of customer satisfaction.
Enter daily orders for track and trace reports to monitor and record shipments in transit to destination.
Effectively communicate between foreign offices to insure the efficient flow of goods and services.
Responsible for coordinating staff functions such as advertising, correspondence, scheduling, travel arrangements, budgeting, and payroll.
Scheduled 25 events in five years that included major celebrations such as the Fiesta de los Vaqueros.
Project Coordinator
Prepared subcontractor contracts, collect and track w-9, certificate of insurance and release of lien waivers.
Prepared project contracts and trade value templates for billing, track project cost for change order and billing process, coordinated project access via websites.
Coordinated with property owner, property management and agency.
Received award from Department of Human Resources for excellence in record keeping; achieved proficiency on many computer applications including WordPerfect and Quicken.
Proficient with use of a spreadsheet program; proficient with use of microfiche and spreadsheet programs for historical archiving purposes.
Project Coordinator
Provides world class customer service helps resolve any issues customers may have relating to the products they purchased.
Assists stakeholders through scope, requirements and procurement management plans to ensure successful completion of the project.
Product advisor; assists customers select the best product for their project.
Assisted in the oversight and coordination of details for a range of administrative projects, including examining records, reviewing documents, and coordinating services.
Researched, wrote & modified procedures from scratch within the HealthNet system and developed a new program to provide information on Medicare-eligible individuals to other agencies.
Project Coordinator
Provided delivery support and expanded project visibility to Customer Operations Management team through preemptive gap analysis.
Execute delivery of medium-sized network planning and optimization projects according to agreed scopes of work, within budget and schedule.
Led project team while maintaining accountability for successful delivery of network planning and optimization activities for mobile telecommunications networks.
Performed daily gap analysis to determine discrepancies between requests and existing milestone status.
Developed a computerized database that listed Medicaid participants and their health care needs.
Project Coordinator
Performed all project coordination actives and supported the Director priorities, effectively tracked, monitored and reviewed of all phrases of the project life cycle.
Created and maintained quality, safety and financial management standards and produced strong customer improvement references.
Responsible and accountable for work of staff assigned to participate in the project teams or assisting other work activities, by planning, organizing, assigning and checking their work.
Assisted in developing policies for development of clientele records, client identification & retention, program accessibility for all individuals with disabilities, administration of record-keeping procedures.
Performed virtually every administrative task in the front office; assisted with public relations to promote organization's services.
Project Coordinator
Monitored projects on an ongoing basis, assessing progress and quality and managing issue resolutions.
Developed and maintained customer relationships to enhance Rockwell's ability to procure projects, reduce risk, and ensure operational effectiveness.
Ensured that project teams understood all aspects of the contract relating to their respective responsibilities and demonstrate a detailed understanding of the kick-off checklist and project structure.
Co-ordinate and monitor projects in a timely manner so that work is completed on schedule and in accordance with the deadlines.
Establish the physical environment (furniture, lighting, closet space, ventilation) to accommodate proper working conditions.
Project Coordinator
Project creation, creating files, reviewing contracts and bids, ordering materials and equipment.
Coordination of job schedules for projects and manpower.
Working with Foreman during projects, review of job progress with reported updates to Field Operations Manager.
Close out of all projects, review billing, creating invoices, accounts payable and obtaining payment.
Communicate with all relevant parties for input for project plan or changes needed. Update them on progress, issues and deliverables being prepared .
Wrap Up
You need to make sure your resume stands out amongst the other candidates. It is the first impression that employers have of your work experience and skills. Use the samples above to put together a resume that best suits your needs and helps you get the job you want.