A physical therapy assistant cares for patients under the supervision of a licensed physical therapist. Their duties include treatment planning, balance training, ultrasound therapy, teaching patients to stretch, moving joints through their full range of movement and reporting progress. Most states require and associate's degree for this position. Skills such as interpersonal communication, organization, active listening, interpreting data, organization, patience and empathy are critical to this role.
A good resume is well-written and concise. It should be neat and easy to read, listing previous experience in a logical order.
Our resume samples will provide you with multiple examples of what you can include when writing your resume.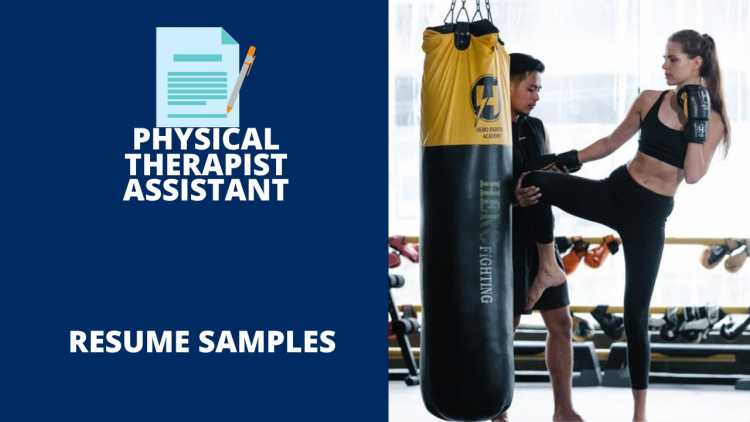 The Best Physical Therapist Assistant Resume Samples
These are some examples of accomplishments we have handpicked from real Physical Therapist Assistant resumes for your reference.
Physical Therapist Assistant
Provided skilled direct patient care to clients with orthopedic pathologies such as muscle sprain, shoulder injuries, knee injuries, foot/ankle injuries, cervical and lumbar radiculopathy utilizing modalities, therapeutically exercise, manual therapy and patient education under supervision of Physical Therapist.
Consistently monitored and recorded patient progress in response to therapy.
Educated patients and family members regarding diagnosis, injury prevention and therapeutic treatments.
Technically assessed clients as unlicensed assistants while delivering therapeutic treatments.
Oversaw and evaluated the developmentally disabled to determine physical therapy treatment plans.
Physical Therapist Assistant
Evaluates and re-evaluates patients and develops physical therapy treatment programs in collaboration with the physician and provides physical therapy treatments to patients.
Re-evaluates the patient's progress and therapy program making changes as necessary and under the physician's instructions.
Procurement and management of equipment and supplies required to improve client's function and independence as appropriate to care.
Facilitates effective communication amongst other clinicians providing care to the patient.
Trained students with disabilities to improve coordination, balance, strength, and motor skills.
Physical Therapist Assistant
Providing Physical Therapy treatment in an Acute and outpatient setting.
Cases treated mainly in the outpatient setting were orthopedic based.
Cases treated in the inpatient setting include Respiratory, cardiovascular, orthopedics and neurology.
Implemented exercise regimens to improve cardiovascular function in patients utilizing integrated heart monitors.
Recognized for outstanding performance by supervisors who praised me for helping in decisions regarding patient care and service quality.
Physical Therapist Assistant
Managed a high-volume caseload and organized the daily physical therapy schedules of patients assigned.
Aided and counseled patients adjusting to permanent physical disabilities.
Facilitated inpatient physical therapy for patients with knee and hip replacements, chronic pain and balance disorders.
Planned individually-designed treatment programs to restore, maintain and improve physical functioning, alleviate pain and prevent disability.
Formulated, designed and implemented individualized therapeutic treatment programs for infants, children, adults, and geriatric clients.
Physical Therapist Assistant
Facilitated outpatient physical therapy for patients with knee and hip replacements, chronic pain and balance disorders.
Planned individually-designed treatment programs to restore, maintain and improve physical functioning, alleviate pain and prevent disability.
Aided and counseled patients adjusting to permanent physical disabilities.
Employed proper techniques of physical therapy including electronic muscle stimulation (EMG), dry needling, massage and eccentric exercise in the treatment of selected conditions.
Served as a student teaching assistant for physical therapy faculty.
Physical Therapist Assistant
I am working under the direction and supervision of the physical therapists in this center.
Helping with therapeutic procedures, manual exercises; instructing, encouraging, and assisting patients in performing physical activities.
Applying muscle stretching techniques and helping with exercise programs specific for each patient, adhering to their individual needs.
Participated in specialties including patellar tendinopathy, non-union fractures and ankle surgery.
A received special citation from the Physical Therapy Department for research on the effects of patient satisfaction with their therapist's work.
Physical Therapist Assistant
Provided patient care in an outpatient facility with an emphasis on manual techniques and modalities.
Restored function to patients suffering with frozen shoulder, meniscus tears, and extreme lower back pain using myofascial release, passive stretching, joint mobilizations, and home exercise programs.
Worked side by side with Massage therapists and Acupuncturists to best assist patients with pain management and rehab education.
Performed and assisted in examinations, treatments, and procedures, including electrotherapy.
Handled emergency situations; called doctors for assistance using medical jargon.
Physical Therapist Assistant
Provided school based pediatric physical therapy treatment services to children with developmental delays by strictly working under PT supervision and adhering to IEP goals to maximize gross motor performance to increase independent function within school environment.
Assisted in completing annual and aging out reports using the Peabody Developmental Scale and clinical observation.
Utilized manual therapy skills, including deep tissue massage and joint compression.
Provided education to parents about at-home exercises to do with children.
Contributed to staff education by providing in-service training on physical therapy equipment, procedures, and policies.
Physical Therapist Assistant
As the physical therapy assistant, I work one on one with our patients.
I help them through their stretches, and help our physical therapist with adjusting machines.
We pride ourselves on being very personable and we work in a fast-paced and fun/friendly work environment.
Prescribed exercises for home use with telephone follow-up.
Advised patients on self-care techniques with special equipment.
Physical Therapist Assistant
In depth understanding of the role of therapy in the context of the patient's age, total needs perspective and environment.
Proven sound clinical reasoning in treatment planning, implementation and monitoring of patient progress.
Uncommon ability to recognize when standard patient protocols or treatment plans need modification to meet individual patient needs & reports to therapist.
Trained and supervised physical therapists, physical therapist assistants, a physical therapist, and a COTA-L student.
Utilized healing touch techniques to assess, treat, and heal conditions discovered by the therapy team as they were affiliated with patients.
Physical Therapist Assistant
Provided Physical therapy treatment with the supervision of a physical therapist.
Treat a variety of orthopedic, sports injury, pediatric and geriatric patients.
Performed a variety of manual techniques including massage, stretching and joint manipulation.
Utilized modalities such as ultrasound and electric stimulation.
Attended meetings with patients' families, completed patient charts accurately and thoroughly, participated in weekly continuing education classes.
Physical Therapist Assistant
Worked with recovering cardiac patients on daily basis by administering treatments such as exercise regiments, muscle stretching/ relaxation.
Performed age appropriate competency skills with respect to individual patient's problems.
Prepared weekly reports on patient progress to allow for updated of goals and modifications by physical therapist of treatment program.
Assisted physical therapist in utilizing appropriate methods and materials for effective learning, monitoring response to education, and adapting program appropriately.
Served as first point of contact for referral from the physician's office to the therapy team concerning cases that required follow-up visits or physician orders for medication.
Wrap Up
You need to make sure your resume stands out amongst the other candidates. It is the first impression that employers have of your work experience and skills. Use the samples above to put together a resume that best suits your needs and helps you get the job you want.