Surgical technicians prepare, organize, sterilize, and assist operating room teams so that they have everything they need in order for surgeries to be safely performed. Their duties include sterilizing equipment, taking inventory, restocking supplies, making orders, preparing the operating room for surgery, and preparing patients for procedure. To work as a surgical tech you typically need an associate's degree in surgical technology, though completing an educational program in surgical technology and getting a certification through the National Board of Surgical Technology and Surgical Assisting (NBSTSA) or National Center for Competency Testing (NCCT) is also acceptable. Surgical techs must demonstrate knowledge of medical procedure, attention to detail, stress management, collaboration, problem-solving skills, active listening, and critical thinking.
A good resume is well-written and concise. It should be neat and easy to read, listing previous experience in a logical order.
Our resume samples will provide you with multiple examples of what you can include when writing your resume.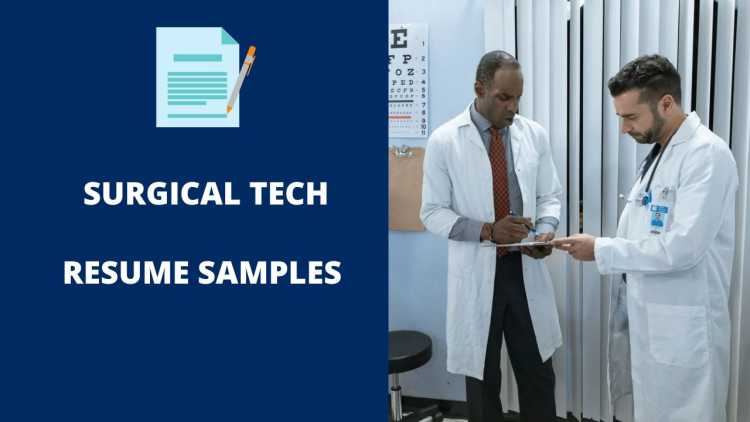 The Best Surgical Tech Resume Samples
These are some examples of accomplishments we have handpicked from real Surgical Tech resumes for your reference.
Surgical Tech
To assist in preparing and scrubbing all plastic and reconstructive cases.
Coordinating surgical procedures with the attending surgeons.
Overseeing all surgical equipment, instruments, and staffing needed for the cases and making sure all patient safety parameters have been met.
Performed surgical procedures as a surgical tech in a busy hospital.
Developed/maintained scientific documentation for the surgical department.
Surgical Tech
Distribute processed instrument sets, equipment, and supplies inappropriate work and storage area.
Set up sterile instrument table and prepare supplies according to the type of operation.
Assisted in the draping of patient and operative area according to need.
Assisted and anticipated the needs of surgeons for instruments, sutures, sponges, and supplies according to the knowledge of procedural requirements and constant monitoring of progress.
Served as office manager for a busy pharmacy and assisted pharmacists with account management and restructuring.
Surgical Technologist
Assisted with scrubbing and surgical procedures in gynecology (labor & delivery), general surgery, orthopedic, vascular, plastic/reconstructive, cardiovascular and thoracic, genitourinary, urology, laparoscopy, and ophthalmology surgery except for the neurology field.
Prepared operating room and instruments in advance of planned surgeries.
Used knowledge of aseptic techniques to maintain sterility of room and instruments.
Exercise working knowledge of medical terminology, surgical terminology, and hand signals used during surgery, working well under pressure as well as in a team.
Received high marks from patients who complained about rude staff and poor customer service.
Surgical Technologist
Performs all duties of Operating room as srub technician; including assisting surgeons in orthopedics, general surgery, podiatry, pain management, and gynecology.
Collects equipment, surgical supplies, instruments, and prepares rooms for procedures.
Prepares, package, and maintain records for equipment and answer day scopes needing repair.
Fostered teamwork, understanding, sensitivity, and respect through team-building exercises for staff members to gain unity consciousness.
Performed entries into the operating room with ambidexterity, proficiency, and safety.
Surgical Technologist
Scrub tech responsible for preparing the operating room for surgery.
Works along with physician and circulator to create a good environment for the patients to make them feel comfortable.
Follow instructions and pay attention to pass instrumentation according to the surgeon's needs.
Collaborated with anesthesiologists and surgeons to ensure patient recovery in an efficient manner.
Coached physicians inaccurate medication administration techniques; monitored patient health status and administration of intravenous fluids while minimizing adverse effects to a satisfactory degree.
Surgical Technologist
Assisted in surgical operations, prepare operating rooms, arrange equipment, and help doctors and nurses during surgeries.
Ensure material resources, supplies, instruments are delivered to the surgical patient point of care, in Perioperative Services.
Ability to flash sterilize instruments to meet the needs of the operating room.
Participated in staff meetings, performed on-call duties at nights and weekends, and assisted other Clinical Pharmacists as needed to support patient care.
Demonstrated exceptional communication skills during supervision of fellows under the guidance of a primary supervising physician.
Surgical Technologist
Acquired internal experience with assisting and preparing the operating room for pain management, orthopedic surgery; including neuro and podiatry.
Responsible for having surgical instruments, sterile bandages and linens, needed fluids, and other equipment ready for the procedures.
First, assist the doctors by handing them needed instruments during surgery and for counting sponges and needles before and after the operation.
Assisted front office with the filing of medical charts, implant logbooks, and sending medical records to attorneys.
In the operating room, ensured pre-surgical instruments and supplies were at the ready; contacted surgeons for any last-minute changes.
Surgical Technologist
Follow protocol for counting instruments, sponges, and sutures according to facility standards.
Maintaining the sterile field during surgical procedures. Applying staples and dressing to the incision site.
Prepared and assist with the draping of the patient. assisted with positioning patients pre and post surgeries.
Handled surgical equipment and instruments to assist doctors in performing surgeries on four body systems.
Surgically assisted in procedures involving spinal surgery, cardiac bypass, eye surgery, organ transplants, and tumor removal.
Surgical Technologist
Worked cooperatively and efficiently with management, surgeons, nurses, and all ancillary staff.
Maintained the highest standards of surgical conscience and asepsis.
Executed Surgical Technologist duties in all specialties with respect to hospital policies and procedures.
Expected to be a Paramedic within two years after graduation from a local technical college with a 2.4 GPA; maintained honors level of attendance and participation in classroom education with fellow students.
Performed over 6,000 procedures.
Surgical Technologist
Responsible for preparing the operating room prior to the operation and verifying the necessary supplies and tools.
Provided equipment to surgeons anticipating the need and physicians' preference during operation procedures.
Locate contaminated instruments and place them in the proper case cart system to avoid the spread of infection.
Consistently achieved top individual sales and patient satisfaction rates in the hospital.
Received employee recognition awards for customer service, quick and efficient performance, positive attitude, and customer satisfaction.
Surgical Technologist
Responsible for gathering necessary equipment, supplies, and instruments for setup of surgical cases while maintaining a fast OR turn-over rate and practicing proper sterile techniques.
In charge of orthopedic and gynecology cases by ordering specialty products as needed and maintaining inventory.
Maintain proper and sterile passing of instruments and surgical specimens by following policies and procedures.
Develop and maintain positive relationships with sales reps and doctors regarding specialty products, cases, and inventory.
Consistently achieved first or second place in annual poster awards; displayed excellent clinical skills and knowledge of appropriate medical terminology.
Surgical Technologist
Acts as a scrub assistant to the physician performing operative and invasive procedures.
Demonstrates knowledge and practice of perioperative patient care while maintaining a sterile field.
Provides support for readiness and flow of cases to facilitate overall functioning of the operation by handing surgeon and his/her assistant instruments, holding retractors, cut suture, and other tasks that surgeon may need to be done.
Verifies functioning and adequate availability of supplies/instruments/equipment prior to the surgical procedure as indicated by the surgeon's preference card and other available resources.
Leadership award for promoting wellness through physical fitness, education of duties, and office teamwork; received a retirement honorary plaque.
Wrap Up
You need to make sure your resume stands out amongst the other candidates. It is the first impression that employers have of your work experience and skills. Use the samples above to put together a resume that best suits your needs and helps you get the job you want.