Stage managers organize productions and handles all the administration in the production of plays to ensure that the director's vision is upheld, though the stage manager typically has little to no creative input themselves. Their duties include keeping and updating the production schedule, taking notes and updating the master script, keeping logs, reserving rehearsal venues, assists with casting and marketing, ensures all costuming and lighting details are correct, and anything else the director needs. To become a stage manager you typically need at least a bachelor's degree in theater or a similar field. Successful stage managers have great knowledge of theater and logistics, are well organized, can multitask, pay attention to detail, have good communication skills, have good handwriting, and are computer literate.
A good resume is well-written and concise. It should be neat and easy to read, listing previous experience in a logical order.
Our resume samples will provide you with multiple examples of what you can include when writing your resume.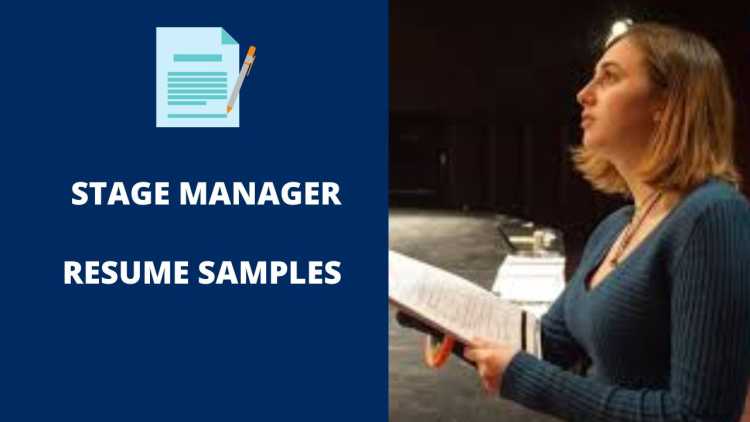 The Best Stage Manager Resume Samples
These are some examples of accomplishments we have handpicked from real Stage Manager resumes for your reference.
Stage Manager
Make sure actors and crew are safe and have everything that they need.
Keeps all departments on track, makes appointments, and creates schedules to make time used efficiently and effectively.
Is able to problem solve quickly and effectively and must be prepared for any emergency.
Assisted in the construction and performance of unique and original theatre productions using a wide variety of creative elements.
Designed posters in a variety of styles, including hand-lettering, illustration, and computer graphics.
Stage Manager
Make sure the script is uploaded to canvas in a timely manner so actors can read it prior to auditions.
Ask that you get a copy of the ground plan from the TD as soon as possible.
Make sure the designers get you their list of needs concerning curtain, lighting & sound equipment.
Meet with the director to discus the production: the style, interpretation, and period.
Determine how many ASMs you might need according to the size and needs of the production.
Stage Manager
Managed all aspects of the studio from placing props and furniture to dressing cables and setting up camera positions and monitors.
Managed live audiences, including the explanation of safety requirements, program timing and pertinent details of the show.
Knowledge of in-studio equipment (ped cams, steadicam, jib, A2 equipment, lighting board, etc.).
Developed stories for three-act plays written in collaboration with other playwrights as part of group projects.
Directed the expansion of a company-wide mascot program to include each store location's service animal with over 50 dogs participating.
Stage Manager
Assisted Production and Operations Crew in set day and game day assignments by being self motivated with a strong work ethic and organization skills and paying attention to every detail.
Execution of live game day promotions, sales, bumps, slides quickly and correctly in pressure situations with Play-by-play and Color analysts on ESPN, ESPN2, ESPNU, ESPN news, and ABC broadcasts.
Quick analytical business formatting and creating various situations where advertising dollars could be used during a live broadcast.
Took creativity to new heights by programming four live stage performances simultaneously; innovation recognized by CEO with development of the "Visions" series.
Directed in excess of 15 performance productions and guided the daily operations of a theater company.
Stage Manager
Responsible for setting up equipment necessary for performances and rehearsals.
Works with production manager to cue orchestra members on and off stage during performances.
Assists with any equipment movements during rehearsals and performances.
Orchestrated transportation, set construction, and costume fabrication for a themed entertainment venue.
Orchestrated transportation for over 200 participants for a two-day corporate team-building retreat.
Stage Manager
Responsible for managing the stage crew for weekend services, training new crew members, and encouraging new volunteers.
Interfacing and coordinating with church staff and leadership to ensure seamless technical aspects during rehearsals and service times.
Responsible for maintaining guitars, wireless equipment, and other technologies to enable the church staff and volunteers to succeed.
Oversaw the design and promotion of logo development, annual reports, flyers, event programs, websites, and email blasts.
Orchestrated marketing campaigns to fully utilize 18 different types of media to spread awareness about upcoming events, developments, promotions, and products; orchestrated media campaigns for four different corporation divisions over a period of two years.
Stage Manager
Supervise cast and crew and delegate roles and responsibilities for an efficient production.
Maintain all schedules, notes, and information regarding the show and its needs to keep show on schedule.
Consolidated contact point for each cast, crew, and production member of the show to improve efficiency and accountability.
Insure safety of actors and performance by implementing and executing quality check on sets in accordance with Actors Equity Association and OSHA.
Coordinated and managed the day-to-day operations of a new branch theatre for three years.
Stage Manager
Responsible for setting up stage and operating audio and visual equipment.
In charge of monitor displays, mic checks, mixing and running the audio desk to ensure proper sound and performance.
Complete weekly checks on equipment to ensure proper usage and that nothing is damaged.
Pitched and produced several multimedia productions, including large-scale shows and small budgeted films.
Fostered interpersonal skills and knowledge of international business during six months of travel across eleven nations conducting martial arts seminars.
Stage Manager
Organized and Managed over 50 actors, technical crew, and specialty acts through pre- production meetings, rehearsals, and performances.
Maintained a very strict schedule for 2 months of rehearsals, 8 performance dates, 8 hours each night and 3 different performance rooms at one time.
Communicated regularly between director, all lead designers, specialty acts, actors and crew to make sure everyone was working towards the same goal.
Fostered interpersonal skills and knowledge of international business during six months of travel across eleven nations conducting martial arts seminars.
Realized new potentials for human sharing, cooperation, and diplomacy after developing relationships between martial arts opponents at contests.
Stage Manager
Contract job to manage the cast and crew from start of auditions to the run of the show.
Generate sign in sheets, manage rehearsals, time keeping, data entry, generate rehearsal reports.
Maintain all communication with directors and crew members. Maintain positive energy and enthusiasm.
Received outstanding quality award; effectively compiled data relating to film projects.
Assisted with design and coordination of a stage scenic movement by research and cataloging.
Stage Manager
Managed all areas of advertising and marketing events via social media networks.
Coordinate and supervise technical and theater personnel to ensure smooth operations, including sound, lighting, theater scouting, as well as design and layout of stage props in accordance with directorial requirements.
Develop and implement all merchandise promotional plans which includes books, recordings, and DVD's.
Assisted in the planning, development, and execution of a variety of theatrical productions including dance, comedy, and puppetry.
Performed as an actor in various productions including street theatre, musicals, plays, improvisations and was part of Toronto's "Toronto's Got Talent" under the direction of Peter Carlini.
Stage Manager
Supervised each element of production to include, schedules, rehearsals and performances.
Helped to created and market advertisements for the play(s) in the form of digital and physical media.
Oversaw backstage movement such as scene changes and crew effectiveness.
Facilitated the Directors' vision by communicating with talent, designers and producers.
Designed lighting cues for a theater production. Coordinated timing while mixing sound and light cues to enhance actors' performance.
Wrap Up
You need to make sure your resume stands out amongst the other candidates. It is the first impression that employers have of your work experience and skills. Use the samples above to put together a resume that best suits your needs and helps you get the job you want.