Software Qa Managers are quality control specialists within the IT community. Their duties include developing quality assurance protocols, implementing software tests, identifying software issues, negotiating projects, improving programs and evaluating issues. A job as a software QA manager requires a bachelor's degree in computer science or a related field. It is important that they are skilled in communication, management, sales, organization, coding, analysis, and creative thinking.
A good resume is well-written and concise. It should be neat and easy to read, listing previous experience in a logical order.
Our resume samples will provide you with multiple examples of what you can include when writing your resume.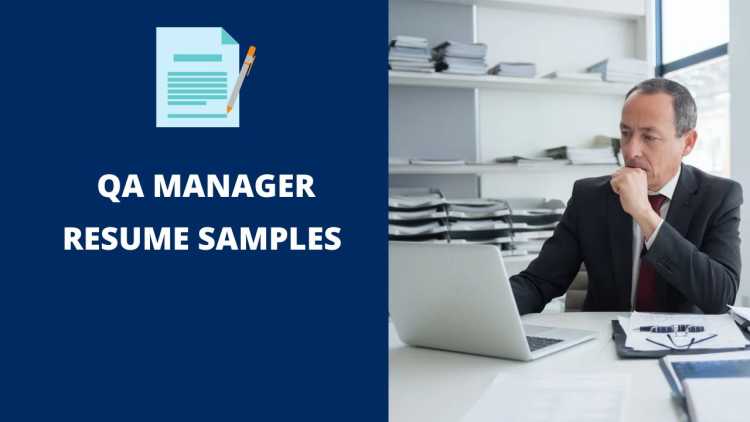 The Best QA Manager Resume Samples
These are some examples of accomplishments we have handpicked from real QA Manager resumes for your reference.
QA Manager
Participated on the project kick off meeting and workshop to understand the project scope.
Prepared the Estimation, Test Strategy and review the same with Project stakeholders to get the approval.
Prepared RAT template and implemented the Requirement Ambiguity Testing to identify the early defects.
Track resources and Cost on each stage and intimate the same to leadership team if any deviation on the plan.
Facilitated successful documentation of software development process, policies, and procedures.
QA Manager
Led Automation/Testing team Offshore development programmers, Offshore leads and onshore QA engineers.
Established Reporting, infrastructure and organization within offshore and onsite team members.
Managed business critical projects (V5 Enterprise and FSAFEDS) for both mobile and desktop applications.
Worked directly with development, project management and business teams to resolve issues and meet tight deadlines.
Proved leadership skills when directing a staff of over 25 during a company acquisition.
QA Manager
Managing the development and application of a GQS (Global Quality Services) framework.
Managing the development of software quality assurance (SQA) project plans and determining project scope and level of effort (LOE) estimates.
Owning and Designing end to end testing strategy for HUB2 & BOB related applications which could include Desktop & Mobile testing scope using various tools for biweekly releases around the year.
Promoted quality improvements and cost savings during the redesign of a flagship product.
Achieved all quality metrics in spite of losing 25% of staff due to corporate downsizing.
QA Manager
Managed international teams of up to 15 people to complete large projects quickly and efficiently.
Developed and implemented QA process for multi-device application with no prior QA involvement.
Worked in coordination with product and development team to enforce documentation policies to further goals of QA testing.
Reviewed and triaged customer and team reported issues for proper fix prioritization.
Led agile sprints leading to speed up of release process and increased development efficiency.
QA Manager
Coordinated with network operations to ensure an available and responsive QA environment (network, firewall, VMs, databases, etc).
Led effort to move our manual testing to an automated process integrated into our CI / CD builds.
Supported development team with automated and manual testing for our suite of internal applications built on various .NET stacks.
Gained extensive experience with e-commerce software testing leading to successful release for the industry's leading software application provider.
Translated and systematized knowledge in a non-traditional manner, determining areas of expertise from QA staff, and implemented a QA Standard Operating Procedure.
QA Manager
Analyze and observe the testing process and made recommendations for process improvements.
Participate in the requirement confirmation, iteration planning, product design and configuration sessions.
Performed Fit-Gap analysis to evaluate the functional requirements, identify testing priorities and plan testing.
Evaluated test development activities for defects and assigned responsibility for repairs.
Tested all design documentation prior to release to users.
QA Manager
Worked with multiple stakeholders in the SCRUM team, communicated scope, highlighted risks and ensured 100% test coverage of critical use cases across cross-functional components.
Responsible for complete functional coverage, automation (Selenium) and successful handover to cloud operations.
Contributed to achieving 100% automation of continuous integration processes which significantly reduced build breaks and streamlined development processes as well as increased product quality by reducing bug inflow rate by nearly 3 times.
Developed quality assurance plans for new products; worked with product management to ensure thorough testing and accurate documentation of design requirements in planning phases.
Analyzed the reasons behind defects in order to resolve or prevent future occurrences from occurring.
QA Manager
Performs audits of all Oasis, daily clinician visits, therapy evaluations, therapy visits, home health aide visits in preparation for billing.
Conduct quality and timely review of clinical reports for accuracy and compliance with POC and CMS guidelines.
Monitor and track timely completion of clinical documentation.
Performed concurrent clinical record reviews for compliance to federal and state rules and regulations and agency policies.
Managed a team of eight software testers; required foreign travel to Japan, Korea, and China for contract development.
QA Manager
Led performance improvement quality initiatives for the agency, 2 locations, 580 census.
Identified and implemented 2 significant changes related to HHCAHPS that helped agency to finally cross threshold to read CMS highest 5 star rating.
Review/Assist with Quarterly reports Responsible for QAPI Improvements/Goals/Outcomes.
Developed new procedures for quality control and testing account management of projects.
Developed QA guidelines from data to be tested.
QA Manager
Reporting directly to the SQA Director on projects, QA status, budget, and resource management.
Working closely with Project Managers, Development Managers/Leads, Business Analysts, and Product Manager to identify and manage scope creeps via change management.
As part of Integration Project, was involved on daily bases to help the team to test Address standardization project using LISA web service testing tool.
Possess expert level of understanding of WSDL, XSD, Schema, XML documents for Web Services Testing.
Achieved excellent rating from the National Quality Institute; earned award in consecutive years as a first-time candidate.
QA Manager
Handling a wide gamut of project activities including initiation, planning, execution, monitoring and closing.
Identifying requirements, developing test plans and assessing test cases with the onsite counterparts.
Maintaining test coverage & accuracy of the test plans by reviewing the traceability matrix on a timely manner.
Liaising with the various teams to resolve issues raised by the team and keeping a track of data points, issue escalation and configuration management activities within the project.
Received certification as an Approved Tester from NIST – National Institute for Standards and Technology.
QA Manager
Primary focus is ensuring that the products/applications are validated defect free and providing confidence that requirements are fulfilled.
Ensure the fulfillment of the overall strategic business goals by enhancing business value with QA programs.
Effectively planned and managed QA budget close to $1.2 MM.
Identify and address process inefficiencies, establish standardized QA processes and best practices.
Spearheaded organization and reorganization of staff to increase productivity, reduce costs, and streamline processes.
Wrap Up
You need to make sure your resume stands out amongst the other candidates. It is the first impression that employers have of your work experience and skills. Use the samples above to put together a resume that best suits your needs and helps you get the job you want.