Social Media Coordinators manage a clients social media and marketing. Their duties include creating a social media plan, identifying trends in social media, develop engaging content for their client's social media, interact with people on social media sites, assist in creating content, reviewing data analytics on performance of their plan. To work as a Social Media Coordinator you typically will need a Bachelor's in marketing or a related field. Social Media Coordinators must demonstrate assertiveness, organization, people skills, communication, confidence, enthusiasm and motivation.
A good resume is well-written and concise. It should be neat and easy to read, listing previous experience in a logical order.
Our resume samples will provide you with multiple examples of what you can include when writing your resume.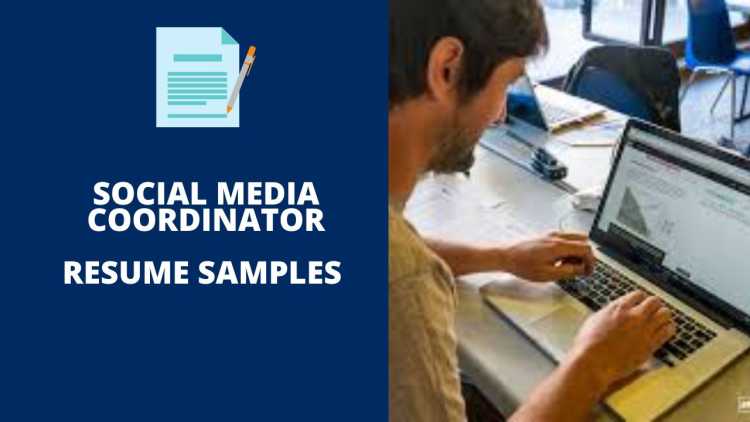 The Best Social Media Coordinator Resume Samples
These are some examples of accomplishments we have handpicked from real Social Media Coordinator resumes for your reference.
Social Media Coordinator
Monitor Facebook and Twitter accounts and assess consumer comments for complaints to ensure timely responses.
Maintain a cohesive style and tone among social media platforms by creating and publishing social media calendars.
Compose and upload blog posts for various clients to further consumer outreach.
Oversaw daily Facebook, Twitter, and LinkedIn account posting; managed Google Alerts to ensure company news is fresh and current.
Coordinated social media campaigns with print, radio, TV, and web forms of media to increase awareness of our product within the public.
Social Media Coordinator
Worked with client to understand expectations and objectives of company's social presence and shape content strategy accordingly.
Follow legal guidelines for responding to patient inquiries and comments within social media channels.
Conduct telephone surveys regarding patients experience at marketing events.
Expedited social media campaigns for corporate events by updating customers on Facebook, Twitter, and LinkedIn.
Wrote blog posts for SEO (search engine optimization) technique to increase company website presence in search engines such as Google, Yahoo!, and Bing.
Social Media Coordinator
Worked alongside HR, Tournament Admins, Content Management, and others to coordinate daily content calendar for social marketing.
Implement new content calendar to ensure proper timing of social posts to increase engagement rates across Twitter, Facebook, and Instagram.
Introduced new content strategies to increase brand awareness, establishing Heroes Hype as the premiere Amateur Heroes of the Storm tournament.
Worked with sponsors to ensure social push of tournaments and provide supporters items for giveaways.
Provided followers up-to-date information regard tournaments, podcasts, and Heroes Hype related broadcasts.
Social Media Coordinator
Build an online presence in order to connect with clients, the community, and potential partners.
This includes capturing and editing content, dispersing it on all social media channels, and editing the website using HTML and Adobe Contribute.
Recruit volunteers in order to carry out direct services for the organization.
Researched funding opportunities and advise the Resource Development team on best practices for diverse funding.
Worked closely with the marketing department to create new social media campaigns for our products.
Social Media Coordinator
Curate media (e.g. gifs, videos, memes) from around the web to share and increase engagement on social channels.
Collaborate with key internal teams to ensure optimal promotional and organic schedule for all efforts.
Preparing social media and traffic reports based on analytics (reach and engagement) to gauge success of social media efforts and initiatives.
Planned, organized, and executed all social media initiatives for brand awareness campaigns, both locally and nationally.
Worked with an advertising agency to establish Twitter account tracking analytics; revised page layout based on conversion rates.
Social Media Coordinator
Managed client social media channels ensuring content is on brand and creative, forward plan content to ensure consistent engagement with followers.
Collaborate closely with team to build social media promotion/engagement plan; marketing campaign.
Help develop overall strategy to shape brand and social presence. [Content creation and implementation.
Managed social media marketing campaign to increase attendance of regional festival; generated an increase of 2,000 additional ticket sales.
Evaluated effectiveness of social media marketing tactics; optimized implementation and referral sources for increasing brand exposure and traffic.
Social Media Coordinator
Build and execute social media and marketing strategy through competitive research, platform determination, benchmarking, messaging and audience identification.
Assistance with planning and executing corporate events sponsored by NextOp such as job fairs, corporate partner appreciation events and networking luncheons.
In charge of collecting the invoices from vendors after the event in concluded.
Engineered increased traffic by optimizing live chat feature on corporate website; monitored trends to engage consumers before potential competitors can capitalize.
Pitched in and managed social media campaigns that led to a 15% increase in business every month during a period of only two months.
Social Media Coordinator
Organize production of company's website, marketing outreach, and visual merchandising.
Coordinate monthly promotional events; music, food, signage, marketing, collateral.
Identify and present innovative opportunities to increase sales through social media.
Increased customer participation and engagement with company through social platforms.
Created marketing strategies to promote and showcase the talent, artistry, and achievements of others, while cultivating their companies' reputations on a local, state, national and international platform.
Social Media Coordinator
In charge of creation and management of all office-related social media accounts, as well as website creation and management.
Expertly Instruct and train staff on social media engagement and activities.
Oversee all administrative tasks related to website management, social media management, and online marketing.
Created engaging online marketing campaigns for patient and community engagement.
Learned how to successfully market products through social media by creating compelling stories; sharing exclusive photos; creating compelling characters; posting frequently updated content; and responding to comments.
Social Media Coordinator
Managed high levels of inbound conversations, while constantly identifying workflow best practices and efficiencies that scale.
Assisted strategy director and sales team with closing Superfast product renewals and extensions with our customers.
Develop appropriate responses that adhere to customer brand voice requirements and answer inquiries with accuracy and efficiency.
Collaborated with internal teams as needed to resolve sensitive issues and provide great brand experiences while meeting our customer's deadlines.
Continued to realize new potentials for human interaction through strategic planning for different advertising objectives.
Social Media Coordinator
Managing social media posting across multiple platforms (Facebook, Twitter, LinkedIn, Instagram, Snapchat).
Creating and editing two weekly newsletters using Constant Contact and MailChimp.
Contributing regular blog posts in addition to editing and creating embeddable content (images, videos and interactives) for posts by other contributors.
Writing monthly analytics and audience engagement reports using data from Google Analytics, Facebook Insights and Twitter Analytics.
Managed a Twitter account with 65,000+ followers and helped to maintain the integrity of the Twitter brand.
Social Media Coordinator
As the Social Media Coordinator for At The Tabernacle, I assist the President of At The Tabernacle LLC in planning promotional and marketing campaigns for concerts.
I work with graphic designers and tour managers to created social media posts that engage fans and promote events.
I make sure that official media pages are updated and are engaging.
During my time coordinating social media for At The Tabernacle I successfully engaged fans and helped sell out shows by making information readily available and promoting events in an exciting and engaging way.
Measured and analyzed the effectiveness of all campaigns by monitoring sales promotions pursuant to client requests.
Wrap Up
You need to make sure your resume stands out amongst the other candidates. It is the first impression that employers have of your work experience and skills. Use the samples above to put together a resume that best suits your needs and helps you get the job you want.