Soccer Coaches teach, train, manage and mentor a soccer team. Their duties include implementing strategies, creating a physical fitness program, recruiting players and a coaching staff, conducting practices, scheduling the season and managing the operations of the team as a whole. To work as a Soccer Coach at a professional level you typically would have experience playing at a high level. Soccer Coaches must demonstrate teamwork, management and communication skills as well as knowledge of the game, strategies and personnel.
A good resume is well-written and concise. It should be neat and easy to read, listing previous experience in a logical order.
Our resume samples will provide you with multiple examples of what you can include when writing your resume.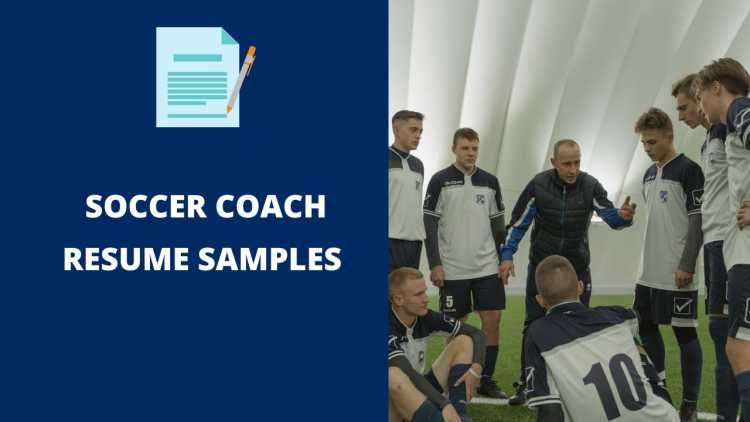 The Best Soccer Coach Resume Samples
These are some examples of accomplishments we have handpicked from real Soccer Coach resumes for your reference.
Soccer Coach
Responsible for planning detailed an age appropriate ten month soccer educational program for two different teams.
Responsible of constantly keeping track of games and practice scheduling for two teams.
Managing a Google calendar for scheduling purposes for two different teams, constantly updating calendar based on weather and rescheduling.
Worked with and manage three different team managers to perform tasks as needed.
Effectively planned and organized a comprehensive youth soccer season including all training, games, and tournaments.
Soccer Coach
Character development includes learning, caring, being honest and respectful, and taking responsibility.
Young players need to have an understanding of fitness so that they can play soccer successfully and safely.
Clearly define the impact of physical fitness and individual abilities on health, safety and performance Identify athletic potentials.
Formulated strategies to meet the needs of players with wide-ranging skills and abilities.
Developed recognition for nurturing individual growth and enhancing self-esteem through participation in the sport of soccer.
Soccer Coach
Plan and supervise training sessions to develop general fitness and specific soccer skills.
Managed a team of coaches who focus on specific areas, such as defense & offensive play or goalkeeping.
Evaluate player skills and review their performance to determine their fitness level at the end of each season.
Assisted in building bonds among team members by implementing team-building exercises such as scavenger hunts.
Recognized for exceptional ability to motivate teenaged girls; advanced three players to the Varsity Soccer Team in their sophomore seasons.
Soccer Coach
Led pre-season in-season and post-season training practice games; game preparation; on field coaching of all phases of the game.
Maintain knowledge of and compliance with league and institutional rules.
Coaching soccer with the focus of improving skill and socialization while maintaining a safe and fun environment for the athletes.
Enrolled students in safe, controlled, and enjoyable exercise.
Effectively taught skills and competitions for men's and women's teams; introduced physical activity as an effective means of stress relief.
Soccer Coach
Responsible for developing an 8-10 week lesson plan for each individual soccer class from age 2 to12 years old in order to improve child's motor, cognitive, technical and tactical abilities.
Attend and be actively involved in all coach training activities.
Mentoring ACO, JCO, COA, level coaches by providing feedback on their lesson plans, classes and their interactions with kids.
Identified with students through encouragement, encouragement, encouragement.
Effectively used positive reinforcement techniques to motivate athletes to reach their personal goals.
Soccer Coach
Assists the head coach with instructing players in the rules, regulations, equipment, and techniques of the sport.
Organizes and directs individual and small group practice activities/exercises as directed by the head coach.
Assesses player's skills, monitors players during competition and practice, and keeps the head Soccer coach informed of the athletic performance of students.
Assists the head coach with supervising athletes during practices and competition.
Increased number of days per week in sports training from ten to twenty; coached a multi-sports team in soccer, basketball, volleyball, and baseball.
Soccer Coach
Developed instruction plans; administered tests and evaluated progress.
Developed and implemented individualized teaching strategies, which led students through individual problem-solving techniques, increasing student performance scores by 25%.
Demonstrated importance of learning through development and application of techniques utilizing real-life situations.
Trained over 100 athletes including girls, boys, and adults.
Broke own the barrier between young and old; led youth to become leaders in the community.
Soccer Coach
Clearly define the impact of physical fitness and individual abilities on health, safety and performance.
Identify athletic potential and created a balances team by putting athletes in positions where they are able to maximize their strengths.
Motivate players to perform well during practice sessions and in games.
Develop and implement meaningful soccer practice plans, aimed at keeping players active during the course of the practice.
Saw a higher level of determination, confidence, and character-building in each success versus failure; trained athletes whose spirit was greater than their skill level.
Soccer Coach
Participated as an integral part of team operations by providing services to the public and performing daily operating activities.
Practiced and implemented consumer sales promotion in order to increase store location revenue.
Helped manage and keep the front of the store clean while helping with customer assistance.
Was a part of a family of co-workers that collected and maintained funds from the customers on a daily basis.
Achieved awards for overall fitness and sportsmanship during annual competitions.
Soccer Coach
Prepared and execute practice drills for players between the ages of 5 through 10 years old.
Demonstrated proper techniques, commending and correcting respectively to help players understand the drill or game while in progress.
Improvise and adjust drills according to players' skill levels.
Analyze and evaluate progress of each individual player in order to help them improve their game.
Invested time and effort toward developing positive relationships with parents, coaches, and trainer staff members.
Soccer Coach
Instructed children on the fundamental skills of soccer (4 – 13 years old) in a fun, supportive, supervised and safe environment.
Develop and implement core soccer strategies and instruct players about tactics and individual skills.
Prepared daily schedule/curriculum for camps, snack distribution, recreation and/or leadership development as needed.
Ascertain an open two-way communication between players and guardians to ensure that set goals are met.
Driven, motivated, and led the team to success; observed by all players as a positive role model who fostered physical and mental well-being.
Soccer Coach
Plan and manage practices for 12 kids age 2-8, providing them with consistency, timeliness, and a safe and fun environment.
Managed communications with parents, schools, and soccer shots organization.
Adapt to constantly changing organizational needs and act as a reliable leader to complete my tasks as well as others that need to be completed.
Devoted time to daily fitness training – completed over 7 triathlons, including one Ironman event.
Girded minds and bodies with motivational talks; positive attitude encouraged healthy competitive spirit in all athletes.
Wrap Up
You need to make sure your resume stands out amongst the other candidates. It is the first impression that employers have of your work experience and skills. Use the samples above to put together a resume that best suits your needs and helps you get the job you want.