Volleyball Coaches train, coach, and mentor players. They develop volleyball-specific fitness workouts, teach fundamentals of the game, manage team dynamics, and enforce rules. To be a Volleyball Coach, you need to have prior coaching experience at the high school or college level. You must also hold at least a bachelor's degree in physical education or sports medicine. Other requirements include strong leadership skills and patience with young athletes.
A good resume is well-written and concise. It should be neat and easy to read, listing previous experience in a logical order.
Our resume samples will provide you with multiple examples of what you can include when writing your resume.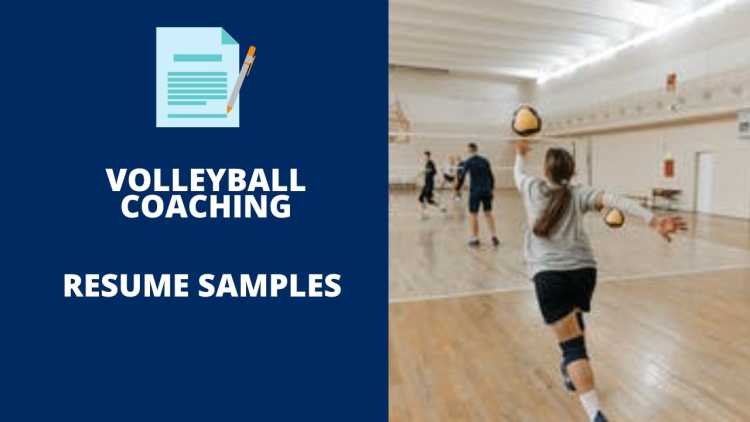 The Best Volleyball Coaching Resume Samples
These are some examples of accomplishments we have handpicked from real Volleyball Coaching resumes for your reference.
Volleyball Coach
Built strong rapport with athletes and assistants before, during, and after coaching seasons.
Acted as a positive role model for team participants and in the community.
Maintained thorough knowledge of all rules, game procedures, coaching techniques, and current trends in volleyball.
Exhibited sound judgment while executing coaching responsibilities and functions.
Created and maintained a physically and mentally challenging athletic program for over 90 students, providing a secure environment for children to learn to respect others, work hard, and have fun.
Volleyball Coach
I worked as both a head and assistant coach to children aged 8-14.
I help run the summer camps and have also taught skill-specific classes.
I am responsible for teaching kids the fundamental skills of volleyball as well as how to interact well with others and engage in fun and skill-targeted activities.
I also help set up the camps and ensure everyone is signed in on time, help with any questions parents may have, and tend to minor injuries campers may receive while playing.
Trained participants in critical thinking skills, self-discipline, goal setting, commitment to goals, positive attitude toward failure, the victory of defeat–all vital attributes of mental toughness.
Volleyball Coach
Helped young volleyball players learn and develop the fundamentals of volleyball.
Used critical thinking skills to solve problems and choose the best lineup for matches.
Communicated with all players and parents about practice and tournament information.
A customized training program based on students' interests and ability level–from running to strength training to speed agility.
Facilitated teaching program with multi-sport membership teams from elementary schools through high school–seasonal athletes who won district titles in their sports.
Volleyball Coach
Worked closely with the head coach to manage our team and provide all possible resources to reach success.
Led by example to show the girls what the importance of being a leader is.
Maintained a strong relationship with players both on and off the court.
Coached and supervised recreation volleyball leagues; learned to motivate, negotiate, and handle aggressive behavior in the competitive environment.
Developed team strategy by studying and analyzing opponents' play; learned to apply new strategies effectively.
Volleyball Coach
Explained the use of exercise equipment to all participants, prioritizing safety at all times.
Explained and demonstrated gym games and activities to party participants.
Cultivated positive relationships with participants by interacting with them during group fitness classes.
Encouraged a fitness business through physical demonstrations while operating a 24-hour coin-operated open gym facility.
Volleyball Coach
I taught children grades 3-8th how to play volleyball and how to enjoy physical activity.
The job required good communication skills, as well as social skills.
Coaching allowed me to refine my people skills, as well as my confidence in stepping in and helping younger players.
Recognized skills as a teacher during private classes of children and adults in beach volleyball technique; earned appreciation from colleagues for knowledge of sports science.
Convinced multiple adults to participate in exercise activities that were fun and rewarding when volunteering at local summer camps for children.
Volleyball Coach
Led girls through intensive volleyball camp for seven weeks throughout summer.
Mentored over 20 girls each week to help build communication skills and volleyball skills.
Collaborated with other coaches to create a fun yet constructive environment for campers.
Led team to victory nineteen (19) times; awarded coach of the year title five (5) times.
Presented demonstrations and led workshops at local fitness conferences concerning volleyball fitness.
Volleyball Coach
I volunteer as a volleyball coach for a homeschool volleyball program.
I coach volleyball skills to girls 8-12 years old.
I organize weekly practices and control a group of 10-15 girls for 2 hours each session by teaching and playing volleyball with them.
Established the possibility of human physical potential through the accomplishment of own original athletic feat, "The Human Volleyball".
Trained and inspired over one hundred (100) athletes in a variety of sports activities, from volleyball to football.
Volleyball Coach
Supervised and coached several dozen thirteen-year-old girls.
Explained and facilitated drills specifically tailored to the players' skill levels and set goals to be accomplished at the end of the season.
Solved problems concerning player chemistry while on and off the volleyball court.
Restructured local youth program that produced four national championship teams over a two-year period.
Motivated and coached a Volleyball Club Team with an average of 14 to 15 players per game who demonstrated improvement with their athletic performance.
Volleyball Coach
Organize conditioning and skill-oriented drills for 13 players with varying degrees of experience.
Prepared players for the games by actively participating in warm-up drills and exercises.
Establish short-term goals and measure the team's progress through their improvement of physical and communication skills.
Performed the duties of head coach, assistant coach, cheerleader captain, squad leader, equipment manager, and transportation captain during games and practices.
Advanced the team level of volleyball skills to rank in the top four of all high school teams competing in city league competitions.
Volleyball Coach
Provided leadership and taught volleyball fundamentals to collegiate potential athletes.
Organized and scheduled team travel including flights, hotel accommodations, and special needs.
Developed and implemented drills and practices to achieve specific skill acquisition.
Created a positive environment for growth and acted as a role model and mentor for athletes.
Created an ongoing record of 5 wins and 1 loss as a second consecutive volleyball team captain.
Volleyball Coach
Led defensive coach, responsible for a defensive strategy, training, and team execution.
Responsible for tracking players' progress and statistics.
Providing private lessons for improving player weaknesses and helping capitalize on their strengths.
Taught basic volleyball skills to inexperienced players such as serving, passing, setting, hitting spikes for teammates, and enthusiasm for a smooth game that produced minimal errors.
Guided team to achieve championship title in both regular season and playoffs; coached to a record of 58 wins, 8 losses, and 2 ties after the program's first year.
Wrap Up
You need to make sure your resume stands out amongst the other candidates. It is the first impression that employers have of your work experience and skills. Use the samples above to put together a resume that best suits your needs and helps you get the job you want.