Personal Fitness Trainers created exercise routines and help clients meet their fitness goals. This role includes tasks like consulting with a client about their diet and workout, designing a personalized fitness plan, coaching the client through workouts, encouraging them to stay motivated, and reviewing the progress of their client's routine. Personal fitness trainers need at least an associate's degree from a community college or other institution along with CPR certification. They must have strong interpersonal skills as well as knowledge of nutrition principles, weight training principles, cardiovascular training principles, wellness concepts, and how to safely modify exercises according to an individual's physical needs.
A good resume is well-written and concise. It should be neat and easy to read, listing previous experience in a logical order.
Our resume samples will provide you with multiple examples of what you can include when writing your resume.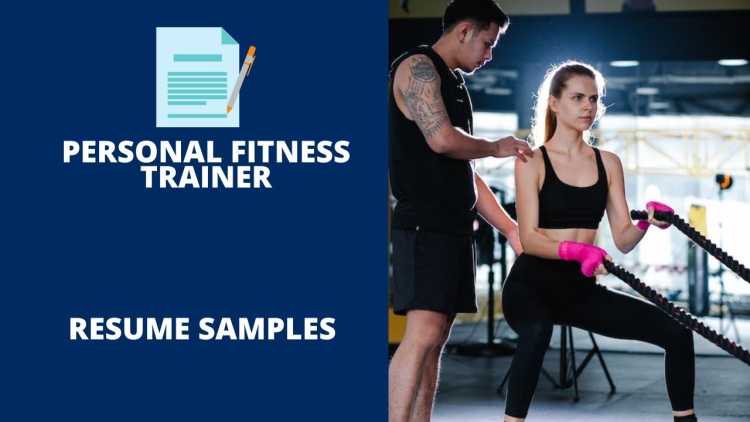 The Best Personal Fitness Trainer Resume Samples
These are some examples of accomplishments we have handpicked from real Personal Fitness Trainer resumes for your reference.
Personal Trainer and Group Fitness Instructor
Help clients meet their individual goal by assisting them through exercises with proper form.
Give members fitness assessments to help provide health recommendations.
Educate members on proper diet techniques.
Instructed a group of members that ranged from 5 to 20 people through exercises relating to weight lifting, kickboxing conditioning, boxing conditioning, and TRX.
Trained individual students in values of physical fitness, self-discipline, and self-respect.
Personal Trainer
Shadowed the head trainer there at the club during her sessions with clients as well as during consultations with members of the club.
Taught a small group fitness class of 4 people.
Walked the gym floor and interacted with members there and worked out enough to have them become intrigued of me and asked for fitness advice.
Called members and set them up for personal training Consultations at the club.
Created a cardiovascular fitness program for senior citizens by developing cardiovascular exercises and team-building activities.
Fitness Manager/Personal Trainer
Oversee the fitness department, personal trainers and group fitness instructors.
Ensuring the group fitness schedules are updated each month, all classes are covered when needed.
Properly making sure department is equipped to meet monthly and quarterly goals.
Worked closet with the general manager to ensure the club and business runs smoothly.
Designed and created a new strength training exercise program for the District of Columbia Fire Department.
Personal Trainer
Initiate new member consultations and fitness assessments to generate new clientele.
Designed and implement fitness and nutrition programs according to client's needs and goals.
Conduct private and group training with efficiency, effectiveness, and safety.
Track client progress and adjust program as necessary.
Developed training manuals for D.C. Fire Department personnel; trained programs to meet national standards for fire department programs.
Personal Trainer
Demonstrated safe and correct form with respect to various movements.
Prepared constantly varied workouts for groups and individuals.
Led by example to clients and members by maintaining a healthy and fit lifestyle.
Facilitates gym member functions and events efficiently and enthusiastically.
Developed a therapeutic exercise program for elderly clients with Parkinson's disease; reduced client symptoms by 45%.
Personal Trainer
Created fitness program personalized to client's needs, helping them reach their desired and/or genetic potential.
Provided coaching to support client in physical goal achievement, as well as internal, holistic support.
Created nutritional program to support clients' lifestyle and training objectives.
Assisted in-gym with opening and closing procedures, general maintenance, customer service, membership and product sales.
Trained boxing and mixed martial arts instructors in the use of time management techniques and positive leadership style development using martial arts as an escape from reality.
Personal Trainer
Provided beneficial and safe training sessions to maximize results.
Led and created fun and efficient group exercise classes and boot camps.
Performed health assessments to determine client risk factors.
Educate clients on effective exercise prescription and proper nutrition.
Motivated, educated, and transformed more than five hundred clients of all ages, fitness levels, and body types.
Personal Trainer
Learned effective sales communication skills for members and potential clients.
Gained knowledge on how to sell personal training packages and learned how to retain clients.
Acquired techniques to assist clients in meeting fitness goals.
Managed short-term and long-term fitness goals with clients.
Fostered successful, long-term weight loss for three hundred clients through a combination of diet and exercise.
Fitness Manager/Personal Trainer
Partners in coordination with clients to develop individualized scheduled fitness plans.
Provides personal physical fitness tips through teaching and demonstration of exercises.
Educates clients on healthy lifestyle and importance of life fitness.
Offers expert knowledge on fitness plan, different exercises and gym equipment usage and their effects on particular parts of the body.
Conducted weekly boot camps for women of all ages to increase their overall fitness levels.
Fitness Instructor
Responsible for coordinating water aerobic fitness routines for wellness members.
Encourage a healthy lifestyle when in the gym and in the pool.
Maintain the wellness center as sanitary as possible.
Trained two separate individuals for triathlons in a mere five months; coached them to achieve the results they desired in a short amount of time.
Assisted clients from seventy-five percent overweight to twenty-five percent overweight in losing excessive weight through exercise and healthy eating habits changes over one year period.
Fitness Instructor
Teach concise movement and technique for maximum benefit and safety.
Designed specialized training plans for amateur mixed martial arts athletes.
Assisted clients with therapeutic exercises and strength and conditioning practices.
Coach and motivate clients to reach their health and fitness goals.
Focused on individual health and fitness goals to empower clients by offering motivation, dedication, and objectivity.
Fitness Trainer
Develop safe, professional, exciting and comprehensive personal training programs.
Monitor and instruct clients during personal training sessions on the safe and effective use of cardiovascular, flexibility and strength training equipment.
Educate members on current health and fitness issues and trends.
Conduct fitness consultations for new clients including pre-participation screening, Medical History, Lifestyle questionnaire, and goal setting to assess and recommend personal training programs.
Trained clients to create personal training plans for reaching individual fitness goals.
Wrap Up
You need to make sure your resume stands out amongst the other candidates. It is the first impression that employers have of your work experience and skills. Use the samples above to put together a resume that best suits your needs and helps you get the job you want.