Elementary teachers must have strong verbal, listening, and communication skills. They enjoy working with young children and are organized, patient, confident, creative, nurturing, adaptable team players who are positive role models for their students. Elementary teachers typically hold a bachelor's degree in education or early childhood development along with state teaching licensure. During the day they may also conduct workshops on educational topics like reading to children or teaching technology to young learners.
A good resume is well-written and concise. It should be neat and easy to read, listing previous experience in a logical order.
Our resume samples will provide you with multiple examples of what you can include when writing your resume.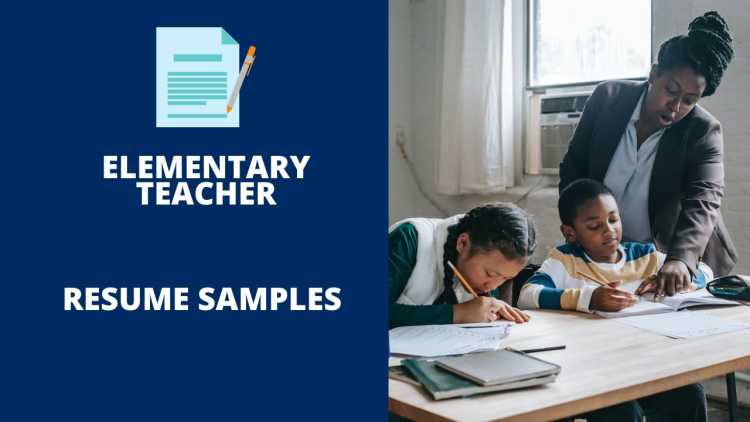 The Best Elementary Teacher Resume Samples
These are some examples of accomplishments we have handpicked from real Elementary Teacher resumes for your reference.
Elementary Teacher
Encouraging positive student behavior through successful classroom management techniques.
Reviewing assessment data to develop appropriate goals and objectives for at-risk students.
Consulting with school personnel regarding the implementation of the IEPs, and special educational services.
Planning a balanced program of instruction including demonstration, observation and hands on activities that provides students the opportunities to investigate and build questions.
Recruited by and worked with parents to implement weekly Parent-Teacher Evening – attended by over 200 parents.
Elementary Teacher
Plan and implement differentiated lessons and activities to meet the individual academic needs of the children.
Create an effective classroom culture that supports the goals and developmental level of the children in the classroom.
Utilized a variety of instructional techniques and technologies that maintain student interest throughout the learning process.
Chaired Student Council, which raised $3,000 for local charity through a dinner/auction and $1,000 selling holiday wreaths door-to-door.
Awarded Outstanding Academic Achievement Award for superior grades and standardized test scores.
Elementary School Teacher
Increased homeroom students' grade level by 40 % as monitored by an online diagnostic program called "IReady".
Earned highly effective for coherent lesson planning, coherent progression of instruction, creating a classroom culture of high expectations of students, and ability to effectively collaborate with peers by administrator on final teacher evaluation.
Taught general education students as well as individuals with learning challenges and special needs within a mainstreamed, inclusive classroom.
Modified curriculum to created meaningful, authentic learning for students by gathering outside resources to facilitate all styles of the learner.
Presented state conference paper on "The Importance of Hands-On Mathematics" to school staff.
Suggested ways to improve the school's Computer Lab environment; implemented changes to improve the useability and attractiveness of computers.
Elementary School Teacher
Develop and deliver interactive lessons in accordance with school and state curriculum standards for grades 4th – 6th.
Enhance the student learning experience by implementing technology in the classroom.
Developed the very first online school newspaper.
Provided technical assistance to staff and administration.
Adeptly and enthusiastically advised helping students recognize academic strengths and work to eliminate weaknesses.
Elementary Teacher
Integrate ESL strategies into all subject matter providing ethnically diverse students a solid foundation in the English language and mastery of grade-level course content.
Deliver Reader's Workshop model with Guided Reading, Writer's Workshop model, and Math in Focus program.
Utilized diverse instructional methods and resources materials to emphasize individual learning capabilities in accordance with Common Core State Standards.
Assisted students with learning disabilities to succeed in the regular education classroom through modifications and accommodations.
Affectionately addressed the needs of special education students with careful and individualized instruction in order to meet their multiple learning styles, physical abilities, and personalities.
Elementary Teacher
Worked with students from different backgrounds (mostly at risk, ESL students, and low-income families.
Created lesson plans, adapted materials and resources to a more suitable environment for young children.
Assessment of students from different backgrounds (economically disadvantaged, ESL students).
Interaction with families and participated in school events.
Able to easily prepare colorful, creative lesson plans based on "What Works for Me" that was aimed at empowering student self-esteem and confidence.
Elementary School Substitute Teacher
Ensure that classroom instruction is handled according to the school's policies, goals, and objectives.
Establish and maintain classroom behavior and order.
Follow instructions left by the lead teacher and ensure that they are followed appropriately.
Create a report at the end of each day on the work completed and the behavior of students.
Extended elementary school's year-long reading program by three weeks by designing an independent reading program that met the needs of students who had difficulty reading or just needed extra practice.
Elementary Teacher
Creating instruction that supports the development of the cognitive, emotional, social, physical, and spiritual growth of the child.
The use of School Curriculum, Montessori Albums, and current research-based instructional practices to develop interdisciplinary units of instruction that meet both the group and individual needs of students.
Responsible for maintaining an ongoing dialogue with specialty teachers and coordinating curriculum integration and implementation with these teachers.
The curriculum of culturally sensitive social studies activities for grades K-2 added to the school district's current programs.
Created and implemented a new "Read Across America" program for grades K-3 that promoted reading and community service.
Elementary Teacher
Effectively provides and maintains records for reading intervention services for seven students.
Communicates regularly with parents to plan and implement both academic and behavior interventions for struggling students.
Successfully differentiates instruction according to individual student needs.
Explored the use of technology in the classroom; created a family letter writing unit that is still being used by the school district's teachers, parents, and students.
Earned praise from all parents in attendance at monthly PTA meetings; increased communication regarding classroom activities, student progress reports, and parent involvement.
Elementary Teacher
Developed lessons in collaboration with the classroom teachers that enable all students in the classroom to understand the objectives contained within the lessons.
I created lessons designed to meet the state's objectives for the subject matter.
I worked with the K-6 grade and rotated in and out of classrooms.
Helped lead a "Get to Know Your Teacher" session; created a list of recommended reading materials based on student needs.
Discovered innovative methods to maximize student performance.
Elementary Teacher
Differentiate instruction to support individual students' needs and learning styles.
Collect and analyze data on students' individual goals to drive instruction and learning activities for students.
Collaborate with teachers within the grade level to implement strategies and ideas that support our students' specific learning goals.
Incorporated music, computer use, and technology into teaching strategies to promote student interest; implemented "New Math" concepts in the classroom.
Served as advisor for 4 service organizations, hosted parent coffee hours twice a month, organized faculty meetings once a month, and presided over faculty evaluations for three years.
Elementary School Teacher
Adapt teaching methods and instructional materials to meet students' varying needs and interests.
Establish clear objectives for all lessons, units, and projects and communicate those objectives to students.
Develop and enforce rules for behavior and procedures for maintaining order among the students for whom they are responsible.
Meet with parents and guardians to discuss their children's progress and to determine priorities for their children and their resource needs.
Recommended by students for the Parent Involvement Award for enthusiasm, care, and individualized instruction.
Wrap Up
You need to make sure your resume stands out amongst the other candidates. It is the first impression that employers have of your work experience and skills. Use the samples above to put together a resume that best suits your needs and helps you get the job you want.