The Assistant Principal helps the principal run the school. Duties include setting t schedules for teachers, dealing with disciplinary problems, submitting reports to government agencies, communicating with parents, compiling data, and interpreting data. Educational requirement is a BA/BS. Skills include: excellent communication skills, people skills, patience, detail oriented, team-oriented, innovative, and possess good computer skills.
A good resume is well-written and concise. It should be neat and easy to read, listing previous experience in a logical order.
Our resume samples will provide you with multiple examples of what you can include when writing your resume.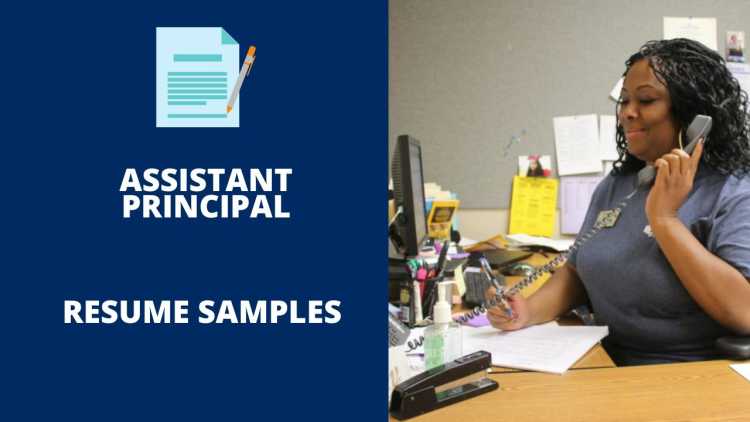 The Best Assistant Principal Resume Samples
These are some examples of accomplishments we have handpicked from real Assistant Principal (schools) resumes for your reference.
Assistant Principal
Administrator in charge of Curriculum development and Academics for Math, Science, and Social Studies.
Developed and implementation of Individualized Educational Plans and goal setting for students with Special Needs and Limited English Speakers.
Implementation and oversight of school wide plan to reduce truancy and improve student attendance.
Responsible for Recruiting, Hiring, and implementing retention strategies to decrease employee turnover.
Created and maintained a classroom environment where students were motivated and encouraged to maximize their potential.
Assistant Principal
Provided support to the instructional process with specific responsibility for directing assigned programs and services of the school.
Responsible for providing information and assistance and serving as a resource to other employees.
Supervise assigned staff, coordinate school activities, and address all issues that arise on campus or with students.
Show commitment to hiring the absolute best teachers, providing high quality training and support to existing and perspective employees, and creating an expectation of excellent teaching that is closely monitored by all levels of leadership.
Developed curriculum, which included innovative teaching methods, to stimulate intellectual curiosity and responsibility.
Assistant Principal
Developed a data analysis plan based on the district CARE (Curriculum, Assessment, Remediation & Enrichment) model for our teachers to effectively use student data through data teams to develop and implement lesson plans that serve the students' needs and interests.
Designed and implemented a school-wide social-emotional curriculum designed to address specific needs of our at-risk student population including the development of a daily school-wide behavior television show.
Analyzed student achievement data which included course grades, assessment results, behavioral logs and individualized education plan goals from previous years to effectively address areas of identified weakness and implemented interventions to address those weaknesses.
Mentored teachers to become highly qualified to best match the changing needs of our diverse student population by providing the necessary professional development, supports, information, and encouragement.
Conceived motivational programs designed to increase student achievement in the areas of mathematics and reading by twelve percentile points.
Assistant Principal
Assisted in the creation of the Master schedule for students as well as Staff assignments.
Developed the School Improvement Plan, Parent Involvement Plan and assisted with discretionary budget.
Coordinated and facilitated grade level Tier Talks and data chats.
Analyzed data from intervention groups and made necessary changes and modifications to instructional groups.
Served as resource person for administrators regarding special education procedures, innovative learning techniques, testing systems, discipline techniques, crisis management techniques, and student management strategies.
Assistant Principal
Provided school representation on district Diversity Committee and Training subcommittee.
Responsible for delivering on-site Professional Development and training.
Evaluate teacher effectiveness through utilizing the Marzano framework.
Monitor teacher lesson plans for lesson effectiveness and alignment.
Provided parental communication and student discipline provide teacher support in managing a safe, positive, learning environment.
Assistant Principal
Assisted the principal in planning and administering the instructional program and in conducting activities necessary to provide quality instruction.
Collaborate with teachers, parents, and community to resolve disciplinary matters to insure appropriate behaviors within the learning environment.
Monitor property control inventory and management of business matters as well as physical plant.
Coordinate and facilitate in-service activities/meetings at worksite aligned to professional development plans that is linked to improved student performance.
Conducted all-school assemblies focusing on the importance of academics in building character; participation was more than 90%.
Assistant Principal
Coordinate the administration of State and District level testing for Central Riverside.
Disaggregate data from state and district assessments and work with teachers to develop plans for improvement.
Develop the Annual School Improvement Plan with guidance from the School Advisory Council.
Employed critical thinking skills by assisting teachers in analyzing teaching methods for effectiveness.
Enhanced the positive image of our school within the community by hosting monthly conferences and weekly staff meetings.
Assistant Principal
Conduct daily classroom walkthroughs to monitor classroom instruction to determine teachers are meeting district and school expectations.
Provided guidance and mentoring to students on a daily basis to increase student achievement. Conduct regular data chats with teachers to discuss how students are responding to what is being taught.
Facilitated professional learning communities addressing instructional delivery, remediation and enrichments strategies, classroom management, and behavior management to ensure students are being taught at the highest level possible.
Reduced discipline problem by 45% in the cafeteria by instituting a pre-lunch warning bell; improved parent/student relationships.
Established a fund-raising program for capital improvements by increasing student participation from $5 to $1425 per year; a total of $28,000 raised for new computers, projectors, and curriculum materials through my leadership.
Assistant Principal
Observe, supervise, and evaluate teachers and staff to further school's vision of excellence.
Providing leadership for improving student achievement based on state and national standards through our school improvement plan and strategic plan.
Facilitated professional development experiences for faculty to support excellence throughout the school.
Created and maintain lasting, meaningful partnerships with community education institutions.
Led project team to select and implement new curriculum with full implementation of technology education, including laptop computers for every student in grades 7–12.
Assistant Principal
Develop and administers policies that provide a safe and effective learning environment.
Serve as a member of the Area Superintendent's team and participates in the learning community's planning, development and evaluation.
Keep the Area Superintendent informed of current school critical issues and incidents about which he should be aware.
Uses a variety of problem solving techniques and decision making skills to resolve problems.
Completed doctoral program with a 3.85 grade point average.
Assistant Principal
Completed allocation of Title One Basic funds, Title One School Involvement Policy/Plan and Parent Involvement Plan in collaboration with the Principal.
Facilitated student teacher classroom assignments/experiences in conjunction with various local universities.
Oversaw the extended day program/coordinated the Florida Read Mobile event/coordinated the Suntrust Black History month Essay contest – recognition event.
Effectively managed school affairs through budget and staff management, improving student curriculum and increase in academic performance.
Supervised staff and volunteer activities.
Assistant Principal
Provided leadership for the development, implementation & evaluation of instructional program, use of technology & daily operation for kindergarten – 4th grades, including the gifted program.
Organize & prioritize personnel utilizing knowledge of educational laws, regulations, curriculum & instructional practices & assist in leading the school to consistently maintain an "A" status.
Monitor curriculum implementation, resolve problems & facilitate learning.
Analyze student achievement data to execute placements, academic improvement plans & interventions.
Received awards for outstanding leadership, community service, and communication skills.
Wrap Up
You need to make sure your resume stands out amongst the other candidates. It is the first impression that employers have of your work experience and skills. Use the samples above to put together a resume that best suits your needs and helps you get the job you want.