A Quality Assurance Specialist makes sure that anything produced at a company meets quality standards. Their duties include using new software to find problems, figuring out what caused the problems, providing feedback to designers and engineers, solving problems, and writing code to solve problems. Educational requirements are a high school diploma or equivalent. Skills needed are proficiency in MS Word, proficiency in Excel, excellent math skills, ability to work well with other people, integrity, and being solution-oriented self-starter.
A good resume is well-written and concise. It should be neat and easy to read, listing previous experience in a logical order.
Our resume samples will provide you with multiple examples of what you can include when writing your resume.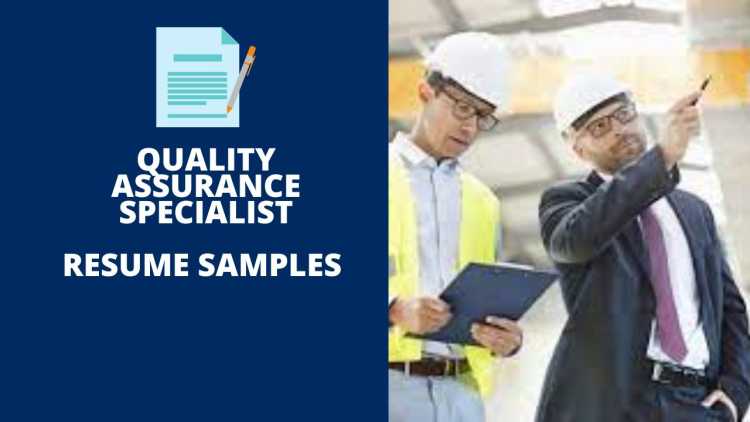 The Best Quality Assurance Specialist Resume Samples
These are some examples of accomplishments we have handpicked from real Quality Assurance Specialist resumes for your reference.
Quality Assurance Specialist
Quality Assurance Professional responsible for promoting the organization's mission in the community through the development and implementation of quality services.
Facilitated trainings for Therapists for CAFAS (Child and Adolescent Functional Assessment Scale) and LOCUS (Level of Care Utilization System).
Describe sources of information and also limitations on reliability usability.
Achieved 5.1 software development standards by identifying and documenting software issues with regard to the industry, company, and department.
Held the highest record for quality assurance performance in the entire department; received "Exceeds Standards" rating for nine consecutive months.
Quality Assurance Specialist
Responsible for monitoring and documenting program performance quality in support of departmental goals and initiatives.
Support with the delivery and development of regular reports on performance, trends, and other actionable insights to the Quality Assurance Director (QAD), operations leadership teams as well as training.
Identify problems by consulting with professional and support staff, reviewing client complaints, observing staff performance, monitoring program implementation, and reviewing records, reports, special studies, and utilization/financial data.
Identified and eliminated software defects to ensure compliance with company policy during client installations by applying problem-solving steps during the installation process.
Decreased developer defect rate from 86% to 20%; earned recognition as team leader of highly motivated developers who met project deadlines.
Quality Assurance Specialist
Accelerated the ease of use and security of high-trust PIV credentials for Federal employees.
Served as a mediator between software & hardware progression and user interface interactions.
Maintained a secure database containing proprietary data in multiple environments.
Supported rapid development and deployment of USAccess software through the Waterfall methodology.
Followed standard operating procedures, processes, and policies when testing new application builds.
Quality Assurance Specialist
Responsible for assisting NIAID in the development of plans and programs for achieving and maintaining IT software application quality throughout the life cycle of IT systems.
Wrote and developed formal test plans that incorporated methodology to ensure software application is in compliance with client's specifications and industry standards.
Manually tested web-based and database applications using white box and black box testing.
Monitored systems development to prevent the production of software defects and to verify adherence to quality plans, requirements and 508 Compliance.
Trained six people on software quality assurance methodologies; provided guidance and support on their projects.
Quality Assurance Specialist
Primary responsibility is to provide quality review of all data entered into the Personify database by the Customer Service department staff, recording review results and reporting those results to the appropriate department manager.
Confidentiality at the highest level must be maintained with all the information obtained pertaining to the quality of individual staff performance. Provide back up support for department training as schedule and demand may require.
Performed quality control review on direct and indirect batch results on a daily basis recording the results on a data review checklist for use by section managers.
Provided back up new and remedial training when required on approved data entry processes in the Personify database, call standards and etiquette, fulfillment applications, products and services and all other materials and information utilized by the Customer Service department.
Assumed a leadership role to enable continuous process improvement by discovering, analyzing, and documenting defects in software code.
Quality Assurance Specialist
Implement quality assurance procedures for entire department from beginning of a case cycle to the very end, in support of the contract with the Food and Drug Administration, Center for Tobacco Products, Office of Compliance and Enforcement.
Worked effectively within a team environment to meet client expectations.
Scan documents, assign indices, and load database with image data.
Occasionally perform repetitive entry of data from standardized source documents.
Scheduled and conducted software testing for features that were F.I.S.H. validated; collaborated with development team to resolve issues in a timely manner.
Quality Assurance Specialist
Receive and process Electronic Official Personnel Folder requests.
Prepares, scans, an updates Prior Service, Civil Service, and Foreign Service personnel folders.
Accesses sensitive but unclassified information of numerous federal employees.
Identifies and interprets federal documents i.e. Dept. of Defense, Dept. of State, Dept. of Homeland Security, Dept. of Justice, Dept. of the Army, Dept. of the Air Force, etc.
Expanded customer base internationally by keeping up with changing technologies; managed projects to completion according to schedule, budget and quality requirements; resolved issues associated with international standards, product life-cycle management, documentation control and team communication.
Quality Assurance Specialist
Analyze, comprehend, and validate editorial/redaction business rules and Standard Operating Procedures as they relate to Freedom of Information Act exemption requirements on MRTP applications.
Provided constructive editorial/redaction performance feedback to other workgroups that performed first-level redactions on MRTP applications.
Performed essential data entry of FOIA exemption syntax requirements in order to complete project deliverables.
Escalate questionable MRTP applications as needed to clarification on data that may require redactions to protect confidentiality.
Designed and implemented quality assurance (QA) procedures and techniques including regression testing, unit testing, complex QA, and phased release processes.
Quality Assurance Specialist
Administer Investigation and Deviation systems for tracking statuses, follow-up, and liaison.
With applicable department investigation writers to ensure their complete and timely resolution.
Administer the CAPA Tracking System for general GMP use and internal audits. Track the timely completion and extension of commitments.
Performed trending review of deviations and investigations, compile report and identify trends or areas requiring additional actions.
Evaluated new products for bugs before they were released to production.
Quality Assurance Specialist
Partake in the support of the donor center quality processes to ensure a high quality collection processes.
Facilitated seamless high quality customer service.
Developed and implemented competency and proficiency programs to monitor quality, purity, and potency of blood.
Provided guidance and advice to senior leadership and managers with the development, format and implementation of Standard Operating Procedures (SOPs).
Designated project manager for the development of an enterprise quality assurance application.
Quality Assurance Specialist
Assure that the work is done to the standards provided by each client before delivering job.
Communicate with clients, field reps, and all levels of management in the office.
Computer and office duties (Microsoft office, email, CRM).
Worked in a quality assurance group to set standards that ensured the highest possible product integrity, reliability, performance, and maintainability.
Demonstrated non-routine work effort by working on weekends and nights to complete critical work in short time frames.
Quality Assurance Specialist
Performs associated audits and assessments, as well as execute special studies and analyses.
Supports development of test cases, scripts and matrices for Commercial Off The Shelf programs.
Conducts formal and informal reviews of the systems engineering life cycle.
Assists the Project Manager to develop and execute the IV&V and test design plan.
Developed and implemented a quality assurance plan designed to reduce software defects by 97% before submitting a release to production.
Wrap Up
You need to make sure your resume stands out amongst the other candidates. It is the first impression that employers have of your work experience and skills. Use the samples above to put together a resume that best suits your needs and helps you get the job you want.