Web Designers develop websites for businesses. Their duties include constructing plans, creating pages, installing various features, inspecting the site's operations, supervising site development, and integrating brand elements into the site. To become a web designer, you must obtain an Associate's degree in a related field. Web designers must demonstrate time management, precision, computer savvy, attention to detail, creativity, stress tolerance, and organizational skills.
A good resume is well-written and concise. It should be neat and easy to read, listing previous experience in a logical order.
Our resume samples will provide you with multiple examples of what you can include when writing your resume.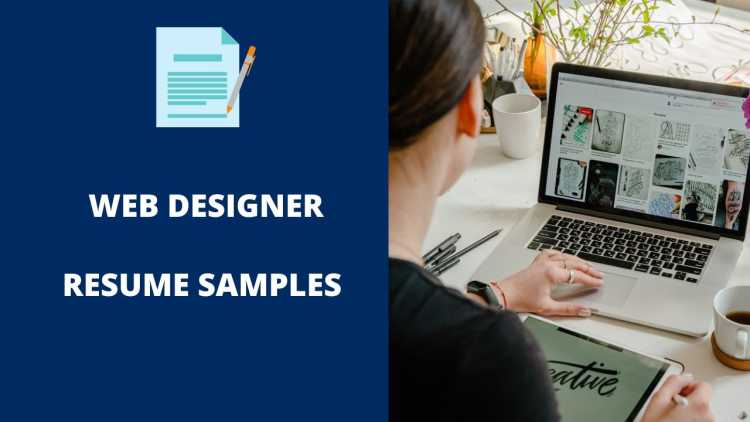 The Best Web Designer Resume Samples
These are some examples of accomplishments we have handpicked from real Web Designer resumes for your reference.
Web Designer
Full-stack development, debugging, graphic design, photography and photo editing, copy editing, brand design.
Collaborating closely with clients throughout site design and construction, including creating drafts and mockups, to ensure that the project adheres to the client's vision.
Assisting clients with initial site setup including domain name registration, web hosting, and site migration.
Enhanced awareness of customers' needs and goals by creating strategies to increase brand recognition.
Obtained positions of leadership, including Regional Sales Director and Team Leader (Sales), Lead Developer (Software Development), and Vice President (Corporate).
Web Designer
Set up and design websites from scratch to attune company expectations within an artistic outlook.
Control or supplement social media platforms of customers/companies to boost character and to self-promote.
Optimize search engine properties upon advertisements created for companies/customers.
Actively participated in decision-making processes regarding the direction of the company; promoted the corporate mission statement.
Excelled as a technical analyst by developing and managing projects while maintaining quality control.
Web Designer
Fully built, managed, and maintained several complete websites for clients and their businesses.
Collaborated with clients for web hosting, email hosting services, event management, and marketing to find the best solution for their needs.
Created MySQL databases on clients' servers for a WordPress installation.
Migrated WordPress installs and other content between Windows and Linux servers via FTP for better WordPress performance and compatibility.
Delegated tasks assigning responsibilities to team members; delegated tasks to team members that exceeded my job descriptions.
Web Designer
Designed and print all marketing and advertising collateral out of an in-house corporate marketing department.
Those have been displayed at many big events such as SAP TechED Las Vegas 2015, PMI Global Congress North America 2015, Controlling 2016 Conference.
Designed a new brand identity for Luxon products which has been appeared on television and a few Times Square billboards.
Build and maintain various responsive websites which received many good feedbacks for both look and functionality.
Developed a lead-generating service that has increased website traffic by 400% during the past two years.
Web Designer
Managing a group of six designers, helping them to grow professionally & realize their potential.
Driving the creative group's understanding of new technologies & how they apply to our clients.
Also responsible for meeting the business, new business, strategic & visual design requirements for each project & managing the visual communication quality throughout the life cycle of our projects.
Added 6 new clients to client list in the past year; developed new, innovative graphics for website and advertisements.
Improved company profits with creative, cost-effective solutions for clients' communications and marketing needs.
Web Designer
Responsibility for overall web project management development to execution and maintenance.
Responsible for the graphic design and implementation of the company website including navigation, writing HTML and CSS, and optimization of web graphics.
Developed Banners and Business Cards for advertising on corporate client sites.
Accepted a position to design web pages for United States Marines; planned and implemented graphics and other web page content. ___(Note question mark after "implemented".
Researched more than 3,500 search engine optimization techniques and implications.
Web Designer
Provided the list of new enhancements to improve the user experiences for clients.
Analyzed projects and created progress reports regularly to improve the website workflow.
Met with coworkers to determine the requirements and analyzed the needs to define the project.
Researched and used the right keywords, tags, and descriptions to obtain better SEO.
Developed three completely new tools for analyzing and improving Web site performance; developed more than ten additional tools for analyzing the performance of existing Web sites.
Web Designer
Review competitors' sites as well as publications relating to the industry and to the internet publishing field.
Consult with other departments to incorporate their thinking into the graphic design of the company's websites.
Consult with technical staff to integrate programming and graphic design into an integrated package for the company's website.
Created, maintained, and updated technical websites for customers in web design, marketing, and sales.
Successfully completed a teach-yourself course on Microsoft Photo Desktops . . . as well as recommended it to others in the field.
Web Designer
Creating a fully functional and responsive website through WordPress with the objective of promoting prescription drugs seriously.
Utilized skills include coding, SEO, writing, linking, and more.
As a result, Deschutes County plans to launch a campaign in the fall to raise awareness about the website and to further educate the public on the potential dangers of prescription drugs.
Learned the importance of active listening and effectively communicated knowledge in both written and verbal forms.
Certified several students through our School of Professional Training; taught them how to use the Internet by creating websites using HTML.
Web Designer
Creating and implementing new and existing designs, concepts, and sample layouts of all print and web promotional communications.
Ensuring the Bikebandit.com identity is correctly communicated in all creative design, will include maintaining the BikeBandit.com style guide standards. Maintaining BikeBandit.com creative archives for all campaigns.
Uploading and submitting print projects to advertising partners, handle all correspondence with advertising partners regarding print creatives.
Compiled and analyzed data to improve existing websites.
Met with management and reviewed design layout, noted changes and needs; implemented website.
Web Designer
Designed mock-up websites by listening to client needs and adjusting content, layout, typography, images, logos, and colors using HTML, CSS, PHP, Dreamweaver, and jQuery.
Updated web content using Dreamweaver and Drupal.
Implemented front-end development of site re-design from design mock-up.
Delivered effective end-user training on new website layout, function, and use.
Created new designs for company websites; delivered unique, visually pleasing web page designs to company standards.
Web Designer
Met with the client and his team to design a website to advertise their law practice.
Performed search engine optimization using Google Analytics and the hosting site's dashboard.
Managed all content and updates, ensuring the site functions correctly on mobile, tablet, and desktop browsers.
Provided website maintenance during off-hours as necessary to ensure uptime and effectiveness of all sites under management.
Became certified in redesigning website templates through extensive research of United States government guidelines, industry standards, and best practices.
Wrap Up
You need to make sure your resume stands out amongst the other candidates. It is the first impression that employers have of your work experience and skills. Use the samples above to put together a resume that best suits your needs and helps you get the job you want.