Fast Food Workers serve customers to fulfill their dining needs. Their responsibilities include greeting customers, taking food or drink orders, preparing food or drink orders, accepting payments from customers, serving food or drinks to customers, and cleaning assigned work areas. To work as a Fast Food Worker, no formal education or prior training is needed. To succeed as a Fast Food Worker, it is important to have excellent communication skills, customer service skills, serving skills, interpersonal skills, detail-oriented, physical stamina, and physical strength.
A good resume is well-written and concise. It should be neat and easy to read, listing previous experience in a logical order.
Our resume samples will provide you with multiple examples of what you can include when writing your resume.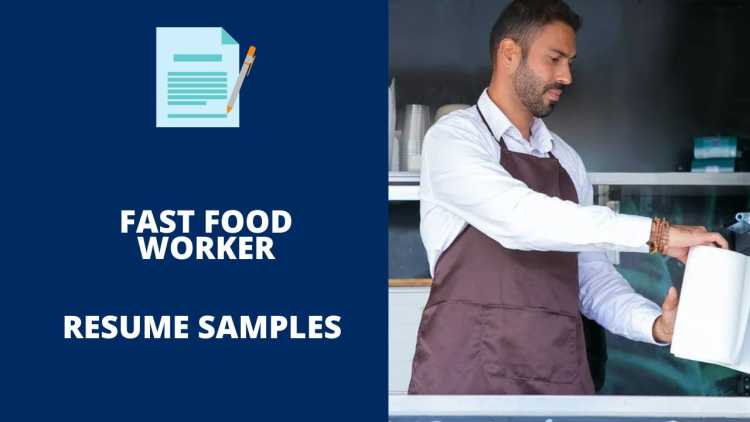 The Best Fast Food Worker Resume Samples
These are some examples of accomplishments we have handpicked from real Fast Food Worker (team member) resumes for your reference.
Fast Food Worker
I was working as fast food worker, serving the food on time and in orderly fashion, making sure the customer gets there food on time and right as well, also making sure the food is fresh and as well enjoying it.
I worked on all three stations soups which is QC setting up the plates and bags for the food to be serverd out to the customers.
As well I worked both sandwich and salad bars.
Fast Food Worker
Received payment by cash, check, credit cards, vouchers, or automatic debits.
Accurately issued receipts, refunds, credits, and change due to customers.
Assisted customers by providing information and resolving their complaints.
Identified prices of goods, services or admission, and tabulated bills using calculators.
Fast Food Worker
Take orders at the register or drive-through while insuring that any changes are communicated correctly to kitchen.
Assisted kitchen by cleaning, preparing food items, and assisting co-worker at drive-through.
Monitor dining room to assure everything is stocked and organized, and that guests are having proper dining experience.
Fast Food Worker
Obtain food and drink orders from customers and prepare and serve the food ordered to the customers.
Obtain cash or credit card payments for various orders from customers and ensure that they are provided with the correct change and issued with valid change.
Take orders from drive through customers and bag those orders and ensure that all condiments like salt and ketchup as well as enough napkins are included in the bag.
Ensure that my work areas as well as restrooms are constantly cleaned so as to ensure maximum customer satisfaction and convenience.
Food Service Worker
Resolves customer complaints at the lowest level and informs management of incidents.
Prepares, maintains, and process accounting and facility operational reports.
Opens and closes the facility in accordance with policies.
Supervises assigned associates, establishes work schedules, assigns and distributes work.
Food Service Worker
My responsibilities as a school food service assistant include more than the preparation and serving of food to students during breakfast or lunchtime.
I must clean and sterilize utensils, machines and other equipment used during food preparation.
I assist with meal planning; ensure that students are served appropriate portion sizes.
Food Service Worker
Prepares food items, such as sandwiches, salads, soups, and beverages.
Places servings in blender to make foods for soft or liquid diets.
Apportions and places food servings on plates and trays according to diet list on menu card.
Examines filled tray for completeness and places on cart, dumbwaiter, or conveyor belt.
Fast Food Worker
Maintained high standards of customer service during high-volume, fast-paced operations.
Communicate clearly and positively with coworkers and management.
Built loyal clientele through friendly interactions and consistent appreciation.
Also take initiative to find extra tasks when scheduled duties are complete.
Fast Food Worker
Greet customers as they enter in the restaurant / arrive at the drive through window.
Maintained high standards of customer service during high-volume, fast-paced operations.
Communicated clearly and positively with coworkers and management.
Fast Food Worker
Cross-trained to operate maintenance, fryers, front register, food preparation, and drive-thru.
Learned to function in a fast paced sanitized environment providing customer service and clear communicate skills between guests and team members.
Accurately handle money and credit card transactions.
Fast Food Worker
Maintain the front area in a neat and organized fashion, including greeting customers, Communicated clearly and positively with co-workers and management, Carefully maintained sanitation, health and safety standards in all work areas.
Closely followed standard procedures for safe food preparation, assembly and presentation to ensure customer satisfaction.
Performed general maintenance duties, including mopping floors, washing dishes, wiping counter tops and emptying grease traps.
Worked well with teammates and openly invited coaching from the management team. Took initiative to find extra tasks when scheduled duties were completed.
Food Service Worker
Assisted in the preparation of foods such as meats, vegetables, baked goods and desserts.
Prepared food to include beverages, salads, dressings, sandwiches, and cold plates.
Prepared portioned and fast foods on grill, in broiler, or in deep fat fryer as appropriate.
Operate point-of-sale cash register; calculate total cost of items and accept payment in cash, on meal cards, or on charge cards.
Wrap Up
You need to make sure your resume stands out amongst the other candidates. It is the first impression that employers have of your work experience and skills. Use the samples above to put together a resume that best suits your needs and helps you get the job you want.