Massage Therapists provide massages to clients with conditions like osteoarthritis, rheumatoid arthritis, carpal tunnel syndrome, fibromyalgia, and chronic fatigue syndrome. Their duties include keeping accurate records of client interactions, communicating with healthcare professionals about their clients' conditions, promoting wellness to their clients, making follow-up phone calls or home visits, recommending products to help clients heal at home, and creating plans for healthy living. Massage therapists need to have strong communication skills, be able to build rapport with people quickly, have excellent listening skills, be well organized, follow through on commitments, know First Aid / CPR, and complete continuing education hours each year.
A good resume is well-written and concise. It should be neat and easy to read, listing previous experience in a logical order.
Our resume samples will provide you with multiple examples of what you can include when writing your resume.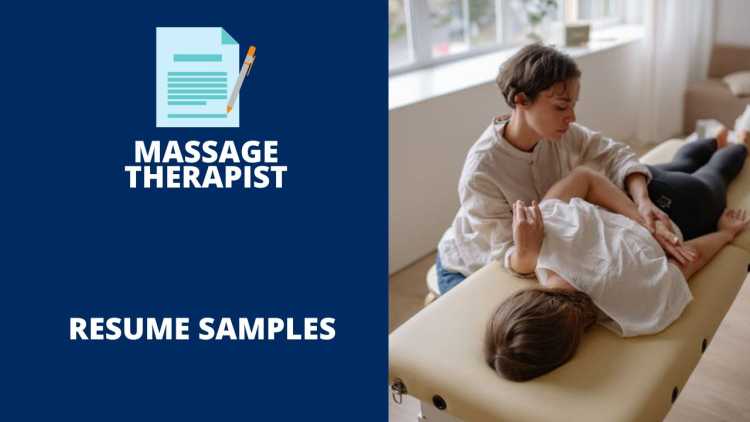 The Best Massage Therapist Resume Samples
These are some examples of accomplishments we have handpicked from real Massage Therapist resumes for your reference.
Massage Therapist
Assisted front desk associates in preparing spa for scheduled appointments.
Arranging desired room for scheduled appointment (stocking sheets, making sure the room is tidy and sanitary and having steamed towels ready).
Providing client consultation for confirmation and a designed service based on clients needs.
Trained and supervised first-aid, CPR, AED, and First Responder courses.
Trained both professional and amateur athletes.
Massage Therapist
Provided an effective and enjoyable massage therapy experience to clientele with a variety of different needs and requests.
Discuss client's needs, requests and preferences to provide a satisfactory and beneficial session.
Maintain cleanliness of therapy rooms and common areas.
Assisted therapy of persons with stroke, injury, paralysis, addiction recovery, chronic pain, infants, and children with autism.
Worked in a newly opened Day-Care Center where I was able to interact with young children through play-time activities.
Massage Therapist
Thoroughly review medical history checking progress, patterns, last service preformed and take detailed SOAP notes.
Pre and post massage consultation with clients to assess needs, determine massage and educate with take home plan and suggest products for self-care if necessary.
Took continuing education workshops to reinforce skillset and keep updated.
Ensured all equipment was fully functional and well maintained.
Counseled adolescents on issues surrounding substance abuse and depression.
Massage Therapist
Collaborated with management to ensure the delivery of efficient, high-quality service.
Consistently received positive feedback from guests on performance reviews.
Followed through with client requests in a timely manner.
Consistently followed all required protocols for scheduling spa appointments.
Trained and certified professional masseuse through The Academy of Thai Massage.
Massage Therapist
Provided massage and body therapies according to department standards.
Provided exceptional Guest Service to Guests while assisting in locker room and surrounding areas.
Must complete all necessary training courses as specified by management.
Responsible for breaking down massage and therapy rooms each evening according to department standards.
Instructed fitness/meditation classes, Therapeutic Massage classes, and Self-defense classes.
Massage Therapist
Performed and assess client to ensure a customized massage to each client.
Made a wellness plan for which allowed for rebooking and education of session.
All while working in a fast paced environment with a wide variety of people.
Monitored bi-weekly training programs that strength training with resistance bands and bodyweight exercises for over two years.
Supervised individuals for multiple treatments per week; recognized as professional by coworkers, supervisors, and clients by attendance, job performance, attitude, communication skills.
Massage Therapist
Develops client treatment plans that specify which types of massage are to be used.
Confer with clients about their medical histories and problems to determine how massage will be most helpful.
Provided clients with information about techniques for postural improvement, relaxation, and rehabilitative exercises.
Consult with other health care professionals, such as chiropractors – to develop treatment plans for clients.
Provided a positive environment for the students I helped to accomplish goals at work or school to support their own personal growth.
Massage Therapist
Greeting Guests and Members after they are checked in and have their intake forms filled out.
Going over medical history and taking notice of any therapists' previous notes.
Discussing a long term/short term wellness plan with my client depending on their preferences and needs.
Seeing my client off after the session and offering any further help with scheduling if they need it.
Gave a weekly body-to-body massage to patients who lived with high cholesterol and high blood pressure.
Massage Therapist
Provided quality massage services to clients in a salon atmosphere.
Practiced as a self employed therapist while subleasing a room.
Extensive marketing of services offered, financial management, customer service, client education and retention.
Closely followed the health guidelines of the industry and state.
Evaluated muscle imbalances, body alignment, and stress levels in order to maximize patient benefits during my sessions.
Massage Therapist
Maintained professionalism and cleanliness of therapy rooms and common areas.
Assessed the needs of each customer individually and selected the appropriate treatment.
Observed client reaction to massage and modifies as necessary.
Maintained complete knowledge of and comply with all departmental policies, procedures, and standards.
Held regular seminars teaching people how to ease muscular tension and improve their overall well-being by integrating massage.
Massage Therapist
Consult with clients to determinate massage need and special request.
Maintain professionalism and clean lines of therapy rooms.
Observed client reaction to massage and modifies as necessary.
Assessed the needs of each customer individually and selected the appropriate treatment.
Organized an extended weekend seminar on the benefits of aromatherapy massage for men experiencing sexual difficulties.
Massage Therapist
Maintained complete knowledge of and comply with all departmental policies, procedures, and standards.
Ensured the highest stand of esthetics from facials and anti-aging body/skin treatments to body wraps, makeup, massage treatment, aromatherapy and other services.
Provided accurate, appropriate and immediate responses to all requests by guest ensuring complete guest satisfaction.
Worked as a personal support assistant in a specialized facility; handled physical therapy chores as assigned by therapists.
Experienced in both Swedish and Deep Tissue Massage; completed 300 training hours in order to obtain a license.
Wrap Up
You need to make sure your resume stands out amongst the other candidates. It is the first impression that employers have of your work experience and skills. Use the samples above to put together a resume that best suits your needs and helps you get the job you want.