An activities assistant plans and carries out activities for residents of nursing homes. Duties include transporting residents, doing shopping for residents, assisting residents with craft projects, supervising activities, charting activities, and preparing activities. Educational requirements are a high school diploma or equivalent. Skills needed include patience, ability to perform activities safely, ability to supervise others, creativity, ability to motivate others, and ability to work well in a stressful situation.
A good resume is well-written and concise. It should be neat and easy to read, listing previous experience in a logical order.
Our resume samples will provide you with multiple examples of what you can include when writing your resume.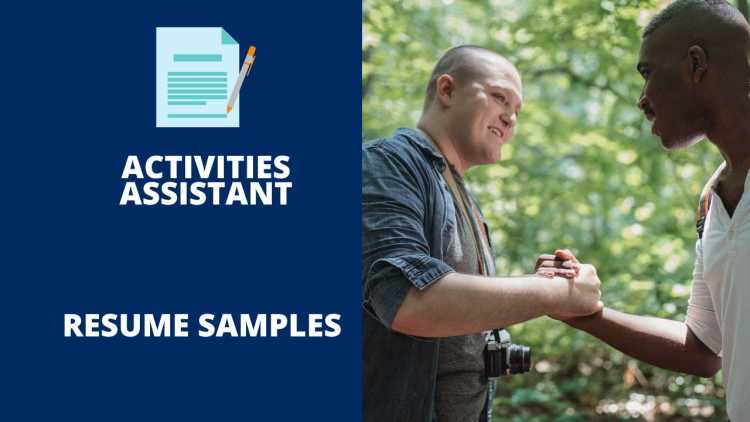 The Best Activities Assitant Resume Samples
These are some examples of accomplishments we have handpicked from real Activities Assitant (child care and aduclt care industry) resumes for your reference.
Child Care Assistant
Assisted with planning, organizing, implementing games and recreational activities.
Performed various clerical duties daily such, as photocopying, scanning and faxing.
Organize activities so that children can learn about the world and explore interests.
Supported parents and childcare staff in implementing the daily needs of young children with exceptional behavioral, medical, and developmental needs.
Assisted in the development of nonverbal children by using one-on-one and small group activities.
Child Care Assistant
Provided age-appropriate lessons, recreation and learning experiences for children in care.
Helped establish a safe, clean and positive childcare environment.
Using developmental knowledge to created healthy, respectful, supportive , and challenging learning environments.
Empathically established structured routines for sensitive, mentally and physically impaired individuals.
Ensured all children were healthy, safe, and happy through play therapy and attentive communication.
Child Care Assistant
Assisting daily living skills such as independent feeding, dressing, toileting.
Guiding and assisting children in small group instruction settings and in transitioning from one activity to the next.
Assisting to teaching children in the following areas: recreation, motor, vocational, socialization and communication.
Brought joyous activity to kids who had been physically or sexually abused with creative craft projects designed to help others understand feelings of abuse victims through drama skits.
Assisted children in enhancing psycho-social and emotional development through creative arts therapies.
Child Care Assistant
Experienced Child Care Provider and Child Attendant with over 4 years' experience in providing supervision and guidance to children within the day care.
Highly accomplished in creating educational and recreational activities designed to develop children's psychological, emotional, behavioral, and social skills.
Dedicated to helping children better understand the world around them and developing relationships with parents to enrich children's lives through play and learning.
Worked on addressing specific needs of children with multiple disabilities.
Participated in developing and writing a grant for the first ever Center for Therapeutic Arts at a public university.
Child Care Assistant
Planned and implemented recreational activities for children 1-6 years of age.
Assisted in implementing lesson plans; completion of art projects.
Served meals and snacks; provided instruction on nutrition and modeled adequate behavior for children.
Assisted mentally challenged students in dealing with personal hygiene, eating habits and manners, self-discipline, interpersonal relationships, and release from anxieties.
Assisted parents during therapy by having them complete home activities, homework, and chores.
Child Care Assistant
Provided care for young children, while creating a flexible, safe, and nurturing environment, maintaining control of and accounts for the whereabouts and safety of children, in compliance with DoD, Army, and local policies, guidance and standards.
Plan, coordinate and conduct activities and arrange environments using Creative Curriculum–Teaching Strategies Gold for children based on observed individual physical, social, emotional and cognitive needs.
Observes program participants for signs that may indicate illness, abuse, or neglect and reports as directed.
Made phone calls to parents to report appointments and ensure that family members were being supervised.
Recorded completion date with each child's therapist on a weekly basis.
Child Care Assistant
To provide and supervise at risk youths and youths that are suffering from developments disabilities and mental delays while in treatment. To plan groups activities, implementing group and individual treatment plan while counseling individuals.
Attend weekly scheduled meetings to discuss the residents treatments in the program.
Provided Teacher's assistance in the classroom while the residents are in school.
Received  an award for excellent customer service during a 'Customer Appreciation Day' organized by the school principal:made sure that the day proceeded without a hitch.
Instructed preschoolers in hand-eye coordination, eye-foot coordination, and visual perception/memory in a classroom setting.
Child Care Assistant
Assisted teacher with leading activities/supporting children in daycare center.
Supervised and played with children between the ages of 2-5 years old.
Provided positive one-on-one attention and resolved conflicts between children.
Prepare meals, help with homework, and assist parents with tasks to ensure the safety of children.
Helped implement a structured play program that promoted learning through exploration.
Child Care Assistant
Assisted children in health and personal habits, such as eating, resting and toilet training.
Observe and monitor children play activities.
Read to children and teach them simple painting, drawing, handcraft and songs.
Assisted in preparing food for children and serve meals and refreshments to children and regulate rest periods.
Convinced children to participate in creative self-expression activities by sharing personal interests.
Child Care Assistant
Assisted with the psychological, intellectual & personal needs of children at the facility.
Helped research data for the Children's activities.
Assisted in developing curriculums to the child's specific needs, Prepared & served meals/snacks.
Provided positive, encouraging environment for 80 children of ages 6 months to 6 years each day.
Worked directly with the parents of children in my care.
Child Care Assistant
Child care center maintenance, keeping a safe, orderly, and sanitary environment.
Monitoring children and providing a safe and positive learning environment.
Ensuring the basic educational needs, health, and happiness of the children both during learning and play.
Assisted children with behavioral problems including attention deficit hyperactivity disorder, anxiety disorders, depression, separation anxiety, and ADHD.
Instructed parents to provide appropriate play materials and toys for their little ones.
Child Care Assistant
In the morning I monitor attendance as well as greet the parents and children whom attend child care.
I provide breakfast as well as fun activities such as arts, crafts, games, etc.
In the afternoon I help students with their homework as well as providing snack.
I then have them participate in activities and monitor them at all times until a parent/guardian arrives.
Received award for outstanding services rendered during a home visit by the school nurse; received recommendation for additional training in child development.
Wrap Up
You need to make sure your resume stands out amongst the other candidates. It is the first impression that employers have of your work experience and skills. Use the samples above to put together a resume that best suits your needs and helps you get the job you want.