A certified home health aide visits patients in their home and helps them with basic daily needs. This includes helping the patient with bathing, dressing, eating, drinking, using the restroom, moving around the house and other basic needs. A high school diploma or GED is required for this role. Certified home health aides must demonstrate empathy, strong interpersonal skills, genuine concern for their patients, physical stamina, emotional maturity, basic first-aid knowledge and patience.
A good resume is well-written and concise. It should be neat and easy to read, listing previous experience in a logical order.
Our resume samples will provide you with multiple examples of what you can include when writing your resume.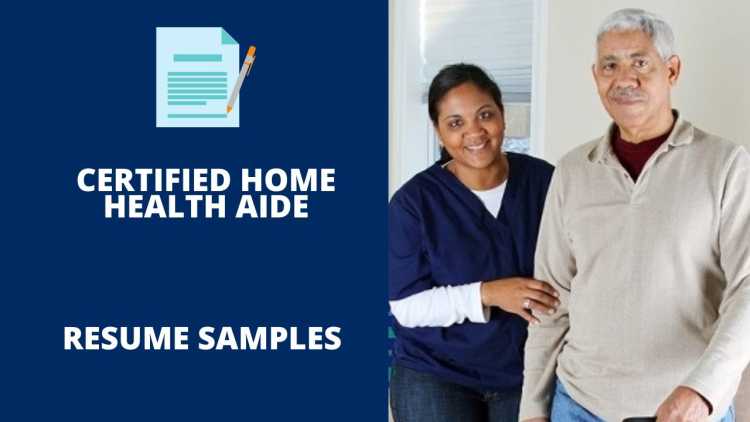 The Best Certified Home Health Aide Resume Samples
These are some examples of accomplishments we have handpicked from real Certified Home Health Aide resumes for your reference.
Certified Home Health Aide
Uses clinical knowledge in the care and management of patients based on diagnosis.
Performed functions requiring skills and competence, such as simple wounds care, vital signs and other activities of daily living.
Maintain safe, comfortable and therapeutic environment for patients.
Greeted, coached, and encouraged local residents to participate in a 12-week exercise and exercise education program.
Created community service projects for senior citizens using activities such as quilting and crocheting to reduce stress and improve well-being.
Home Health Aide
Provided home health care to individuals at their home as determined by Partners in Care.
Accompany the client to the Dr's Office and other places.
Assisted in Personal Care; dressing, mouth care, bathing, toileting, foot care, skin care.
Helped improve quality of life in the elderly community by providing encouragement and support; promoted active lifestyles including smoking cessation, speech therapy, and mobility training.
Included spouses or significant others in activities to maintain healthy living styles since the elderly often fall prey to isolation.
Home Health Aide
Provided a one on one residential and medical care for home bound individuals, while maintaining a safe and familiar environment for the client to conduct their activities of daily living and monitor vital signs.
Assisted with food preparations and medication reinforcement.
Accompany the client to access resources within their community, run errands and medical appointment while helps them to stay connected with the real world around them.
Assisted in the daily care of a quadriplegic for six months, accompanying him to therapy and to his home.
Defined individual treatment plans for each patient, supervised daily activities, and recorded progress by completing appropriate charts.
Certified Home Health Aide
Frequently commended for maintaining the safety, respect and dignity of clients.
Helped patients maintain independent living with personal care assistance.
Followed doctor's orders for home treatment plans and administered medications.
Took time to have regular conversations with patients to provide an appropriate level of social interaction.
Accurately monitored and recorded all medication, dietary needs, and nutritional intake given to the patient.
Certified Home Health Aide
Provided residents with personal-care services including bathing and toileting.
Maintain patients' records and files as per the scheduled standard operating procedures.
Distributed medication on a scheduled time allotted.
Advised caregivers on proper treatment, recommended adjustments in care and offered necessary suggestions.
Schooled students in CPR skills as part of the school's health education program.
Provided support services when requested by neighbors.
Certified Home Health Aide
Assisted patients in performing daily routine activities, such as bathing, clothing, and cooking meals.
Purchased groceries and medications as required and handled laundry.
Read news from daily newspapers and conversed on a variety of topics with patients to cut feelings of loneliness.
Took patients to nearby park and garden for fresh air and change of mood.
Aided patients suffering from chronic illnesses, multiple sclerosis, and end-stage renal failure, to become more independent and instilled the confidence necessary to accomplish personal goals.
Certified Home Health Aide
Provided nursing care in accordance with resident care policies and procedures.
Plan, purchase, prepare, and serve meals to patients and other family members, according to prescribed diets.
Performed a variety of duties as requested by client, such as obtaining household supplies and running errands.
Change bed linens, wash and iron patients' laundry, and clean patients' quarters.
Entertain, converse with, and read aloud to patients to keep them mentally healthy and alert.
Certified Home Health Aide
Enhance client satisfaction level 60% through delivery of compassionate care and vigilant monitoring.
Accepts and offers understanding of patients' emotional needs ensuring comfort and safety at all times.
Obtained patient temperature, pulse, respiration and blood pressure; with watchful care for patient reactions.
Diligently maintained a safe patient environment, protected patient from falls to avoid critical injuries.
Educated patients on disease management and medication administration; orchestrated positive outcomes and promoted health.
Certified Home Health Aide
Responsibilities Provide personal care and other duties to patients in their homes as outlined by the patient's individual Plan of Care.
Assisted patients with personal care activities to promote comfort of care as outlined in the patient's individualized Plan of Care.
Plan or prepare nutritious meals and assist in feeding patients as directed.
Measure and record patient's temperature Assist patient with Passive Range of Motion.
Instituted home-based therapy, including exercise routines designed and implemented by Certified Personal Trainer.
Certified Home Health Aide
Motivated patients to adhere to their prescribed medication regimens.
Assisted patients in taking the right medications at the right dosage and time.
Maintained detailed patient log books as required by supervising nurses.
Conducted private, in-home programs for overweight individuals desiring healthier lifestyles.
Met with patients to assess their needs and worked with them to develop a plan of care.
Certified Home Health Aide
Support patients by providing housekeeping and laundry services, shopping for food and other household requirements; preparing and serving meals and snacks, running errands.
Assisting patients by providing personal services, such as, bathing, dressing, and grooming.
Basically taking care of them and doing the things that they no longer can do.
Administered, administered, and administered physical therapy to individuals with degenerative diseases; primarily mental retardation.
Included activities such as feeding, bathing, and dressing in their daily routines of skills.
Bypassed causes of stress with various means of relaxation from massage to tai chi.
Certified Home Health Aide
Provided behavioral and emotional support to patients in their homes.
Assisted patients with activities of daily living such as bathing, dressing and personal hygiene.
Provided companionship to patients, accompanied patients to medical appointments and followed infection control procedures.
Achieved award for outstanding performance by receiving excellent ratings on customer satisfaction surveys rating patients' previous interactions as very helpful or overall excellent.
Provided one-on-one, in-home therapy for patients recovering from cardiac surgery, orthopedic surgery, vehicular accidents, strokes, and other serious illnesses.
Wrap Up
You need to make sure your resume stands out amongst the other candidates. It is the first impression that employers have of your work experience and skills. Use the samples above to put together a resume that best suits your needs and helps you get the job you want.