Elderly caregivers are responsible for the care and protection of their elderly clients. Their duties include transporting patients from beds to wheelchairs, administering medications, lifting heavy loads, cleaning, dressing and feeding their patients. They are required to have either a high school diploma or the equivalent. Key skills for success include interpersonal communication, empathy, listening skills, decision-making, problem-solving, patience and caring.
A good resume is well-written and concise. It should be neat and easy to read, listing previous experience in a logical order.
Our resume samples will provide you with multiple examples of what you can include when writing your resume.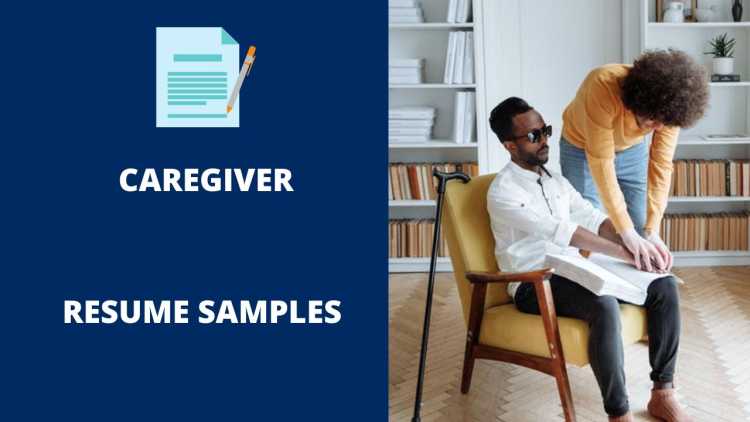 The Best Caregiver Resume Samples
These are some examples of accomplishments we have handpicked from real Caregiver resumes for your reference.
Caregiver
Assisted residents with ADL's including: bathing, grooming, and driving them to their day program or school.
Prepared, served, assisted patients during mealtime, and provided snacks, following all necessarily dietary restrictions.
Transported residents to-and-from doctor's appointments, counseling sessions, and ran errands where applicable.
Assisted senior citizens, disabled adults, and children in learning life skills and successfully integrating them into their daily lives.
Coached and taught life skills to clients to help seniors gain independence, maintain functional health status, and restore a sense of spirituality and purpose.
Caregiver
Performed routine medical instructions and any routine medical equipment maintenance at patients' home (my mother).
Prepared and maintained documentation about client's condition and care provided.
Transported client to and from appointments and social gatherings.
Responsible for daily hygiene care as well as preparing nutritious meals and special diets per nutritional instructions.
Researched and evaluated program effectiveness for 6 years as a certified caregiver for the elderly by practicing the principles of personal growth, self-worth development, physical fitness, and spiritual renewal.
Caregiver
Ensure dignity and respect for the individual's life and goals are maintained with all aspects.
Assisted with transportation, meals and other requirements as per doctor's orders that will enhance patient's lifestyle.
Coordinate customer logistics to ensure all errands and appointments are completed in a timely manner.
Spurred others on to obtain their personal goal regardless of physical limitations.
Encouraging others to end isolation through interpersonal connections by sharing time with those who were physically or mentally challenged.
Caregiver
Assisted client with all personal care, including dressing, mobility, administering medication, personal hygiene, eating.
I prepare all the meals for my client, as well as followed up clean up.
I do light housekeeping such as washing dishes, taking out trash, vacuuming, laundry and changing linens.
I also escort them to appointments; Doctors, church, even hair and nail appointments.
Provided compassionate care and a sense of security for individuals with Alzheimer's or other forms of dementia.
Caregiver
Serve meals and drinks to Life Guidance residents in the dining room.
Serve the residents 3 snacks and beverages each day including those who are in their rooms during snack time.
Assisted with clean-up following all meals, including clearing dishes off the tables and taking to the kitchen, wipe down tables, chair seats, arms and backs, and pick up food from the floor by vacuuming or sweeping.
Helped to create an environment that was both therapeutic and calming through the use of music and artwork.
Taught the clients how to take care of the Alzheimer's patient, teach the clients how to look after their own health needs, and how to assist others.
Caregiver
First line of defence for the elderly, worked as CNA/Caregiver.
Took care of patients, making sure that they where comfortable, safe and happy.
Pertaining skills include: personal care, oral care, dressing the resisdent/transfering, bed making, prepare light meals and socializing etc.
Provided socialization skills that allowed clients to work independently on tasks such as cooking meals.
Cleaned and maintained a functional home environment.
Caregiver
Assisted 4 residents with cerebral palsy, autism, dementia, down syndrome, and/or intellectual disabilities aged 27 to 60 with daily needs including personal hygiene, dressing, toileting, medication administration, transportation to and from work/recreational activities, transporting from bed to wheelchair, and bedtime routines (some involving CPAP machines).
Trained 8 new staff throughout employment, providing mentorship and guidance, while maintaining 95% in employee retention.
Oversaw resident schedules consisting of exercise routines, doctor appointments, medication intake, recreational activities, showering schedules, and family visits.
Reported back on a weekly basis; reported if they were able to complete daily tasks, followed care instructions, or if they required additional assistance.
Accredited through Illinois Association for Children's Mental Health.
Caregiver
Answer signal lights, bells and intercom system to determine patient's needs.
Bath, shower and dress patients and assist with other ADLS, as well as identifying personal needs of each client.
Collect or cook and serve food trays and record how much food was consumed.
Take and record vital signs and blood pressure, measure fluid intake and output; monitoring and documenting care and changes in clients.
Provided respite for individuals, couples, and families with Alzheimer's/dementia, dementia, and cognitive impairments.
Caregiver
Provided basic care to individuals who couldn't care for themselves.
My duties as a caregiver were all based on the needs of the individual needing my care.
Including assistance getting to the restroom, bathing, dressing and cooking.
Created relationships with families based on trust, compassion, and understanding; developed effective therapeutic techniques to promote self-esteem, faith in the future of the client or family member.
Responded to clients' needs with respect and sensitivity; provided encouragement and hope during times of difficulty.
Caregiver
As a caregiver I treat all clients with compassion care.
I performed the duties such as, personal care – bathing, grooming, dressing, toileting, diaper changing, and repositioning clients every one hour to two hours.
Transferring clients from bed to wheelchairs.
Invested over 2000 hours during the past year as a caregiver for elderly, ill patients.
Counseled abused children, adults, and vulnerable senior citizens regarding psychological and interpersonal concerns.
Caregiver
Monitors patient condition by observing physical and mental condition, intake and output, and exercise.
Helps family members care for the patient by teaching appropriate ways to lift, turn, and re-position the patient; advising on nutrition, cleanliness, and housekeeping.
Maintains a safe, secure, and healthy patient environment by following asepsis standards and procedures; maintaining security precautions; following prescribed dietary requirements and nutrition standard.
Assisted patient through a nervous breakdown and substance abuse problems, enabling him to return to work.
Provided a therapeutic environment for trauma victims by counseling and supporting them in individual, family, and group therapy settings.
Caregiver
Provided the utmost care for multiple disabled children and their siblings.
Implemented various daily stretches, strengthening, and endurance exercises under the direction of a Physical Therapist.
Administered techniques for sensory integration dysfunction, range of motion, and other assistive daily living activities as instructed by an Occupational Therapist Assistant.
Aided in the positioning, guidance, and collaboration of multiple therapeutic play activities for a Speech Therapist Assistant.
Nurtured and provided physical, mental, and emotional care to a client suffering from Alzheimer's disease.
Wrap Up
You need to make sure your resume stands out amongst the other candidates. It is the first impression that employers have of your work experience and skills. Use the samples above to put together a resume that best suits your needs and helps you get the job you want.