A Prep Cook does all the preparatory work for a chef. Their duties include chopping vegetables, preparing salads, making sure the kitchen complies with safety regulations, sanitizing prep areas, monitoring inventory levels of ingredients, assisting in creating menus, and making sure ingredients are fresh. Educational requirements to be a prep cook are a high school diploma while many people choose to take additional classes at culinary schools. Skills needed to be a prep cook are manual dexterity, listening skills, physical stamina, eagerness to learn, organizational skills, attention to detail, cleanliness, and communication skills.
A good resume is well-written and concise. It should be neat and easy to read, listing previous experience in a logical order.
Our resume samples will provide you with multiple examples of what you can include when writing your resume.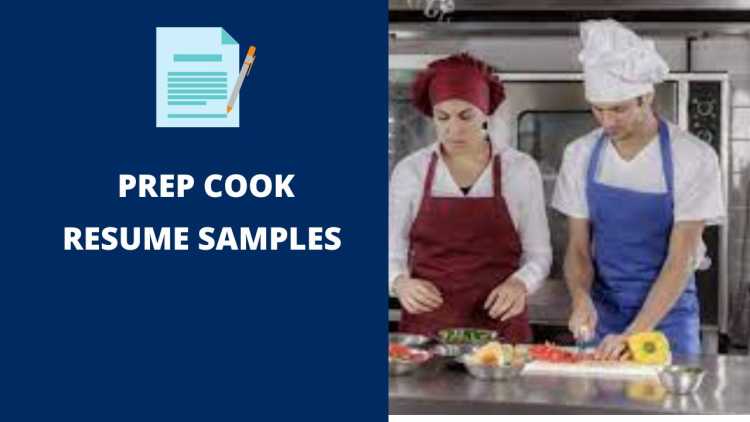 The Best Prep Cook Resume Samples
These are some examples of accomplishments we have handpicked from real Prep Cook resumes for your reference.
Prep Cook
Provided service in prepping the area for the day and preparing the food for customers in a timely manner.
Prepared the area for the upcoming prep worker that way the transition was smooth.
Made sure all prepared foods were ready in a timely manner.
Prepared all salads, fruit cups, cool wraps, parfaits, chicken salads, cookies, and any special orders that were ordered by customers in a timely manner.
Effectively contributed to the efficiency of the kitchen, by correctly organizing and storing food and ingredients.
Prep Cook
Prepared all potentially hazardous foods at the correct temperature according to the HACCP guidelines.
Prepared cold foods, including preparing salads, cold sandwiches, condiments, and dressings.
Test foods to determine if they have been cooked sufficiently, using methods such as tasting, smelling, thermometer, or piercing them with utensils.
Failed to fail a safety inspection, while maintaining pristine cleanliness in the entire kitchen area.
Prepared food according to customer satisfaction; received multiple compliments from customers regarding the taste of meals.
Prep Cook
Set up Prep and Scratch cook the day's orders with speed and accuracy working with and in good communication with fellow associates as well as Shift manager.
Deliver orders to customers in a organized and timely matter with customer service #1 in mind.
My small culinary background and just kitchen familiarity helps to excel in this industry.
Provided an outstanding work performance by receiving awards for team spirit, friendliness, and excellent service quality from co-workers and guests.
Achieved high standards for exceptional service quality by winning maximum attendance for on-time service at monthly meetings.
Prep Cook
Prepared all the daily vegetables, sauces, cheese daily.
Cook meat, beans, taco shells, in deep fryer and pan up for the line.
Panned food and put in warmers and set up serving lines and steam tables for morning shifts.
Achieved record of uncompromising customer service; recognized with six awards for concierge-level assistance.
Recognized as one of the top ten servers in all of Restaurant Associates, Inc.
Prep Cook
Responsible for preparing and cooking food.
Following specific recipes, making sure food bar is stocked, clean and up to company standards.
Taking food orders and making party platter.
Checking food temperature logs and following food safety rules.
Satisfied customer demand by efficiently preparing over 200 dishes per week.
Prep Cook
Prepared items for broiling, grilling, frying, sautéing or other cooking methods by portioning, battering, breading, seasoning, and marinating.
Managed and check food quality, prioritizing ingredients and reducing food waste.
Ensure that supplies are consistently available replenishing items as required in aid of cooks.
Created a new self-tasting menu item to allow simple self-service to both patrons and employees.
Accomplished an average check average increase of 6% as a result of my team's exemplary service conduct after Super Storm Sandy devastated parts of the region in 2013.
Prep Cook
Label and stock all ingredients on shelves so they can be organized and easily accessible.
Measure ingredients and seasonings to be used in cooking.
Prepared cooking ingredients by washing and chopping vegetables, cutting meat etc.
Undertake basic cooking duties such as reducing sauces, parboiling food etc.
Prepared and served over 1,000 meals in both the hospital and community.
Prep Cook
Green blender is an organic smoothie company.
We prep all the fruit and veggies and pack them up.
These organic goodies get shipped around Texas, sending quality goods right to the doors of hour customers.
We check boxes of organic produce that come in and we cut and bag all of it.
Everything in the company is done by hand from cutting the fruit, bagging the protein and putting stickers on each product.
Prep Cook
Followed proper food handling methods and maintained correct temperature of all food products.
Set up and performed initial prep work for food items such as soups, sauces and salads.
Consistently tasted, smelled and observed all dishes to ensure they were visually appealing and prepared correctly.
Closed down the kitchen after each shift and precisely followed closing checklist for kitchen stations.
Served five different departments on an emergency basis including patient's rooms, operating room, isolation rooms, and recovery areas.
Prep Cook
Utilized excellent knife skills to chop, dice, julienne, and slice vegetables; carve and grind meats, cheeses, and fillet fish.
Portion and plated cold prepped food for serving to customers, Detail-oriented i.e. kitchen organization set up.
Knowledge of kitchen equipment operation and maintenance.
Problem-solving ability following recipes to created dressings and sauces.
Organized patient scheduling for care through a deadline system; developed a standard operating procedure for entering into new patients' charts.
Prep Cook
Season and cook food according to recipes or personal judgment and experience.
Bake, roast, broil, and steam meats, fish, vegetables, and other foods.
Weigh, measure, and mix ingredients according to recipes or personal judgment, using various kitchen utensils and equipment.
Ensure food is stored and cooked at correct temperature by regulating temperature of ovens, broilers, grills, and roasters.
Organized meals for staff to the individual's specific dietary needs; coordinated with several food suppliers for the new diets of new employees.
Prep Cook
Cleaned and inspect galley equipment, kitchen appliances, and work areas to ensure cleanliness and functional operation.
Served food to facility residents, employees, or patrons.
Cooked food according to menus, special dietary or nutritional restrictions, or numbers of portions to be served.
Maintained a clean kitchen with minimal turnover of employees; ensured high level of availability by cooking as needed during off-shift time.
Prepared food in a fast-paced environment with little supervision, including cold and hot appetizers, steaks, and hamburgers.
Wrap Up
You need to make sure your resume stands out amongst the other candidates. It is the first impression that employers have of your work experience and skills. Use the samples above to put together a resume that best suits your needs and helps you get the job you want.