Physician Assistants (PAs) help healthcare professionals with tasks and patients. They perform physical examinations, order lab tests, assist in surgeries, develop treatment and medical procedures, diagnose illnesses, and obtain patient histories. To become a PA, a Master's degree is needed, which translates to six years of education and training. Physician Assistants must be able to apply medical knowledge, have excellent communication skills, and conduct themselves professionally. To succeed in this career, they must be detail-oriented, compassionate, humble, and do well under pressure.
A good resume is well-written and concise. It should be neat and easy to read, listing previous experience in a logical order.
Our resume samples will provide you with multiple examples of what you can include when writing your resume.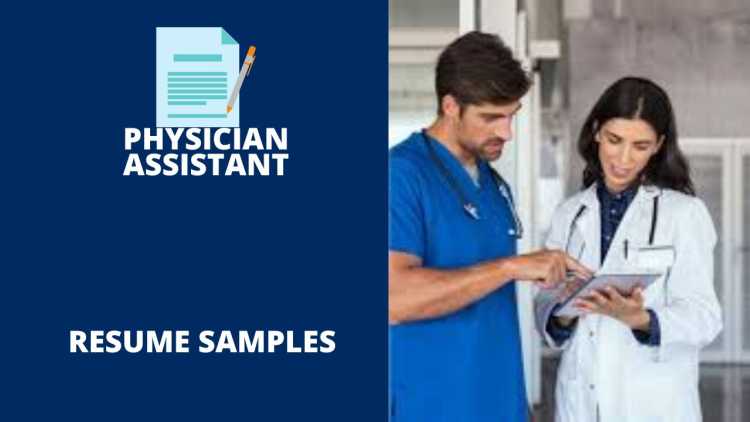 The Best Physician Assistant Resume Samples
These are some examples of accomplishments we have handpicked from real Physician Assistant resumes for your reference.
Physician Assistant
Document patient encounters in multiple EMR systems.
Diagnose and treat knee and hip osteoarthritis, avascular necrosis of the hip, spontaneous osteonecrosis of the knee, back pain and chronic pain status post knee and hip arthroplasties.
Discuss surgical details of total hip arthroplasties, total knee arthroplasties, unicompartmental knee arthroplasties, patellofemoral joint arthroplasties and revision knee and hip arthroplasties with patients and family members.
Performed rotations in surgical, medicine, medicine – surgery, medicine-surgery, cytology, and pathology departments.
Networked with physicians while performing clerical duties at the IMG Conference Center during July 2009.
Physician Assistant
Make clinical rounds in the hospital on patients and communicate with nephrology physician.
I see consults and set up follow up progress notes.
Provided nephrology care in the clinic during clinic hours.
Consisting of Chronic Kidney Disease care and hypertension care.
Make clinical rounds in Dialysis clinics and communicate with nephrology physician.
Physician Assistant
Obtain history of present illness, review of systems, social history, and past medical and surgical history.
Worked autonomously and consult with supervision physician when necessary for optimal patient care.
Diagnose and develop treatment plans for patients of all ages.
Performed procedures such as removal of foreign bodies from nose and ears, incision and drainage of abscesses, laceration management, application of orthopedic splints, management of onychocryptosis, and digital blocks.
Educate and council patients concerning diagnosis, health maintenance and treatment plan.
Physician Assistant
Participated in the care of outpatient pain management patient's population; performing H&P's and follow up evaluations.
Developed & implementation of treatment plans for patients with various physical disabilities.
Managed and performed pain pump/baclofen pump refills as well as worked with the physician in adjusting and modifying the patient's medication, compound[s], concentrations and daily rate.
Managed in office procedure rooms, maintained in office orders and ordered required supplies when necessary.
Assisted in coordinating medical records transfers to outpatient clinics and health maintenance organizations.
Physician Assistant
Arrange proper referral and coordination of care for pediatric patients.
Provided educational resources to patients to ensure optimal medical management focusing on treatment of acute and chronic illness prevention.
Promotion of preventive health through routine health maintenance examinations and screenings.
Followed up on patient complaints by visiting patients in their homes and on a scheduled basis to ensure quality medical care was being provided.
Met or exceeded the volume of patient contacts required by the IMG Clinical Hospitality Department to maintain clinicians available at our hospital during the global disaster caused by "Hurricane Katrina.
Physician Assistant
Managed Minor trauma including eye injuries, lacerations, foreign body removal and fractures.
Treated medical conditions spanning from basic allergies and rashes to chest pain and acute abdomen.
Provided primary care and preventative care, monitored labs and maintenance medications.
Led and supervised efficient, productive, and teamwork-oriented staff.
Received recommendations for performance awards based on customer satisfaction surveys.
Physician Assistant
Worked as sole urgent care provider in a demanding urgent care and occupational medicine facility.
Patient care responsibilities were to evaluate and treat patients and provide compassionate and consistent best clinical practices.
Able to take personal responsibility for coding and billing for patient care.
Selected for the Top Doctors in America awards twice; recognized by peers for outstanding performance in the area of physiotherapy.
Trained an associate to be a proficient therapist in pain management; recognized for extraordinary care under training.
Physician Assistant
Provided fast paced emergent and urgent care in a mid volume ER setting.
Assess, diagnose and treat routine and urgent illnesses in pediatric through geriatric patient populations.
Provided procedural services to include but not limited to- casting, suturing, minor surgical procedures, foreign body removals.
Admission of appropriate patients into inpatient hospital for observation or other immediate services.
Collectively led staff to consistently meet and exceed departmental, hospital, and community standards of excellence.
Physician Assistant
Provided primary care services to geriatric and disabled patients in homes, assisted living facilities, and personal care homes throughout Houston with a high level of autonomy.
Managed a variety of acute and chronic conditions in a complex patient population, performed histories and physicals, ordered and interpreted diagnostic studies, developed treatment plans, provided patient education, changed gastrostomy tubes, performed other minor skin procedures, assisted with wound care, ordered durable medical equipment, utilized home health and hospice services, discussed end of life care.
Established patient-specific goals of care ranging from active management of chronic conditions to aging in place and palliative care.
Participated in insurance-based programs and company-based committees that focused on improving quality of care while decreasing cost of care.
Reorganized health information systems for three services within an eight-county area.
Physician Assistant
Responsibilities included daily overseeing clinic operations, including but not limited to ordering and maintaining clinic stocks and supplies.
Performed well visit exams from ages 18 months and above.
Health visits included but not limited to sports physicals, sick visits, immunizations.
Educated patients regarding health maintenance, smoking cessation, weight loss management.
Redesigned a data warehouse to decrease errors for eight MRI/CT services and EDs.
Physician Assistant
Captain in the Medical Specialist Corp providing primary medical care to Soldiers ages 18-65 years old in a Military Medical Treatment Facility.
See approximately 20 patients daily and 4 virtual encounters.
Performed on a rotational basis out processing for service members transitioning out of the military.
Developed an electronic patient portal to improve efficiencies, security, and access for over 1,000 employees.
Coordinated a special project to create a new physician reporting system that reduced the time by which clerks could gather required data by three days.
Physician Assistant
Performed detailed histories and physical examinations, including comprehensive examinations and pap smears.
Order, review, and interpret laboratory data and imaging studies.
Performed various procedures, including, I&Ds, suturing, toenail removals, and joint injections (knee/shoulders/knee).
Provided family planning and prenatal care (fundi heights/fetal heart tones/ultrasounds) as well as patient counseling.
Assisted in the development of the billing application that controls the processing of patient information.
Wrap Up
You need to make sure your resume stands out amongst the other candidates. It is the first impression that employers have of your work experience and skills. Use the samples above to put together a resume that best suits your needs and helps you get the job you want.