Caterers prepare, transport, and serve food to clients and/or special events. They make the food, make it look nice, pack it up, and take it to the client. For special events, Caterers may set up, arrange the food, serve the guests, and take care of the post-event clean-up. No formal educational requirements are needed. Caterers must be excellent cooks and/or bakers, and have amazing time-management, problem-solving, and organizational skills. They must be creative thinkers, customer service-oriented, and have an eye for detail and design.
A good resume is well-written and concise. It should be neat and easy to read, listing previous experience in a logical order.
Our resume samples will provide you with multiple examples of what you can include when writing your resume.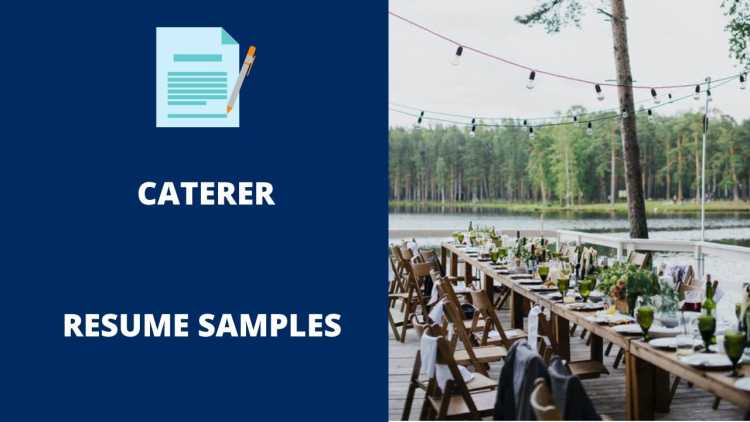 The Best Caterer Resume Samples
These are some examples of accomplishments we have handpicked from real Caterer resumes for your reference.
Caterer
Assisted in preparation of food items for the day and dating products for doctor's lounge and conference rooms.
Setting up and breaking down of doctor's lounges, conference rooms, catering or special events.
Maintain daily logs, Ensures that all work areas and serving utensils are cleaned and sanitized.
Established Career as a Chef at the Ritz Carlton Hotel, Atlanta GA.
Wrote and Researched Recipes for Food Services (Lunches, Dinners, Breakfast) and Catering.
Caterer
As a caterer for one of the largest BBQ franchises in Texas my responsibilities included following listed procedures for packing and transporting food and equipment, on-site food preparation, safe food handling and service.
In this position I drove many vehicles from standard vans to larger box trucks, both company owned and rentals.
This position also required strong physical capability, attention to detail, sticking to a schedule, and being flexible with a client's various needs.
Coordinated with all senior staff and Caterers to ensure quality food service to patrons.
Attended meetings and kept up with current industry trends, regulations, and procedures necessary to run successfully a successful event in all aspects of production.
Caterer
Provided a pleasant and efficient experience to thousands of customers on a daily basis.
Maintained a work ethic noteworthy to the point where co-workers would request me specifically.
Mediated disagreements between coworkers which lead to compromises that greatly improved efficiency in the workplace.
Earned license in Georgia as a culinary specialist with an excellent grade of 73%. Mentioned on the "Best of Atlanta" list by City Hall Magazine's Best of Atlanta Issue in 2013.
Planned, organized, and administered a variety of special events to include graduation ceremonies, anniversaries, fashion shows, award banquets, and trade shows.
Caterer
I am a caterer, cashier, food runner, server, greeter, busser, and I also do kitchen prep, expo, and some cooking.
I work hard to accommodate my catering customers outside of restaurant with a professional and excellent experience as well as the customers in the store.
I work in a fast paced environment and take on many responsibilities.
Developed cutting-edge catering for special events, including alcohol and cigarette parties; large banquet gatherings; private pool parties; and even a nightclub wedding.
Received two medals as Best in Edible Arts: Sweet Tooth and Cupcake competition winner, Best in Edible Arts: Cake Decorator competition winner, and Best in Bridal Cupcake competition winner.
Caterer
The job would start with the group unloading the truck full of catering supplies and food.
Then we would clean up and most of crew would serve food as some would begin bussing after people finish their courses.
After it is all finished and the guest leave we would clean up the event and pack everything back into the truck and head to the head quarters.
Created lavish amusements for executives such as truffles; tarts; matcha tea chocolate bars (with matcha green tea powder); Cannoli Pastry Bars; chocolate-covered espresso beans; custom-made pastries with a variety of fillings.
Convinced all local businesses to donate food to support needy children at the Ronald McDonald House located at the Hospital.
Caterer
Conducted inventory and restocked items throughout the day.
Restocked the salad bar and buffet, refilled condiments, organized event area and swept and mopped floors.
Displayed enthusiasm and knowledge about the Catering menu and products.
Created and directed a culinary arts workshop for teens; inspired students in critical thinking, problem-solving, and creativity through planned techniques of cooking.
Managed a team of 18 kitchens and utility staff on opening day.
Caterer
Providing one-on-one customer service for parties ranging from 10 to 2,000 guests.
Maintaining a clean, healthy environment consistent with serving food.
Managing time in order to maximize preparation and service of multiple events.
Provided menus, supplies, and décor for tables, booths, and walls to set the tone for the venue's ambiance.
Coordinated schedule of food delivery with time for preparation and cooking by wait staff to meet minimum requirements for catering service.
Caterer
Set up tables, landing chairs and serving stations for full-service banquet.
Maintain clean and organize dining area to facilitate work and minimize safety hazards.
Greet guests, serve food and beverages in designated order and quickly remove dishes at the end of each course.
Worked efficiently with staff during set-up hours daily to make sure that all food was present, working correctly, and served correctly.
Coordinated the financial aspects of catering service such as deposits and payments in order to receive payment on a timely basis; managed cash accounts; used bank deposit slip tape to count cash at end of each day.
Caterer
I work for a catering company who provides catering for music production.
We have contracts at different venues ( Staples Center, Honda Center, The Greek, etc ).
We cater to rehearsals, concerts, shows and festivals for different artists.
Provided management of food preparation, quality control, and staffing services for five catering companies.
Established and maintained contract relationships with each of the partners in a stable restaurant/bar business.
Caterer
Demonstrated strong customer service skills while constantly interacting with clients.
Excelled at communicating to coworkers and customers in a fast pace environment.
Sustained constant professionalism while handling stressful situations.
Ranked first in banquet sales in both 2005 and 2008; sold over $30,000 in dinners per year.
Enrolled students at Tempe Preparatory Academy to attend culinary arts school; led a successful catering business for two years.
Caterer
Provided full service catering events including, transporting goods, prepping, setting tables, served breakfast, lunch and dinner as well as preparing dietary meals.
Managed anywhere between $10,000 -$15,000 of the weekly production budget.
Coordinated with vendors, to provide healthy and nutritious food and snacks to cast and crew.
Oversaw vendors, restaurant owners, chefs and delivery personnel in all of their duties.
Organized and hosted National Championship Bocce tournament, raising over $3,000 for The Central Florida Hospital; won awards for organization and professionalism.
Caterer
Assisted guests in order selection, recommended specific menu items, and ensured prompt, accurate service.
Collaborated in creating attractive front -of – house displays to market new products.
Ensure events are properly equipped and properly executed in compliance with event standards and instructions.
Reset banquet as specified by manager to ensure readiness for other functions.
Wined, dined, and socialized with over 200 guests during Christmas parties.
Wrap Up
You need to make sure your resume stands out amongst the other candidates. It is the first impression that employers have of your work experience and skills. Use the samples above to put together a resume that best suits your needs and helps you get the job you want.