A business system analyst helps set the strategic direction of a company by evaluating key business functions, often in the IT field. Their tasks include gathering information, studying current practices, exploring alternatives, reconfiguring software and hardware, compiling data and reviewing competitors' practices. You need either a bachelor's or master's degree for this position. Necessary skills for this role include analytical skills, extensive computer experience, documentation, trends analysis, stakeholder management, the ability to run a meeting and strong presentation skills.
A good resume is well-written and concise. It should be neat and easy to read, listing previous experience in a logical order.
Our resume samples will provide you with multiple examples of what you can include when writing your resume.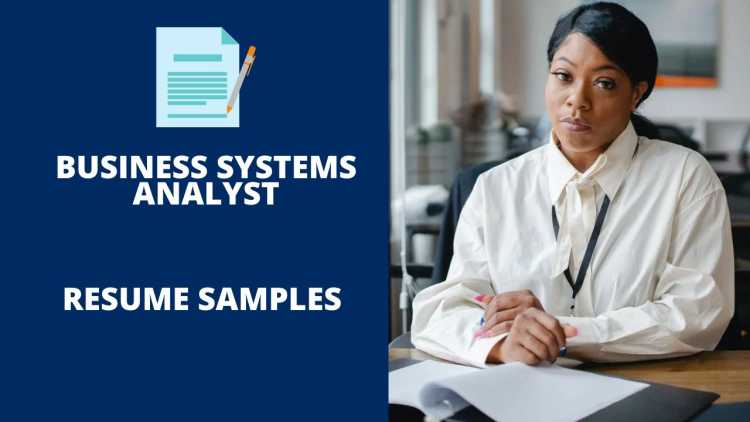 The Best Business Systems Analyst Resume Samples
These are some examples of accomplishments we have handpicked from real Business Systems Analyst resumes for your reference.
Business Systems Analyst
Created, analyzed operational workflow to streamline specific processes.
Anticipating potential issues, finding solutions and presenting to senior management.
Project management of the migration of the Dallas Service Desk to other locations for some accounts which included the SLA metrics being met for all clients during the transition.
Created a comprehensive weighted agent scorecard compiling data from several systems such as Micro Strategy, Service Now, Workday, and Workforce Management (Verint).
Facilitated communication among approximately 200 software application users and developers by holding meetings, training first-line supervisors, and directing meetings for a Fortune 500 company.
Business Systems Analyst
Originated business/ system analysis to created business requirements for: new UL/VUL life insurance products, print system conversion, State regulation updates, various type reports and correction of system issues.
Successfully acted as sub-project manager/BSA for semi-complex projects that crossed Business and system arenas.
Originated and facilitated JAD/ RAD meetings with Business stakeholders and/or tech team.
Prod Support: conducted root cause analysis for system or Business issues within legacy system and peripheral downstream systems.
Analyzed the data from the company's marketing and sales strategies supporting a $305 million dollar business.
Business Systems Analyst
Analyze, design, and implement web-based information systems for State Auto's farm and large commercial programs.
Liaise with end users and programmers to achieve intended outcome of system enhancements and new developments.
Quality test systems and process improvements to ensure accuracy and ease of use.
Serve as first point of contact for business systems problems with internal users.
Introduced innovative procedures to improve information systems which doubled company productivity, reduced costs, and increased customer satisfaction.
Business Systems Analyst
Led requirements review meetings and obtain necessary approvals from all stakeholders to baseline the necessary artifacts.
Created project specific Context Diagrams, Process Flow Diagrams, Activity Diagrams and Use Case Diagrams for developers and testers to describe whole scenarios using MS-Visio.
Conduct meetings with various leads (Design and Dev) along with Subject Matter Experts (SME's) on a regular basis to gather requirements.
Performed GAP analysis by understanding the AS-IS system and the TO-BE system requirements by facilitating JAD sessions, workshops, and questionnaire sessions with business users, system architects and development teams.
Created a centralized database with cross training capabilities for operation of all office functions; expanded data storage to include 80,000 records in 45 hours.
Business Systems Analyst
Worked as a liaison between end-users, product management, and development to gather and document user requirements, translating them into Agile user stories.
Plan and conduct interviews with business owners and stakeholders.
Conduct gap analyses to identify solutions that are cost effective and which meet business requirements.
Developed techniques for analyzing organizational structure's value for creating new opportunities for growth; created new business model which increased net revenues by 9% over one year of implementation.
Designed and implemented cost-saving new business procedures in a media distribution company, leading to a 15% increase in efficiency.
Business Systems Analyst
Complete multiple projects for developing, maintaining, and implementing E-Prescribing platforms for prescribers across the U.S.
Participate in Government Programs projects for Medicare, Medicaid, and HIM/HIX under CMS rules.
Gather requirements for the exchanges (HIM/HIX system) and help develop claim adjudication rules under the Affordable Care Act (ACA).
Worked on Medicare and Medicaid compliance enhancements to pay/reject the claim per CMS and NCPDP standards.
Redesigned the client-product catalog system to process data more efficiently and accurately.
Business Systems Analyst
Accomplished 12 END-TO-END ERP Implementation across entire Schlumberger Lift Solutions.
Consolidated 4 companies ERP Systems; aligned all business functions; consolidated financials and data.
Maintain User Authorization Matrix; Ensure SOX Compliance, User Updates, Monitor Segregation of Duties.
Championed optimal and best practices use of the ERP system as well as the best governance of the system.
Developed a system that tracked and analyzed inventory costs based upon economic trends; resulted in greater than 33% decrease in overall inventory costs.
Business Systems Analyst
Assistant Project Manager during the implementation of Epicor 10.1 from Sage resulting in no budget overages and an on time Go Live without loss of production.
Project Manager during a small scale Tableau implementation that allowed the company to visualize data in a way that they never had before.
This increased customer satisfaction, increased sales and prevented the loss of customer accounts.
Created process for cross-departmental data acquisition and maintenance; ensured accuracy of company records for federal, state, and internal audits.
Reduced personnel requirement for two departments by over 30%; implemented software for automated workflow analysis.
Business Systems Analyst
Provided support for major financial company's Batch and Real Time Mail email system.
Re-designed, developed and deployed emails which can be easily read across a range of opening environments (desk top and mobile) thus creating an easy, intuitive experience for our card members that ultimately leads to higher response, click through, and conversion.
Click rate improved from 15.53% to 21.26%, 37% improvement this improvement contributed to additional 13K clicks.
Offered intuitive suggestions for project management enhancements; generated and implemented practical business solutions for complex, multi-faceted problems.
Participated during the planning phase of five new IT systems by analyzing overlap between existing systems, international trends in current IT applications, and future needs based on current technology.
Business Systems Analyst
Used SAS Enterprise Miner 6.2 to perform data mining to do predictive churn modeling.
Worked on report generation leading to identify segment of customers likely to leave and the reasons leading to the churn.
Identified and documented business rules for the predictive churn modeling while acting as a liaison between the business stakeholders (marketing, sales and customer care staff) and technical staff.
Directly managed review of existing and developing internal IT projects to ensure completion time frame was met; recommended improvements where appropriate.
Worked AAUW Santa Clara County Chapter's Junior Leaders (ages 6 – 12) – At-risk kids taught financial literacy through game play with money.
Business Systems Analyst
Data management using CRM, SQL and Excel to assist multiple carriers in administering benefits for employees, technical expertise in process flows designed to guide the team of developers, and project managers.
Manages integration of data from multiple sources into a meaningful analysis in order to service assigned corporate client with over 38,000 participants.
Compiled queried data into spreadsheets and reports, creates test plans, developing and executing test scripts, adjust changes while assessing the risks.
Quality assurance testing used to execute provision moves, also implements all updates on the operations process and client requirements.
Developed, implemented, and maintained business systems for all areas of the organization, including accounting programs and data tracking.
Business Systems Analyst
Implement advanced strategies for gathering, reviewing and analyzing data requirements.
Prioritize requirements and created conceptual prototypes and use cases.
Master strategic business process modeling, traceability and quality management techniques.
Apply Service Now® project management application to assist in managing projects tasks and resources.
Created detailed business plans and strategies to improve processes and procedures in order to created value.
Wrap Up
You need to make sure your resume stands out amongst the other candidates. It is the first impression that employers have of your work experience and skills. Use the samples above to put together a resume that best suits your needs and helps you get the job you want.