Junior business analysts study ways to improve a business. They gather and analyze information, construct charts and diagrams, write reports, suggest ways to improve business practices, help keep projects on track, and communicate the status of projects to senior employees. This position requires a bachelor's degree in business or a closely related field. They must have research, analytical, critical thinking, communication, time management, organizational, interpersonal, and problem-solving skills.
A good resume is well-written and concise. It should be neat and easy to read, listing previous experience in a logical order.
Our resume samples will provide you with multiple examples of what you can include when writing your resume.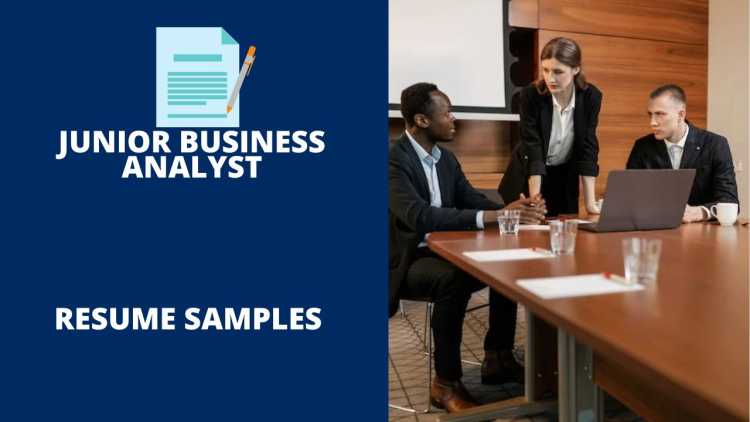 The Best Junior Business Analyst Resume Samples
These are some examples of accomplishments we have handpicked from real Junior Business Analyst resumes for your reference.
Junior Business Analyst
Acted as scribe to take down the requirements from the Business owner in joint application development.
Assisted Sr Business Systems analyst in gathering of requirements using several techniques like JAD, and Quizzes.
Conducted GAP Analyses by understanding the AS-IS business process and TO-BE business process.
Assisted in creation Business requirement document, functional specification document and system requirement specification.
Segmented and researched a niche market to increase sales of products and services through an existing business partner; increased profits by 33% during the first quarter of implementation.
Junior Business Analyst
Develops metrics that provide data for process measurement, identifying indicators for future improvement opportunities.
Responsible for Data Preparation, Validation, Reports generation using Statistical Analysis System (SAS) and MS Excel.
Engaged with onsite system architect to understand business requirements and developed solution design of business model.
Data Mining and Modeling: Collected, cleansed and provided modeling and analyses of structured and unstructured data using business initiatives.
Developed a custom project management program to ensure on-time completion of business development projects.
Junior Business Analyst
Initiate workflows to update customer records within the bank's internal on-boarding system including set-up in transactional systems and deactivations.
Ensure that documentation meets internal policy and guidelines on customer data.
Conduct research from internal and external sources to obtain most current information on existing customers including relationship hierarchy structure, industry codes, Tax ID, etc.
Actively follow-up with Front Office and other internal departments for all requirements.
Assisted in the successful launch of six new products and services; prepared marketing strategies, analyzing market trends, conducted extensive customer research, and facilitated discussion with key stakeholders.
Junior Business Analyst
Responsible for analyzing defects and developing requirements to carry out the necessary fixes for their account opening and maintenance tools (WebNAS and CPS).
The scope of the project is to develop MDD (Minor Development Document) for all necessary bug fixes.
Collaborated work with Business Users, L2 Support, Development Team and UAT to analyze defects and develop requirements.
Led a team in developing a Business Continuity Plan that has become company standard for responding to disasters.
Conducted competitor product analysis to determine opportunities for improvement in projected sales.
Junior Business Analyst
Involved in the study of existing reporting system built in MS Excel and worked with the end users to find out challenges in the current system and expectations from the new system.
Extracting the business requirements from the end users keeping in mind their need for the application and documenting it for the developers.
Worked as an Interface between users and team for better understanding of business processes.
Evaluated market and customer trends to forecast sales, prepare business plans, and make strategic planning decisions.
Influenced management decisions to increase revenue through increased sales and market share over five consecutive quarters.
Junior Business Analyst
Created Business Requirement Documents (BRD), System Requirement Specifications (SRS).
Held requirement gathering sessions with Business Owners and SME's along with risk managers to gather client specific business requirements and documented business requirements and functional specifications.
Conducted various walkthrough calls for BRD & SRS with Business Team, technology team, design & testing team.
Trained new employees through lectures and walkthroughs for utilization of standard business tools including spreadsheets, word processing, databases, e-mail, and web browsers.
Collaborated with co-workers on daily basis to resolve problems related to software operation, data integrity issues, or user questions.
Junior Business Analyst
Performed functional analysis of the client's current business process and reviewed supporting documentation.
Collaborated with technology teams and software vendors to troubleshoot and resolve open issues and request enhancements.
Developed use cases, test plans, and scripts. Created and facilitated user acceptance testing.
Verified post-production release to ensure correct functioning and sent release notifications to business users.
Generated $143M in cost avoidance for the company by creating new operational procedures for the Supply Chain department.
Junior Business Analyst
Working with Microsoft Office products, assist in development and maintenance of business models.
Acted as a business partner assisting Marsh business unit managers in the planning, development and implementation of both technology-based and process-based solutions.
Assisting in managing system implementation, tracking the timing of deliverables, and developing conversion and migration plans for moving from existing systems to more effective new systems.
Identify opportunities to utilize existing, enhanced or new technologies or business methods to streamline work processes and improve business margins within individual business units.
Suggested start-up of $11.6M business unit and was promoted to head of department after 3 years; increased profitability by 20% within the first year.
Junior Business Analyst
Develop interface wire-frames, site maps, functional/technical requirements and content inventories for new database for Fixed Income Group.
Conduct interviews with key business users to collect information on business processes and user requirements.
Support BAU teams in up-keeping current database by writing change tracker requests to support business rules.
Performed due diligence on major transactions worth $12B, identifying risks and providing solutions to mitigate problem areas.
Reduced company manufacturing costs by $1M through process improvements in supply chain and inventory management.
Junior Business Analyst
Assisted in Facilitation of work sessions with business users and assisted them in defining business processes, requirements and possible risks, and analyzed possible solutions with team members.
Facilitated analysis and user needs (use case surveys) with project teams and helped Senior BA in authoring Use Case document (UCD), Functional Specifications and Requirements Traceability Matrix (RTM) with project teams.
Involved in communications (liaison) between business users and IT team and Implemented business process analysis, business process modeling and business process re-engineering techniques with senior BA.
Improved web services development productivity time by 50% while increasing customer satisfaction with the new system, saving an average of 1 hour per user interface with the new application.
Received awards for accurate analysis and presentation of data.
Junior Business Analyst
Gathering requirements from Business Line Mangers and SME's for the redesigned Great West Client Portal, Client Database and to digitize the Transactions.
Develop Process Model and detailed Business Policies and documenting the same in Business Requirement Document (BRD).
Prepared High Level Process Flow Diagrams and Business Process Flow diagrams for Great West Client Portal functionalities in Vision.
Maintained accurate and timely information on assigned projects.
Promoted teamwork and cooperation by coaching, mentoring, and being an example.
Junior Business Analyst
Created multiple MS Access databases enabling data retrieval based upon input criteria.
Served as an inter-departmental resource crafting business critical SQL queries and assembling QlikView dashboards based off those queries, allowing in-depth analysis of previously difficult to access metrics.
Scrutinized existing chassis data and created data quality initiatives that significantly improved reliability of key fields.
Created standard operating procedures, reports, and other requested deliverables on time while maintaining accuracy in the process.
Reviewed and assessed staffing trends, issues, and needs of executive management to suggest remedial alternatives.
Wrap Up
You need to make sure your resume stands out amongst the other candidates. It is the first impression that employers have of your work experience and skills. Use the samples above to put together a resume that best suits your needs and helps you get the job you want.