Business Owners are responsible for making day-to-day business decisions. Their tasks include marketing, financial forecasting/planning, public relations, purchasing materials and equipment, managing employees, negotiating contracts with suppliers and clients, etc. To become a business owner you need to start your own business or show potential as an entrepreneur (Starting up new businesses can be a long and difficult process). Business owners must have excellent communication skills, be creative problem solvers, have leadership skills, and have the know-how to work hard.
A good resume is well-written and concise. It should be neat and easy to read, listing previous experience in a logical order.
Our resume samples will provide you with multiple examples of what you can include when writing your resume.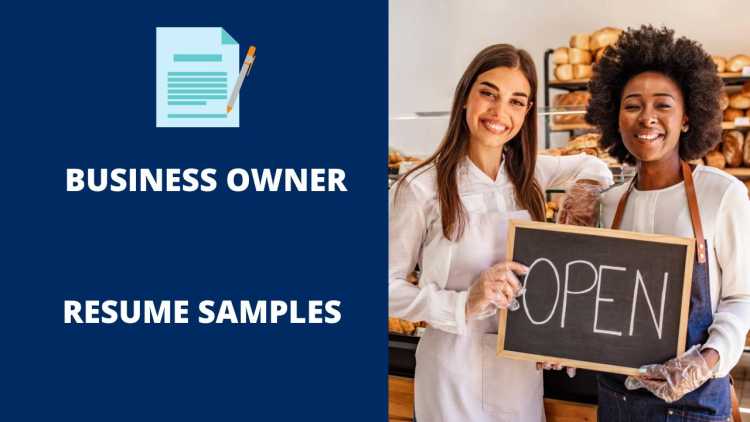 The Best Business Owner Resume Samples
These are some examples of accomplishments we have handpicked from real Business Owner resumes for your reference.
Business Owner
My husband and I own and operate a healthy snack food business.
HighLine Pure creates healthy superfood snacks that help you sustain an active lifestyle.
Our products contain delicious, natural ingredients with plant protein and a powerful mix of superfoods that give you the energy and nutrients you need to dominate everyday life.
Built business from the ground up; promoted new concepts through marketing and advertising.
Analyzed traffic flow, foot counts, and sales details; implemented reporting systems to track daily performance.
Business Owner
Managed business finances, including paying vendors and suppliers for products services rendered.
Solicited and developed new business accounts by cold calling and networking.
Increased volume of business by 70% by following up on leads, cold calling and networking.
Distributed products world wide to customers, as well as wholesale to various businesses.
Opening and closing a brick and mortar location, managing a staff of five, distributing payroll, maintaining computers, and making sure our many customers were satisfied with their orders.
Business Owner
Ran daily operations of Mobile Video Game Truck business which included, selling and booking parties, logistics, book keeping, accounting, payroll, hiring, training and scheduling staff hours.
Maintain and negotiation services for equipment and vehicles.
Designed, created and manager company website, Social Media/ Facebook page, managed all SEO/SEM ad budgets, tracked and calculated ROI to maximize spend.
Leverage exemplary customer service reputation that created a referral base which accounted for 75% of my monthly business.
Distributed flyers, flyers to customers, in-store advertising for product samples,s and promotions on the store floor.
Business Owner
Approaches each assignment like a magazine shoot, planning researching, scouting from start to finish to bring a level of professionalism to the imagery.
Takes the time to listen to Clients needs, wants, and concerns.
Uses sales & marketing, personal branding techniques at every step of photographic process.
Created promotional campaigns for hard-to-sell products: cat litter, soap, candy.
Reestablished a store after two years of falling sales with a promotional strategy based on the number of people who purchased each day.
Business Owner
Authorized wholesale representative for 11 retro-clothing retail lines for clients based in the U.S. and Europe.
Represent companies by traveling internationally as well as domestically to trade shows.
Organize trade show presentations including orders, shipping, set-up, and merchandising.
Launch marketing and sales campaigns through networking and the use of social media.
Developed strategy for store's expansion; assisted the city in obtaining required permits and licenses needed to meet increasing competition and new market opportunities.
Business Owner
Responsible for all aspects of marketing, training, accounting, shipping, inventory and customer service for wholesale trade shows, and in-store retail sales.
Follow-up with, and build, business relationships, determine goods and services to be sold, set prices and terms, locate and procure unique items for sale, and building materials for construction, manage employees and rapid movement of goods.
Created and conduct eduational classes on products. Create and manage finances, budgets and tax related documents.
Developed and led the planning, organization, budgeting, and execution of several projects.
Operated as a business owner during the business start-up phase.
Business Owner
Tracking orders for production daily with Microsoft Excel is one way that I managed quality production at my restaurant.
My orginazational skills helped to track orders efficiently and diligently.
Daily I worked with accounts recieveable and payable from various vendors.
Scheduling appointments for vendors and catering opprotunities is how I managed our success.
Filing numerous documents for every transaction and documenting all actions that I took in this fast paced enviroment.
Business Owner
Provides lawn care services, landscape design creation, & property maintenance services to a private residential client base.
Actively prospects for new clients through networking, & referral basis only.
Strengthen existing relationships with clients by cross selling other services, & maintaining a high standard of quality in work, & professional courteousness.
Trained, supervised, & managed company personnel while managing business operations.
Developed quality control procedures under pressure to successfully meet critical deadlines and within a short period of time.
Business Owner
Review business cases to determine what projects to include in coming months.
Using Agile methodologies, develop and document requirements for website changes and updates using local and offshore resources.
Develop products in combination with suppliers to meet unmet customer needs.
Worked with consultants to develop User Interfaces (UI) to improve website usability for e-commerce customers.
Managerial skills enabled the company to expand through acquisitions in one particular area of business.
Business Owner
Explore and build lasting relationships with clients and truck repair/maintenance facilities.
Recruit and supervise two full-time employed class A cdl truck drivers.
Plan and execute all regulatory, legal, finance/credit, accounting and human resources matters required to start up and operate the business venture.
Achieved award for excellence in service as a call monitoring Superstar; effectively addressed the needs and concerns of customers while adhering to banks' guidelines regarding authentication, disclosure, and customer service.
Provided innovative leadership in the marketing of business products based on consumer and market research.
Business Owner
Responsible for overseeing 10+ employees and total business operations including sales, advertising and quality control.
Taught office managers and employees the logistics of a tax preparers duties and responsibilities.
Answer general customer questions in a timely, efficient and knowledgeable manner.
Maintains professional and technical knowledge by attending educational workshops; reviewing professional publications; establishing personal networks and participating in professional societies.
Entered business ownership by purchasing the Sun Co. for $300,000 and increasing its value to $3 million in three years.
Business Owner
As a business owner I was responsible for every aspect of my business, from providing excellent customer service, to driving sales, to managing inventory, packaging and mailing purchased goods, managing finances and keeping records.
I learned how to network and meet and relate to many different people.
I managed to grow my business from simply friends and family to customers across the country, solely using social media.
Established the beginning stages of one of the most successful public relations companies in California.
Created and maintained a website to promote business opportunities and increase visibility.
Wrap Up
You need to make sure your resume stands out amongst the other candidates. It is the first impression that employers have of your work experience and skills. Use the samples above to put together a resume that best suits your needs and helps you get the job you want.