Collections Representatives work for collection companies to receive overdue payments from customers/businesses. Their duties include locating customers/businesses, calling to receive payments, emailing/mailing collection bills, getting financial information on the client, make a plan for repayment, and documentation. To work as a Collections Representative you need a high school diploma or GED. Collections Representatives need to have excellent listening skills, written/verbal communication skills, positive attitude, be detail-oriented, be able to multitask, be organized, and be reliable to be successful.
A good resume is well-written and concise. It should be neat and easy to read, listing previous experience in a logical order.
Our resume samples will provide you with multiple examples of what you can include when writing your resume.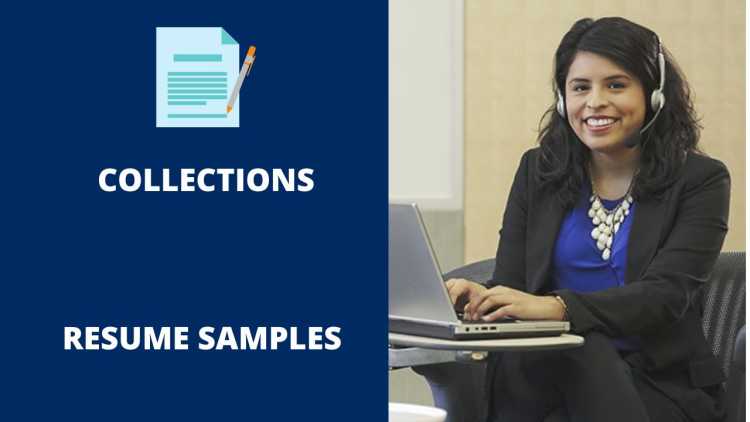 The Best Collections Resume Samples
These are some examples of accomplishments we have handpicked from real Collections resumes for your reference.
Legal Collection Representative
Collect on overdue American Express pre-legal and legal accounts, organized payment plans, took payments over the phone and walk-in, tracked calls and information, sent invoices, updated accounts and worked with Attorneys and legal staff to ensure funds were received.
Thoroughly investigated debtors using state-of-the-art technology to determine whether they owned any assets and whether they have attempted to secrete those assets to avoid paying creditors.
Effectuate property sales and income executions through marshals and sheriffs to satisfy judgments against debtors.
Point of contact calls, emails, calendars also handled New York State Insurance consumer claims calls for workers compensation.
Collected more than $300,000.00 in delinquent federal taxes and fraudulent income tax refund claims.
Collections Analyst
Assumed additional responsibility for assigning accounts going to collections.
Evaluated credit histories, outstanding issues, methods of clients' payments and patterns to monitor accounts.
Initiated efforts to contact customers to generate $850K in outstanding receivables in 2 weeks.
Created streamlined and consistence process manual for collections analysts to collect checks, look up customers' accounts, and handle work in event of another employee's absence.
Resolved customers' delinquent and past-due debts in a timely manner in order to avoid collection fees.
Collections Specialist
Communicate with residents by telephone to bring resolution to unpaid accounts.
Answer and investigate customer disputes via phone, email or other correspondence.
Successfully meet all established performance standards, metrics and collection goals.
Managed malfunctioning equipment and wrote software code to automate the processing of approximately 100 cases of defective equipment per month.
Wrote and implemented a new software system that automated the processing of approximately 400 administrative requests per month.
Collections Specialist
Posted customer payments by recording cash, checks, and credit card transactions.
Posted revenues by verifying and entering transactions from lock box and local deposits.
Prepared aging reports and updated receivables by totaling unpaid invoices.
Supplied over 20,000 paperwork forms per month to office personnel.
Maintained and implemented the daily "Coding, Tracking, & Data Management System" (CTDMS).
Collections Representative
I was responsible to collect money from the clients who discount out of the merchandise received.
I worked directly Walmart and Sams accounts having really good collections results.
The job was done by phone calls, email, fax, sometimes personal.
Provided general information to customers via phone, email, and postal mail regarding office procedures.
Analyzed & consolidated branch information, clarified branch transaction and account responsibilities, resolved questions of branch employees and colleagues.
Collections Representative
Persuade delinquent customers to become current while using professionalism, tact and adhering to all applicable collection laws.
Achieves production goals and standards for servicing delinquent accounts without sacrificing quality of service.
Follows Client Operating Standards, State and Federal Legal requirements and regulations in regard to collections.
Assisted the Branch Supervisor in managing personnel, budgeting, and related work activities.
Advised clients regarding financial aid processing and loan modification programs.
Collections Representative
Take inbound calls emails ( chat) for collections calls and resolutions for contact and thrid party's.
Managed complaints, compliments and inquiries for all brands within the Corporation.
Respond to and resolve customer requests by phone, email and through written correspondence with.
Dealt with complex problem situations involving federal benefits applications.
Coordinated daily collection activities to achieve targeted levels of collections from accounts that were delinquent or have had recent contact with the account holder.
Collections Specialist
Effectively manage a high volume of inbound and outbound calls.
Serve as a bilingual collections representative in all 12 states.
Research, analyze, and settle all customer billing disputes.
Saved over 50% of accounts from being sent to outside collection agencies by setting up payment plans with customers.
Wrote and distributed internal memos, printed letters, and faxes to inform staff of new procedures, policies, and regulations.
Collections Representative
Record information about financial status of customers and status of collection efforts.
Locate and notify customers of delinquent accounts by mail, telephone, or personal visits to solicit payment.
Confer with customers by telephone or in person to determine reasons for overdue payments and to review the terms of sales, service, or credit contracts.
Advise customers of necessary actions and strategies for debt repayment.
Persuade customers to pay amounts due on credit accounts, damage claims, or non-payable checks, or to return merchandise.
Collections Representative
Placed and received calls in priority order as established by management. Negotiated payment.
Arrangements with clients to cure delinquency, evaluating ability and willingness to pay.
Navigated and interpreted various screens and relayed information to clients accurately & professionally.
Determined cause of delinquency and best course of action to assist delinquent customers, including initiating extensions, reages, payment plans, and referrals to Loss Mitigation and other programs, if applicable and in accordance with established guidelines.
Provided data analysis, entered into the system (and worked with other departments as necessary), tracked electronic information, and updated files as needed.
Collections Representative
Resolve delinquent accounts in portfolio via outbound and inbound calls while providing quality customer service.
Negotiate acceptable payment arrangements that would bring accounts current and prevent repossession.
Collected two million dollars a month in delinquent accounts on assigned portfolio with an average of each being sixteen thousand dollars.
Analyzed, filed, and verified the accuracy of data contained in Fannie Mae's System for ensuring that each resident of the United States who receives a federal benefit is properly recorded in the System.
Assured that cost analyses and decisions throughout the department were coordinated with other major functions to ensure an understanding of all working together to ensure effective client service delivery.
Collections Representative
Debit, credit, and total accounts on computer spreadsheets and databases, using specialized accounting software.
Performed financial calculations such as amounts due, interest charges, balances, discounts, equity, and principal.
Performed general office duties such as filing, answering telephones, and handling routine correspondence.
Monitored the status of loans and accounts to ensure that payments were up to date.
Worked closely with physical and human resources department to assign people to appropriate teams based on team goals.
Wrap Up
You need to make sure your resume stands out amongst the other candidates. It is the first impression that employers have of your work experience and skills. Use the samples above to put together a resume that best suits your needs and helps you get the job you want.