A corporate controller oversees the accounting functions of an organization. They manage accounting processes, monitor accounts, produce financial reports, correct errors, reconcile payments and supervising accounting staff. Most companies require a CPA credential for the corporate controller role. In this role, you must demonstrate analytical skills, attention to detail, organization, critical thinking, computer skills, software skills and the ability to simplify information.
A good resume is well-written and concise. It should be neat and easy to read, listing previous experience in a logical order.
Our resume samples will provide you with multiple examples of what you can include when writing your resume.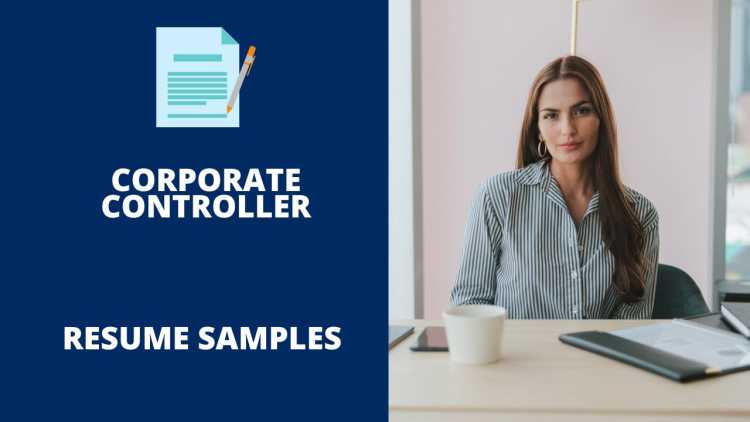 The Best Corporate Controller Resume Samples
These are some examples of accomplishments we have handpicked from real Corporate Controller resumes for your reference.
Corporate Controller
Established program for company employee expenses with controlled credit card program providing online receipt management, supervisor review and electronic reporting.
This reduced time while increasing accuracy and efficiency for the reimbursement and invoices of charges related to client representation.
Brought firm current on financial reporting inheriting a system that was consistently months in arrears.
Reduced time to financial reporting to owners and financial institutions from months to 15 days.
Enhanced the company's financial controls and established stronger internal controls by successfully preparing a comprehensive annual audit plan that addressed the needs of management.
Corporate Controller
Full responsibility for the accounting operations of the company, including the production of financial reports, maintenance of adequate systems, and a comprehensive set of controls.
Designed budgets and controls to mitigate risk, enhance the company's reported financial results, and ensure compliance with GAAP.
Facilitated five acquisitions, a software conversion, a plant closure, and transition of the corporate office.
Improved operational performance by encouraging excellence in operations through effective communication with customers, coworkers, and associates.
Created a diversified reporting system that supported the timely analysis of operating results, forecasting models, cash flow projection, as well as risk analysis.
Corporate Controller
Worked collaboratively with CEO, CFO, and V.P. of Operations to lead the direction of the regional business and drive value creation ideas across the organization.
Build and manage internal finance and operational control functions, including cash management.
Deploy finance processes, procedures, and systems to ensure all financial controls are in place to ensure all regulatory and company control requirements are met.
Champion the company's vision and provide leadership to the organization in addressing the most critical financial and analytical issues for the company.
Provided guidance to the controller via negotiation tactics and developmental planning to gain his trust and support; developed a team spirit among co-workers.
Corporate Controller
Directs the timely & accurate preparation of all financial statements including balance sheets, income statements and cash flow reports for month end and year end process.
Ensures proper recording of transactions and compliance with applicable laws and regulations.
Analyzes period financial statements and provides commentary for management reporting.
Performed the duties of the Executive Controller after his resignation for eight months until a replacement was hired.
Oversaw audit of governmental agency for compliance with local, county, and state laws and regulations.
Corporate Controller
Led the accounting department staff of 30 with processes related to consumer manufacturing and distribution.
Directed the execution of the worldwide month-end close, corporate consolidations, general ledger maintenance and generation of financial statements.
Worked closely with sales and operations to provide guidance and align with corporate initiatives.
Help maintain the organization's accounting principles, practices, procedures, and internal controls, including financial reporting, external reporting, and external audits in accordance to GAAP.
Determined financial status of local businesses by preparing tax returns for corporations.
Corporate Controller
Oversee banking services for corporate office and three program locations.
Managed all aspects of accounts payable; along with business licenses, property taxes, and sales tax submission for local and state authorities.
Oversee international operations including banking, funding, conversions, and GL entries.
Obtained a promotion for increasing production by conducting internal audits of new corporate acquisitions; earned appreciation from Vice President for uncovering irregularities that resulted in penalties owed to the government.
Coordinated a six-member team to reconcile $13.5 million in business taxes; improved communication between departments to increase productivity by 65%.
Corporate Controller
Directed and administer all financial operations of six hotels to include, but not limited to: asset protection, financial reporting, systems management, hotel-wide budget and forecasting, department management, and meeting participation and facilitation.
Assisted and counsel department heads in the interpretation and analysis of financial data, recommending courses of action to maximize hotel profitability.
Monitor and develop team member performance to include, but not limited to, providing supervision and professional development, scheduling, conducting counseling and evaluations and delivering recognition and reward.
A designed new computer program to produce accurate tax reports within 24 hours after end-of-month accounting deadlines.
Increased company profits by 20% through periodic review of staff's performance and annual budgetary process.
Corporate Controller
Manage, maintain and supervise accounting functions in the areas of chart of accounts, cash, petty cash, accounts receivable, fixed assets, accounts payable, general ledger and all related systems and processes.
Supervise and coordinate and oversee month-end and year-end closing procedures and documentation in accordance with established Company procedures and practices.
Prepared and/or review month-end journal entries and balance sheet account reconciliations.
Overhauled budget control procedures to ensure compliance with accounting standards; implemented cost-saving measures.
Streamlined six distinct payroll departments into a single centralized department with enhanced capabilities to increase efficiency and accuracy in processing payroll.
Corporate Controller
Managed the financial functions of a healthcare company consisting of 6 ambulatory surgery centers and 2 surgical hospitals.
This included overseeing accounting, accounts receivable, accounts payable, payroll, reimbursement, cash collections, budgeting, projections, financial reporting, financial analysis, and audit support.
Solara Surgical Partners is a health care provider in the surgical center industry with facilities located in several states.
Developed new streamlined designs for the efficient processing of financial statements and tax reports.
Credited with establishing flow of information among accounting, finance, legal, and manufacturing divisions; developed data integrity mechanisms that contributed to a high level of investor confidence.
Corporate Controller
Supervise Assistant Controller, Senior Accountant, Payroll, Accounts Payable clerk, Accounts Receivable Clerk oversee Customer Service Department and temporary summer interns.
Review all journal entries to include Payroll, Sales, Inter-company, Inventory, Depreciation, Fixed Assets, Deferrals and Accruals.
Review individual plant financials and consolidation of financial statements.
Established and maintained accurate accounting records through comprehensive account receivables and accounts payable systems.
Maintained records of payments, receipts, debts due, and creditors paid.
Corporate Controller
Responsible for all aspects of financial reporting and payroll for this food manufacturing, trucking and distribution company.
Implemented processes and procedures in this startup company. Evaluate all processes to ensure efficiencies.
Reporting directly to Owner and President, manage day to day operations of all aspects of accounting, including: A/R, A/P, fixed assets, payroll, strong cash management skills, financial reporting, and all phases of the close process.
Filed tax returns accurately to IRS regulations.
Prepared complete financial reports on a monthly basis which included all procedures required by the Company and the client.
Corporate Controller
Oversee financial operations including setting up and implementing financial reporting.
Led integration of multiple acquisitions into financial organization.
Develop and coach a lean financial team that implemented a monthly closing process and improved internal controls including converting from cash basis to GAAP, all during a period of rapid revenue growth.
Reviewed weekly intervals, balances from all bank accounts; reconciled discrepancies between bank statements and A&A computer statements.
Trained and mentored staff of over 20 employees during six months of management.
Wrap Up
You need to make sure your resume stands out amongst the other candidates. It is the first impression that employers have of your work experience and skills. Use the samples above to put together a resume that best suits your needs and helps you get the job you want.