Sales Professionals are responsible for selling a company's products and services to customers. Their duties include presenting and promoting, selling, answering questions, making and receiving calls, establishing and developing relationships, listening, and solving customer complaints and concerns. To be a Sales Professional, a Bachelor's degree in marketing, sales, or business is preferred, and 1-3 years of sales or customer service related experience likely required. Sales Professionals must demonstrate excellent interpersonal skills, strong communication skills, proficiency in selling and negotiating, customer service orientated, knowledge of the product, presentation skills, highly-motivated, and time management.
A good resume is well-written and concise. It should be neat and easy to read, listing previous experience in a logical order.
Our resume samples will provide you with multiple examples of what you can include when writing your resume.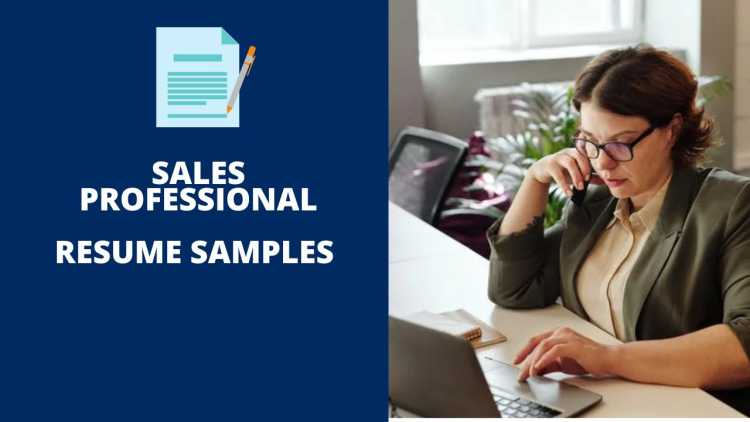 The Best Sales Professional Resume Samples
These are some examples of accomplishments we have handpicked from real Sales Professional resumes for your reference.
Sales Professional
I am responsible for showing cars to people who visit the dealership and explaining the characteristics of various models.
I also apprise car shoppers of warranties and financing options, furthermore I took a genuine approach which made my style of sales thrive and see success.
Other than the key duties as a salesperson I also managed the parking lot; making sure that each vehicle is in the correct place.
There were many objections that I had to navigate around, but I was able to make my numbers every time when necessary.
Negotiated multi-level discounts, volume sales, and customer retention.
Sales Professional
Demonstrated personal responsibility and ownership of all client issues within the Men's Department.
Worked diligently toward all resolutions; consistently met and exceeded client expectations.
Partnered with management to maximize sales during all promotional, seasonal, and corporate events.
Maintained strong client relationships through client books, VIP books, and timely Client Outreach initiatives.
Partnered with management for proper merchandise allocation based on client and market demands.
Sales Professional
Balanced the needs of multiple customers simultaneously in a fast-paced retail environment.
Directed strategic and brand-appropriate marketing initiatives to improve presentation and maximize sales.
Trained extensively in client acquisition and retention, men's clothing and sportswear, and made-to-measure.
Maintained monthly sales quota with industry-leading profitability.
Advanced from sales representative to account executive to management executive; received superior performance reviews and bonus payments.
Sales Professional
Specialized in Sales through use of product knowledge, emphasis of key features, and benefits of products.
Increased Customer base and profitability through professional networking and consistently providing positive customer experiences.
Regularly performed above expectations and worked outside regular schedule to ensure success.
Handled routine credit applications and references; negotiated customer retention from loss of business partner or employer at a change in circumstance.
Effectively worked within limits of authority for maximum results and productivity.
Sales Professional
Responsibilities include prospecting, setting appointments with prospects, presenting programs, and creating a program that fit their need.
Meet with executives, national accounts, end-users, and the sales force to define new product sale requirements and work with manager to document these requirements and implement sales driven results.
Analyze competitive product offerings in terms of features and benefits as well as price points vs. the competitor for comparative pricing and quality of service.
Effectively sold property, vehicles, and business services through personal referral.
Established a positive customer rapport while selling products to enhance the customer's ability to use the product.
Sales Professional
Acted as an intermediary in negotiations between buyers and sellers, generally representing one or the other.
Compare a property with similar properties that have recently sold to determine its competitive market price.
Advise clients on market conditions, prices, mortgages, legal requirements and related matters.
Promoted sales of properties through advertisements, open houses, and participation in multiple listing services.
Successfully negotiated a new client by proposing solutions based on existing client needs.
Sales Professional
Participated in various incentive programs and contest designed to support achievement of production goals.
Recommended and helped customers select the vehicle based on their needs.
Informed customers about Sales and Promotions in a friendly and engaging manner.
Developed tool to track and monitor personal sales opportunities, deals in progress and finished contracts.
Kept regular contact with clients to ensure that they received property or business services in a timely manner.
Sales Professional
Problem Solving for existing customers concerns by customizing a compatible solution for their business needs.
Attend daily meetings to expand product knowledge.
Responsible for following up with potential clients to ensure they receive the most effective products for their business.
Continued selling after retirement to help other young professionals in their transition into real estate sales and subsequently helped an elderly couple purchase their first home.
Recognized as the sales professional with the highest volume of new business and most satisfied customers.
Sales Professional
Sales and Customer Service in showroom of one of the largest mattress retailers.
Day to day tasks involved financial reconciliation, inventory counts and replenishment while ensuring all Sleepy's policies are followed.
Emphasis on taking care of the customers beyond their expectations to earn their business and subsequent referrals.
Successfully closed deals using a consultative approach with business owners across several industries.
Consistently ranked as a top performer in areas such as new business generation, customer satisfaction, prices, promotions, and loyalty programs.
Sales Professional
Recommended products based on customer needs and desires, answered questions regarding products.
Maintained a knowledge of sales, promotions, store policies, and security practices.
Prepared sales slips and contracts, arranged delivery and facilitated special requests and orders.
Sold ancillary products such as insurance and service contracts, arranged financing options for customers.
Developed sales technique for new fashion accessories line; exceeded quota by 200% during first 3 months of employment.
Sales Professional
Negotiate sales with clients in a large US luxury watch storefront carrying brands such as Rolex and Cartier.
Effectively communicate and negotiate luxury sales with international Mandarin Chinese speaking clientele.
Consistently have attained average monthly goal of $87,000 and so far have brought in $700,000 in sales this year.
Develop and maintain a strong client base by establishing and maintaining lasting client relationships.
Located untapped market; developed and initiated high volume of new business between U.S. company and Chinese manufacturers in less than one year after joining company.
Sales Professional
Give options and advice to customers on selection of fine china, crystal stemware, flatware and specialty gifts.
Support bridal registry, including printing registry gift lists and assisting customers with specific gift items for purchase.
Performed point-of-sale transactions, including sales, special orders, returns and exchanges.
Locate out of stock items at other store locations, arranging shipment to customers as needed.
Earned outstanding sales and customer service awards from a national sporting goods retailer.
Wrap Up
You need to make sure your resume stands out amongst the other candidates. It is the first impression that employers have of your work experience and skills. Use the samples above to put together a resume that best suits your needs and helps you get the job you want.