Sales Executives find clients and sell them a product or service. Their duties include building and maintaining relationships with clients, selling products and recommending solutions, researching industry trends, evaluating new products, creating reports and attending meetings and presentations. To work as a Sales Executive typically requires a bachelor's degree in marketing, business administration, advertising sales or another related field. Sales Executives must demonstrate confidence, enthusiasm, creativity, independence, negotiating skills and persuasiveness.
A good resume is well-written and concise. It should be neat and easy to read, listing previous experience in a logical order.
Our resume samples will provide you with multiple examples of what you can include when writing your resume.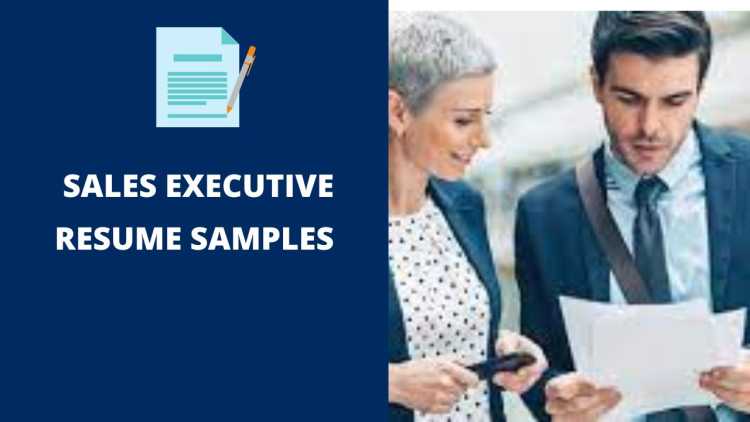 The Best Sales Executive Resume Samples
These are some examples of accomplishments we have handpicked from real Sales Executive resumes for your reference.
Sales Executive
Conduct 90 minute face-to-face presentations to prospective and existing owners of the Marriott Vacation Club Destinations program.
Explain features and benefits of the program and recommend appropriate amount of points to accommodate current and future needs.
Demonstrated features and benefits using computer sales center technology.
Accomplished the sale of over $4,000,000 in new and used automobiles during five years of car sales experience.
Achieved sales of over $6,000,000 in new and used vehicles from one company during six years of car sales experience.
Sales Executive
Set up 4-6 meetings per day, targeting furniture contract dealers, architects, design firms and law firms.
Average five new clients a month through cold calling and referrals, while maintaining existing client relationships.
Provided on-site consulting and space planning to help satisfy furniture needs for the clients.
Accomplished the sale of over 160 automobiles/automobile parts/equipment as a distributor during four years of auto sales experience.
Accomplished the sale of over 500 automobiles in one year as a franchised dealer; achieved sales levels greater than management expectations.
Sales Executive
Responsible for managing the extension of credit and collections of all customer accounts.
Maintain a frequent call pattern with existing customers to penetrate the accounts and promote products.
Provided and assist customers with customer service, menu planning and point of sales literature.
Regularly develop new, profitable business, which includes heavy cold calling.
Plan sales strategy with Manager to cover area efficiently and economically according to Master Sales Plan.
Sales Executive
Provided buying and selling support to clients looking for property solutions.
Interview clients to determine their specific requirements for purchasing properties.
Conduct and manage business transactions by thoroughly reviewing loan applications and financial documents.
Accomplished the sale of over $2,000,000 in new and used vehicles during three years of car sales experience.
Researched and developed custom solutions for clients' complex software needs.
Sales Executive
Demonstrated the use safety equipment's such as oxygen masks and provided advice on what to do during emergency situations.
Helped children and the elderly to embark and disembark by providing physical assistance.
Took care of passengers needs during flight, particularly those with special needs.
Coached and trained subordinate employees to identify customer needs, establish solution priorities, and present comprehensive solutions.
Initiated a customer service award program to recognize outstanding service with incentives and appreciation awards; increased customer satisfaction from 70% to 90%.
Sales Executive
Managed Vodafone in store presence (product availability, awareness and branding) according to guidelines.
Ensure high coverage and quality POS visibility and reliability of sell-out data.
Execute Vodafone Total Channel Offering at POS according to retail segmentation and Vodafone guidelines.
Review operational reports and records to ensure adherence to Company policies and procedures, monitor store profitability, and manage payroll budgets.
Successfully provided high levels of customer service for corporate accounts that included Fortune 500 customers.
Sales Executive
Successfully lead sales meeting and accountability efforts lead distribution activities to generate target flow.
Successfully segment distribution for the Global Technology MidAtlantic region & partner with new/ emerging distribution to provide producer development and training for independent agents and brokers, agency relationship management, field underwriting, and development of pipeline strategies for growth.
Expertise in selling technology cyber liability, network and information security liability, communications and media liability, and technology professional errors and omissions coverage.
Achieved success in completing eight consecutive years of sales goals for a $40 million annual revenue department; exceeded organizational sales goals by 37% over the previous year.
Achieved 100% payback on 11 doctor offices & practice installations totaling over $500,000 in sales.
Sales Executive
Maintaining and developing relationships with existing customers via meetings, telephone calls and emails.
Checking customer satisfaction and resolving any issues to ensure repeat business.
Making accurate, rapid cost calculations, and providing customers with quotations.
Gathering market and customer information and providing feedback on future buying trends.
Reached a record sales income of $30,000 in the first year of employment at the company.
Sales Executive
Coordinate training scheduling on and off site to include oversight of the departmental supply / training budget.
Plan, coordinate and implement the logistics needed for the operation of all DirecTV sales activities.
Attend training and associated workshops to increase product knowledge and to stay abreast of products/services and familiarity with competitor products/services, such as Wi-Fi, data devices, TV entertainment tools.
Delivered 10 new business installs with projected annual revenue of $100,000.
Maintained 100% customer satisfaction while providing customer support services to over 100 locations nationwide.
Sales Executive
Developed and executed marketing programs and general business solutions resulting in increased company exposure, customer traffic, and sales.
Helped customers to find the best financing options, maintained strong track record with all customers and increased sale by offering to upgrade by refinance.
Maintained knowledge of current sales and promotions, policies regarding payment and exchanges and security practices.
Greeted customers in a timely fashion while quickly determining their needs.
Resolved technical issues as part of a round-the-clock help desk service essential to the smooth operations of product sales and customer base management.
Sales Executive
Welcoming potential buyers through walk in, phone or Internet appointments.
Assisting them with choosing the right vehicle based on their needs and analysis of their optimal choice.
Performing test drives and detailed presentations of selected vehicle.
Facilitating all necessary paperwork and finally delivering the vehicle after thorough inspection for cleanliness and making sure they understand all features and controls.
Achieved sales goals for three consecutive quarters, exceeding target dates.
Sales Executive
Target new and existing customers to sell a wide range of training related products and services.
Provided support to accounts that reside within an assigned, geographically based territory of 2.1 million.
Develop and cultivate sales leads from new and existing contacts using the telephone and email.
Achieve 100% of assigned quota for both students registering for courses as well as program sales within a territory.
Retained a top 3 percent of the personal sales force for two consecutive quarters.
Wrap Up
You need to make sure your resume stands out amongst the other candidates. It is the first impression that employers have of your work experience and skills. Use the samples above to put together a resume that best suits your needs and helps you get the job you want.